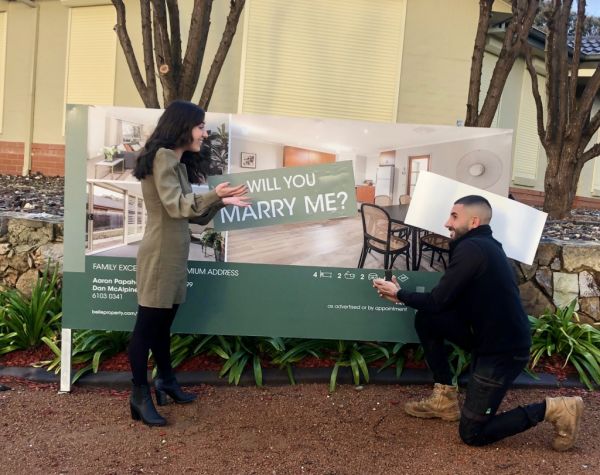 A sale turned proposal: How one Canberra couple put a ring on their first home
When buying a home, besides popping the champagne, a photo in front of the sold sticker is a must for any first-home buyer – which is exactly what Canberra local Tiana thought.
Instead, the sold sticker read, "Will you marry me?" and Tiana's partner, Nick, got down on one knee to pop the big question.
The young Canberra couple, who wished to keep their surnames private, said after months of house hunting, the engagement was the icing on the cake.
"The house-hunting journey has been overwhelming because we were going to auctions and missing out … it's just so competitive at the moment but we're lucky we finally found our forever home," Tiana said.
"I was definitely not expecting to be proposed to. It was such an amazing surprise. I'm still in shock."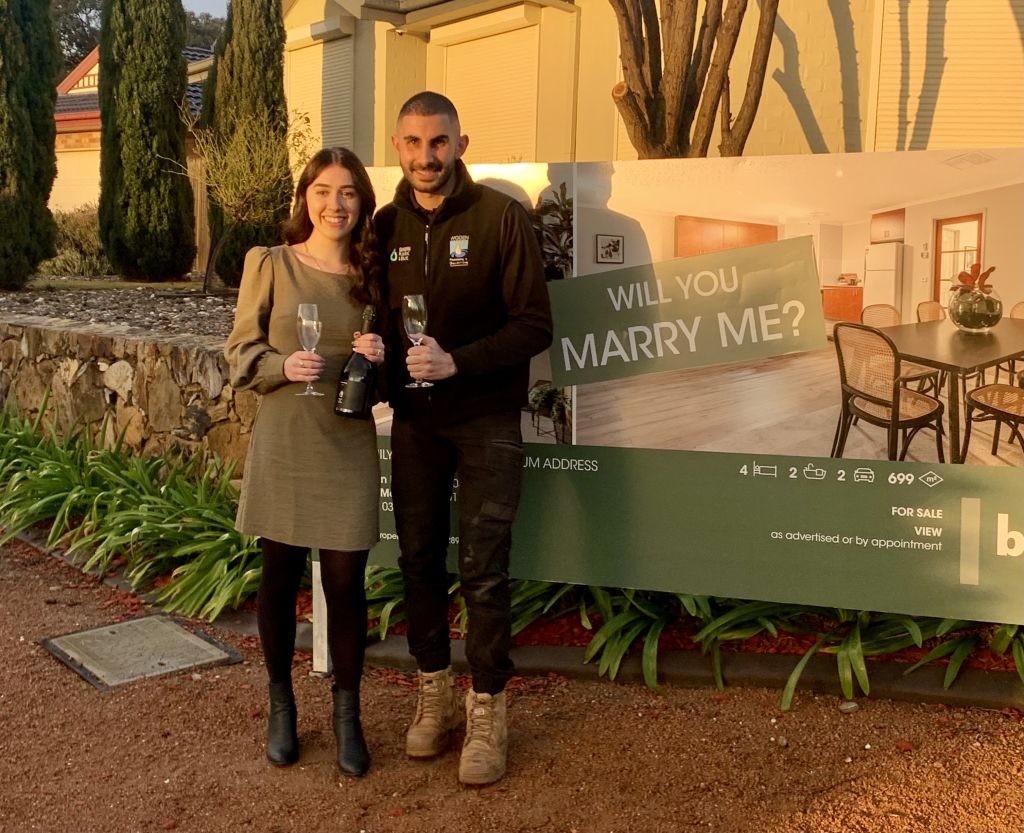 The proposal was something Nick had planned for months. After they bought their four-bedroom property just outside of the capital, he enlisted the help of selling agency Belle Property Queanbeyan to execute his plans.
"Nick contacted our office and asked if we could make a sign that read, 'Will you marry me?' instead of the usual 'sold' sign and so we went out and arranged that two weeks before the property was set to be exchanged," selling agent Daniel Hopkin of Belle Property Queanbeyan said.
"We arranged for them to meet us at their house. As they put the sticker on the signboard, they were smiling for the cameras but the moment of realisation slowly dawned on Tiana when she read what the sticker actually said."
All of Tiana's family showed up to watch the proposal, but she thought they were there to "watch her put the sold sticker on her first home", Mr Hopkin said
"Little did she know, they were all there to witness her say, 'Yes.' It was just a beautiful moment. We've never had this request before so it was an honour to be part of something etched in someone else's love story."