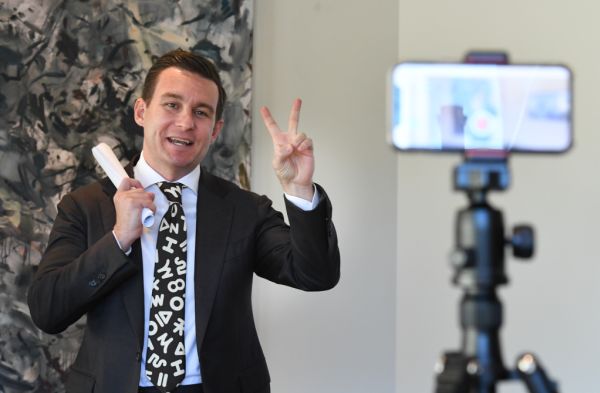 Canberra records 81 per cent clearance rate in first weekend of online auctions
Canberra recorded an auction clearance rate of 81 per cent in the first weekend of the state-wide lockdown as auctions moved online. 
Real estate agents find the result encouraging, but further lockdown restrictions to the industry may see clearance rates fall in the coming weeks.
According to Domain data, Canberra's performance was based on 58 reported auctions, of which 35 sold under the virtual hammer; 12 sold prior to auction; 10 properties were withdrawn, and only one passed in. 
Phil Smith of Independent Inner North & City sold a four-bedroom property at 27 Merriman Crescent, Macarthur, on Saturday via online auction for $1.1 million, with seven registered bidders. 
"The 24 hours [prior to the auction] was pretty hectic getting everything sorted, ensuring everyone who wanted to bid was registered and in a position to buy," he said.
"With technology, it's always difficult to balance because you have a lag either on your own side or from the bidders, so it is a game of patience from all involved."
But what the transition of online methods allows buyers to do is "bid from the comfort of their own home", Mr Smith said.
"The online path also separates the serious buyers from those who are just browsing through," he said.
"Despite the [absence] of onlookers, demand from buyers still remains."
Samantha Granter of Belle Property Canberra, who sold 8 Pelsart Street, Red Hill via online auction for about $3 million, said despite having less than 48 hours to transition from the traditional onsite auction to online methods, it hadn't hindered buyer demand.
"If anything, it only encouraged buyers to register. We had 15 registered bidders for the Red Hill property, which is about the same number of bidders we'd get at an on-site auction," Ms Granter said.
However, strict measures for real estate agents amid its extended lockdown could see Canberra's auction clearance rates fall in the next few weeks, Ms Granter warned.
Under the lockdown measures, real estate agents are restricted from completing virtual inspections at a property and are not permitted to undertake any building inspections or have any photography done for new properties coming to market.
"Some of my clients who planned to list their properties for sale this week have decided to postpone until the restrictions ease so buyers could see the property in real life," Ms Granter said.
Ms Granter expects the upcoming weekend's auction clearance rate to remain relatively high, considering potential buyers have already inspected the property pre-lockdown. 
"The following week will likely see an impact to those rates because [properties] hadn't gone through the usual three-week auction campaign," she said.
"Our world has been turned upside down, but the industry is adapting, and we're keeping tabs on any changes."