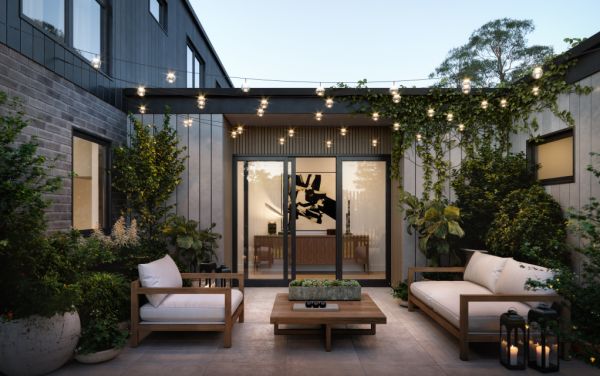 New boutique development inspired by mid-century design slated for Aranda
First impressions suggest Sparks looks very at-home among Pinterest's most stylish and artistic interior design boards.
Developed by TP Dynamics, nestled in Aranda and surrounded by mature eucalypt forest, Sparks is built for the discerning buyer.
Made up of just six three-bedroom and two-bathroom units, these homes have been profoundly influenced by the Bauhaus movement combined with early 20th-century modernism but with a pared-down, contemporary perspective.
"The mid-century design is heavily seen in the finishes we've chosen, including timber-look cabinetry and timber floors," says agent Kenneth Kong of TP Dynamics.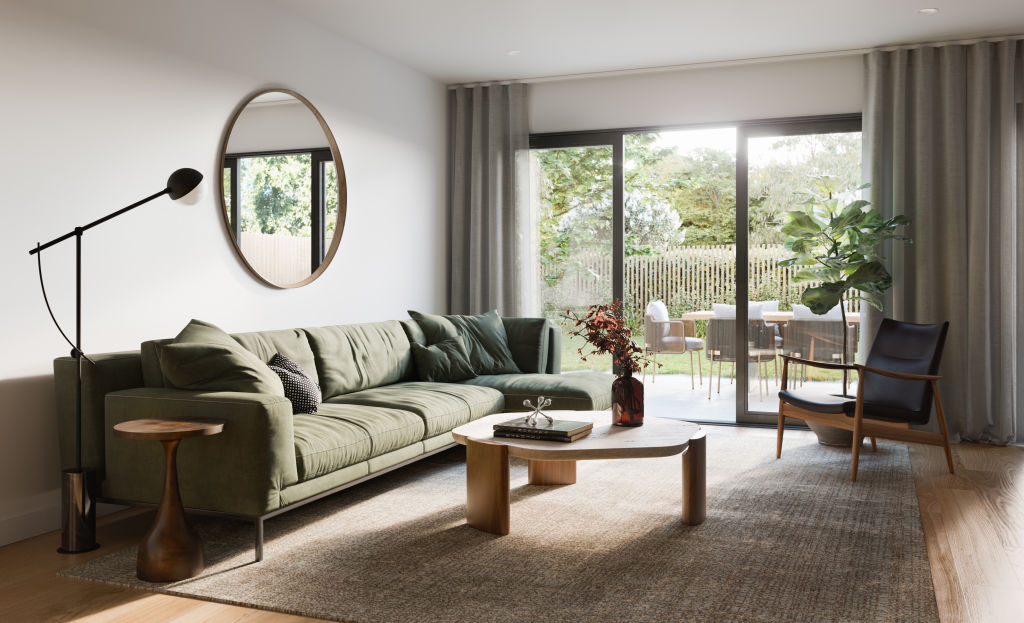 "However, when you look at the inclusions, that's when you realise how modern these units really are. Think 5kW solar panel systems on every home, double-glazed aluminium windows, spill-proof carpets and Bosch appliances."
Almost every element of Sparks has been designed to not only fit the mid-century modern bill, but to also serve a functional purpose.
"Take the kitchen for example. We've put a lot of thought into its usability and how it will run day-to-day," explains Kong.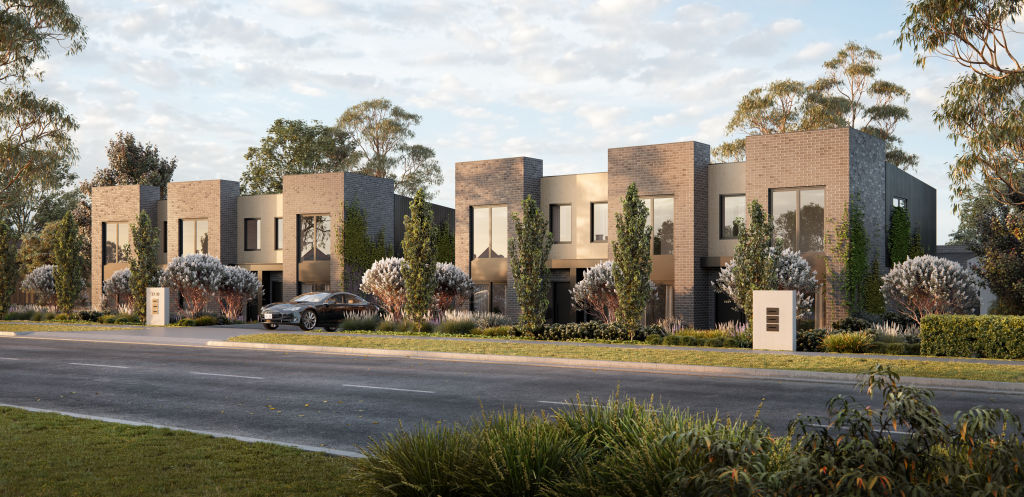 "Typically, designers would try and put the fridge against a wall. Instead, we've connected it to the island bench to ensure it is hidden and the aesthetic timber-look pantry is what people see instead."
Both dark and light stone benchtops feature in the kitchen to "be a little more playful", according to Kong.
White cabinetry under the bench is enhanced by timber veneer cabinetry above the stove to add interest in this focal point of the home. The timber floor in the living area extends to the kitchen and is waterproof for easy maintenance.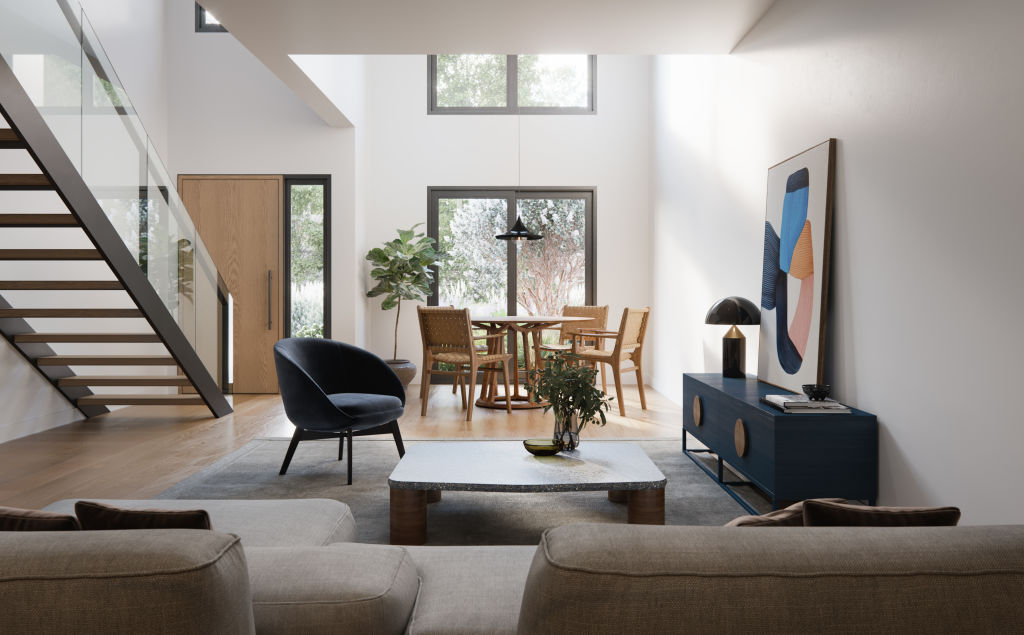 "We really didn't want to compromise on design and add tiles in the kitchen, which is often what you see in developments," says Kong.
"We've also included a window to the courtyard as a subtle nod to the '50s and '60s, when homes weren't open plan and this was the only view kitchens had."
The bathrooms are a touch more conservative. They feature dark grey tiles on the floors, white wall tiles to the ceiling and a frameless glass shower with no doors.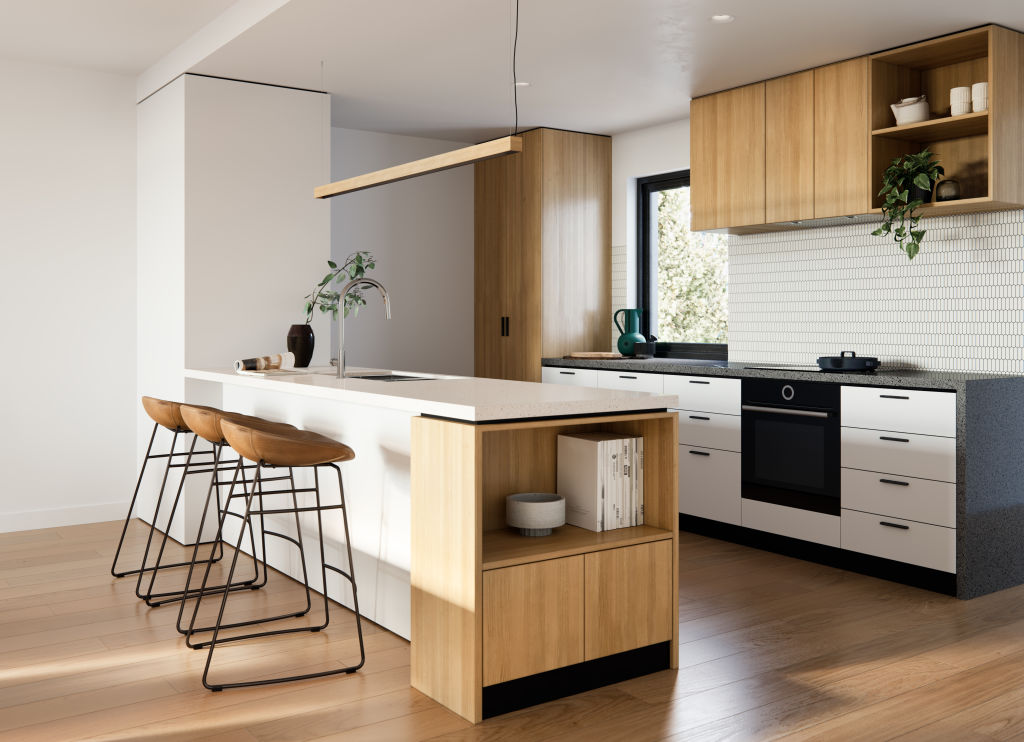 The shaving cabinet is recessed to allow for more space when moving around the bathroom and the basin is semi-recessed to ensure you have depth while allowing for more storage in the cabinet underneath.
"When you include the garage, the homes are three levels, with a garage and rumpus on the bottom level, the kitchen living, dining, master bedroom and internal courtyard on the ground level and the remaining bedrooms on the top level," he says.
The rumpus is also connected to the backyard which, according to Kong, makes it perfect for use as a bar when entertaining.
Expected completion is the end of this year with settlement anticipated before February 2021.
Price guide: $935,950-$995,950
Agent: TP Dynamics, Kenneth Kong 0411 586 906