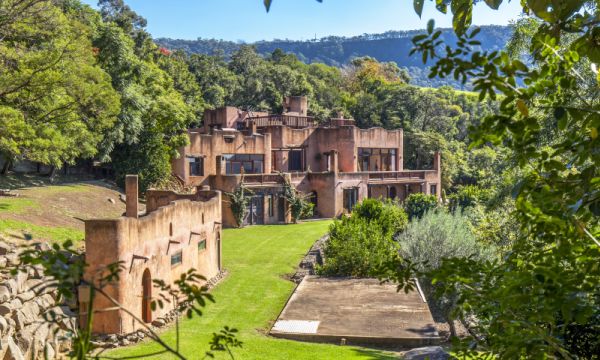 New Mexico meets Milton: Shoalhaven home for sale like 'living in your own personal retreat'
When I think writers' retreat, I think of a dimly lit room that smells of paper and half-baked ideas. Not a striking piece of adobe-inspired architecture that sprawls across the hilltops of the Far South Coast. Yet, here we are.
Originally built and belonging to New Age and self-empowerment writer Stuart Wilde, this three-tier home is a secluded sanctuary like you've never seen before.
"This home is a striking work of individuality, there's nothing quite like it on the whole east coast," listing agent Craig Cooper of Cooper Coastal Properties says.
"In fact, I don't know if anyone has built anything like it in Australia."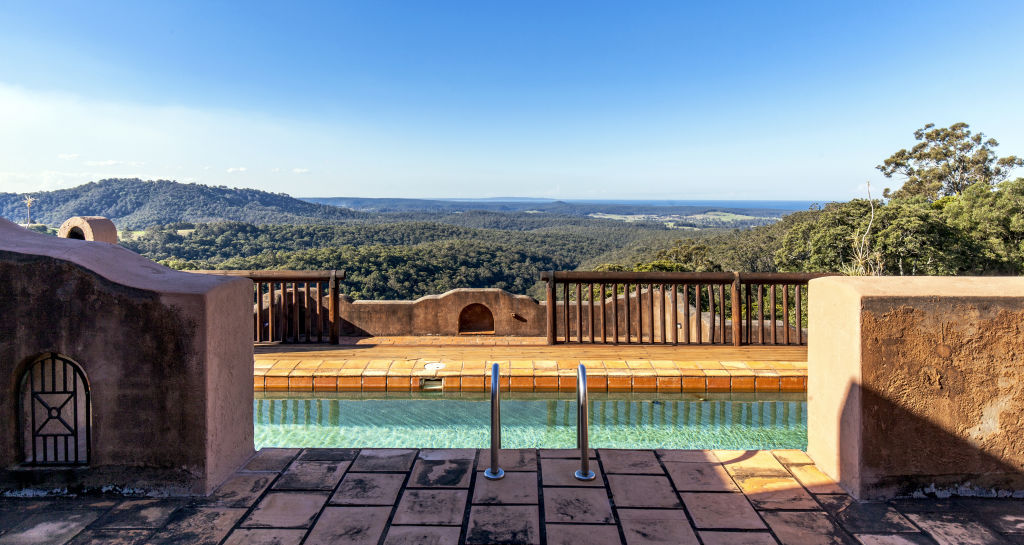 The fortress-like construction took five years in the making, consisting of more than 300,000 bricks rendered in a stylish terracotta hue. If it weren't surrounded by 12 hectares of lush greenery, you'd be forgiven in thinking it was a scene from New Mexico.
Wilde's adoration of travel and south-west American culture is injected into every element of the home.
He even went so far as to import terracotta tiles from New Mexico which bear actual paw prints from coyotes where they would walk over the tiles as they set.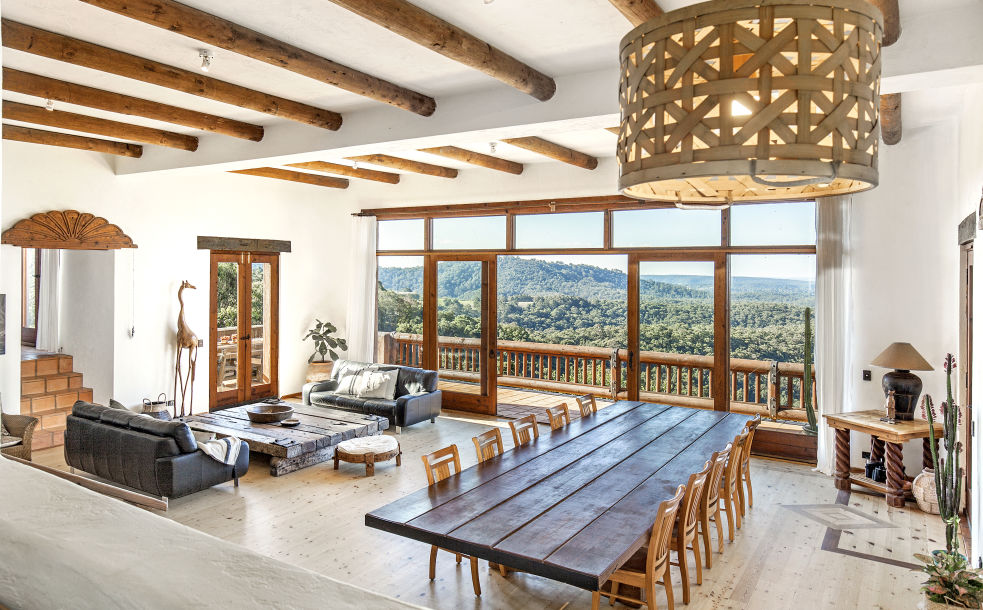 "There's a central theme throughout and one that's authentic," Cooper says.
"Wilde captured his world travels and instilled the feel of them in his home."
The interiors are just as mesmerising as the facade. The ceilings are donned with strong and rich timber beams that are juxtaposed by the stark white walls.
Bedrooms come fitted with romantic slow combustion fireplaces and french doors that lead to an outdoor oasis. And as if any Australian could say no to that rooftop swimming pool and sweeping deck – that's the Aussie dream right there.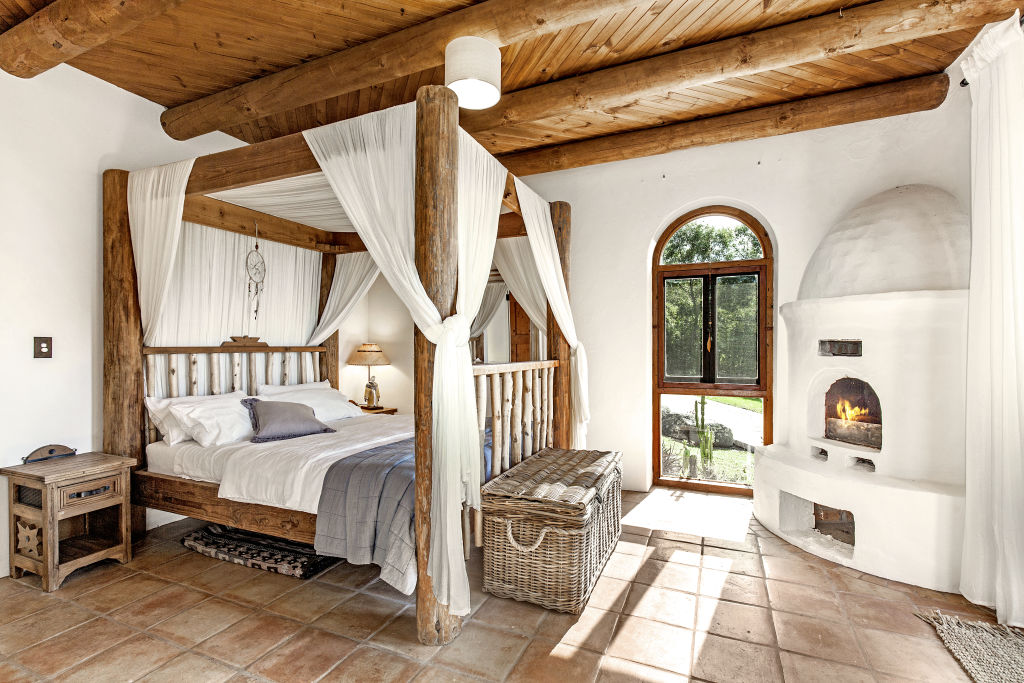 "The first floor offers almost a grand entrance leading down to the balcony with a gobsmacking view of Milton," Cooper says.
"When you come down those stairs you get an overwhelming of grandeur and luxury, but it still feels warm and harmonious."
It's a grand staircase though reimagined for a home with heart. The promenade, made for pondering life's biggest questions, leads down into an expansive living space made larger still by an entire wall of windows, framing the untouched rural landscape.
No need for paintings here, they come built-in to the natural scenery.
"Living in Milton is like living in the country but by the sea," Cooper says.
"Living in this home is almost like living in your own personal retreat, then you can climb down and enter reality. We're a sleepy town but still foster artistic creativity."
Here's where we ask the age-old question. Does life imitate art or is it the other way around, because this home perfectly represents Cooper's sentiment?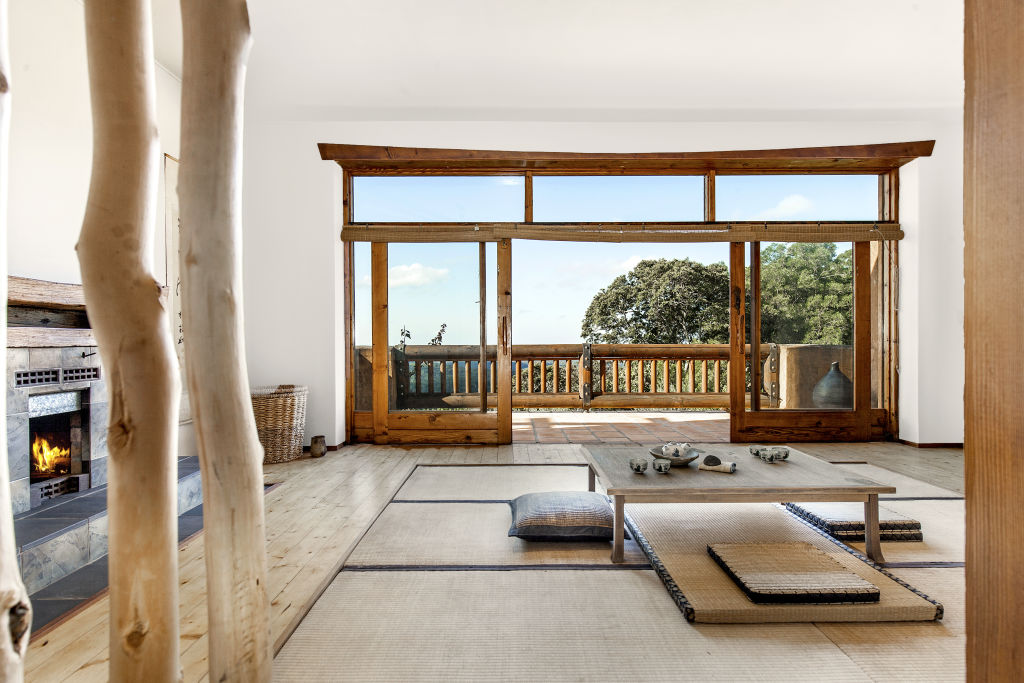 The relaxed interior style leaves space for a slow-paced lifestyle but it's so peppered with culture, history and a story of its own that you could not help but be inspired to create.
Little meditation rooms are tucked away across the rabbit warren-like floor plan that urges you to explore. A Japanese bathhouse, tea room and sauna await the weary, offering a retreat from your retreat.
"There is so much inviting space here, you could easily turn it into an actual retreat or an Airbnb listing … Though I'm not sure why you'd want to share," Cooper says.
My thoughts exactly.
Price guide: $3.95 million
Private sale
Agent: Cooper Coastal Properties, Craig Cooper 0434 311 113