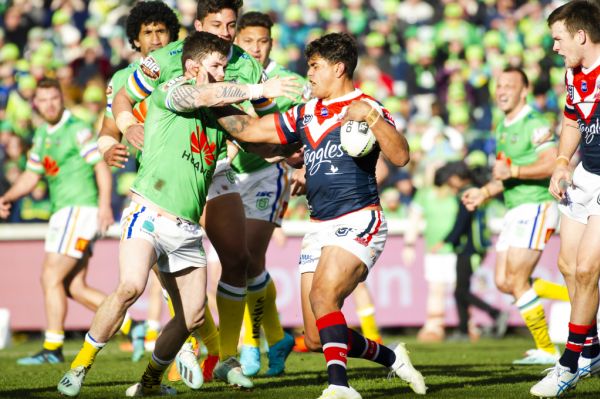 NRL grand final 2019: How property prices have fared in Canberra versus eastern Sydney
Lucy Bladen
twitter
Editorial producer
The Canberra Raiders and Sydney Roosters will be taking on each other in this weekend's NRL grand final.
For the Raiders, it's their first grand final in 25 years while the Roosters have won three premierships during that time, including a 21-6 win over Melbourne last year.
Experts and betting agencies have widely tipped a Roosters victory, with the Raiders very much pegged as the underdogs.
But when it comes to the teams' respective property markets, who is the winner? Well, it depends on how you approach housing, according to Domain research analyst Eliza Owen.
"If you own a home and are looking for long-term price growth, the city and east of Sydney has presented a stronger five-year price growth," she said.
"But if you are not yet in the market, there is a vast difference in affordability and Canberra is much more accessible for young professionals in the public service."
The median house price of $2.15 million in the city and east of Sydney – which includes areas such as Vaucluse, Rose Bay, Bondi and Paddington – is almost $1.5 million more than Canberra, where the median is $741,947. 
Over the past five years, the median house price in eastern Sydney has grown 32.7 per cent, with Canberra up 27 per cent.
But much like the Raiders' status as the underdogs, Canberra's property market is also a dark horse – but in recent years that has been to the capital's advantage.
During the property price boom, Sydney house prices grew by up to 85 per cent, while Canberra house prices over the same period only grew by about 30 per cent.
But unlike, the city and east of Sydney which has fallen 14 per cent off its 2017 peak, Canberra house prices are down just 0.8 per cent off its 2018 peak.
Year-on-year, eastern Sydney is down 8.1 per cent, while Canberra house prices have stagnated.
"Typically where you don't see a large price boom, you don't get the corresponding bust in prices," Ms Owen said.
"So we have seen a lot of volatility particularly in the higher-priced end of Sydney and there is likely more stability of growth in the Canberra region."
In the unit market, over five years the city and east of Sydney has experienced a 17.3 per cent jump in the median of $915,000, whereas Canberra units are only up 9 per cent, with the median of $448,737.
Units in Sydney's east have dropped 7 per cent over the year and Canberra's are up 2 per cent in the same period.
Ms Owen also pointed to the difference in house price-to-income ratio – defined by how many times the annual income fitted into the median house price. In Canberra, it's 6.8 but for Sydney, it's 19.1. 
Investors are also likely to get a better return in Canberra. The median rental yield in the nation's capital is more than 6 per cent, whereas in eastern Sydney it's under 3 per cent.