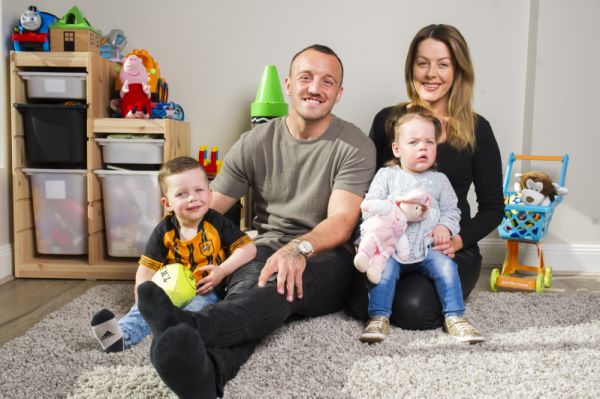 Raiders co-captain Josh Hodgson is selling his Fraser home
Josephine Huynh
twitter
Domain Allhomes Editor
The renovated Fraser home of Raiders co-captain Josh Hodgson and his wife, Kirby, is on the market.
The couple have lived in the home at 1 Bingley Crescent with their two children, George and Ivy, for more than two years, but a new Raiders' training facility in Braddon as of next season has led them to sell.
"It's with mixed emotions. We're looking to move inner city where I can take George to captain's run with me and hopefully it will only be a short walk from home," Josh said.
"We've created so many memories in this home – both our kids learnt to walk here, they had their first birthdays here, our first Christmas in Canberra and as a family of four."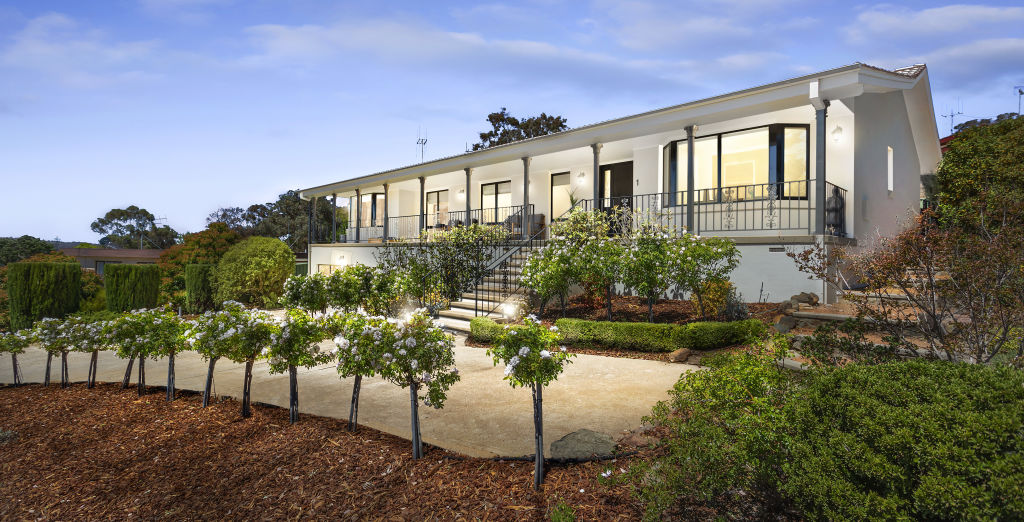 Josh said what he'd miss the most is the close-knit Fraser community, who have created for them a "home away from home".
"Whenever we've sat on the front porch, someone always stops by to say hello or the local kids insist on a race to see who's faster. As a family we've really loved being welcomed into the local community," he said.
The couple fell in love with the character of the home at first sight and planned on renovating it yet still retaining its original charm.
"We've always been fond of older homes – they're well-built, solid-brick houses that have individual characteristics," he said.
"It had a great energy to it and you instantly felt that when you walked through the door."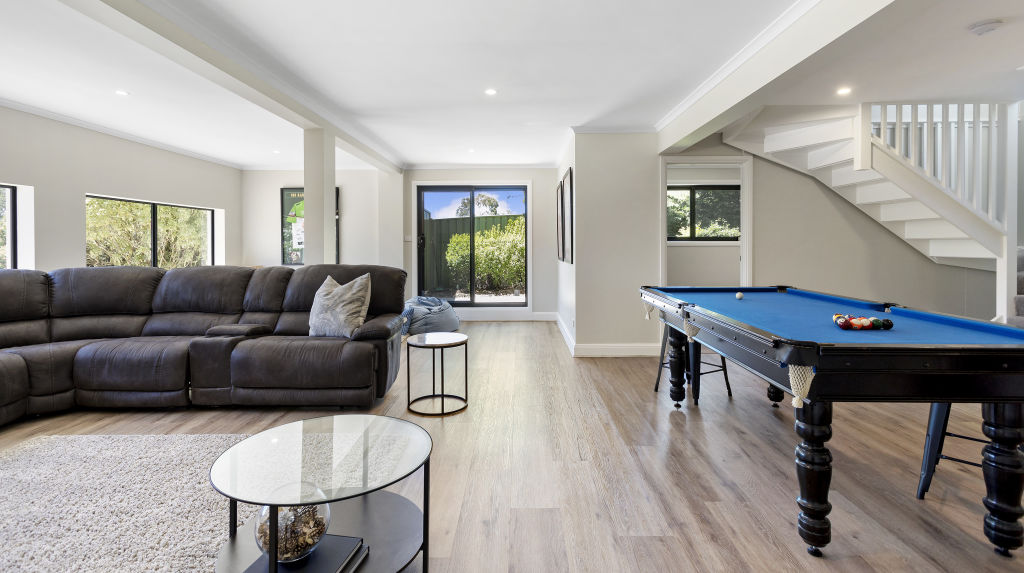 With the home being a more established property, it was important for the couple to improve its energy efficiency to combat Canberra's fickle climate.
"We invested in a new reverse-cycle ducted system and double-glazed aluminium windows. We designed the windows to complement the picturesque views," Kirby said.
Renovations are not an unfamiliar feat for the Hodgsons, who have flipped a few homes before in the UK.
"It's something we've both always enjoyed doing. I purchased my first house at the age of 18 and Josh's brother and sister-in-law encouraged him to invest his money into property and improve them. We have been on the same page since," Kirby said.
With the help of GH Constructions, the home underwent a transformation that opened up the top level.
"The house was beautiful but the layout was boxy with narrow corridors. By opening it up there's now flow throughout and natural light fills the home all day," Kirby said.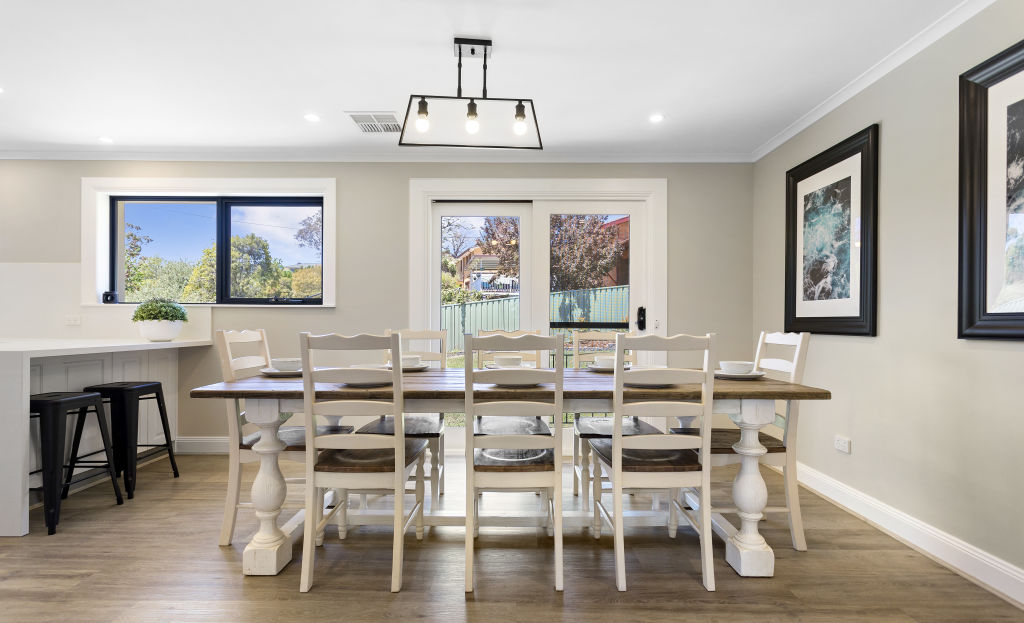 With one toddler and another baby on the way, it was important to the couple to have a home that was child-friendly.
"There's no hiding our son's love for football and he doesn't hesitate on bringing that love indoors; and with our daughter, everything is 'crash, bang, wallop!'" Kirby added.
The skirtings were replaced with solid wood, the floor with a more durable textured finish and the house was repainted in a durable wash-and-wear paint – so the new owners can now enjoy interiors that are completely child-proof.
Downstairs is a multi-functional space. It features an open-plan living and play space with an added bathroom, two bedrooms, a generous-sized laundry and storage space.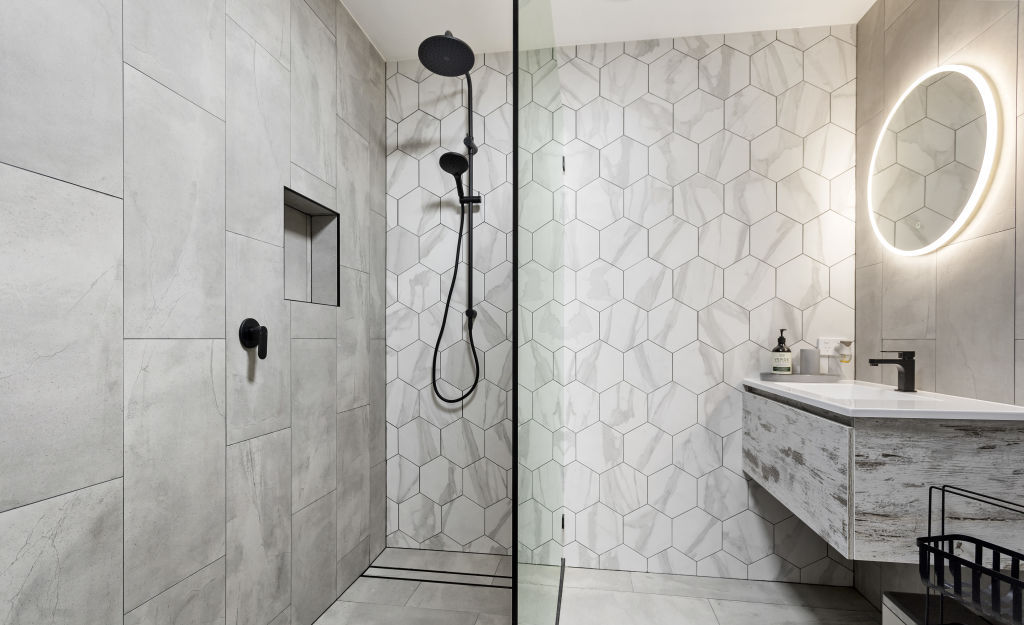 But what's most striking is the home's kerb appeal. The facade sports a rendered finish with matt black aluminium windows and lighting that puts all the hard work on show in the evenings – all this located on a generous 1159-square-metre block.
"The garden was very much a concrete jungle and offered no play space for the kids. We had the back re-landscaped to create multiple play and entertaining spaces, and incorporated an irrigation system for easy maintenance," Kirby said.
The property will be going to auction on December 7 at 2pm and is listed by Independent Inner North and City.
"Josh and Kirby have done such an amazing job on this home, I think I might nominate them for The Block 2020," selling agent Jonny Warren laughed.