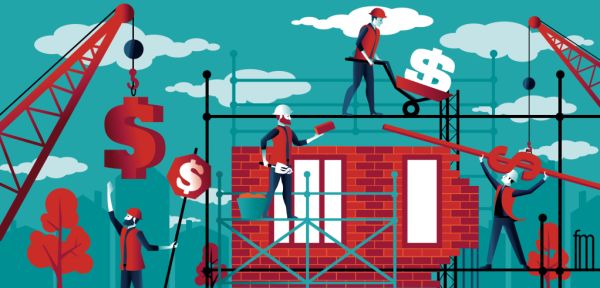 What happens after buying an off-the-plan home in Canberra?
What happens after buying an off-the-plan apartment?
For many property hunters, off-the-plan homes represent a convenient opportunity. Buyers not only get a modern, turnkey property with the latest amenities, but also the chance to purchase a brand new home at today's prices.
The purchasing process for off-the-plan properties differs to that of established homes. Off-the-plan buyers pay a holding deposit of a few thousand dollars to take the property off the market, then pay the balance of the 5 per cent deposit within 30 days.
The remainder of the purchase price is due at settlement, and depending on the development and the stage at which the property is purchased, this could be a few months or a few years away.
Planning ahead and using this time wisely can put buyers in a stronger position come settlement day.
Arrange finance
Experts agree that off-the-plan buyers should not only research the credentials of the developer and builder but also investigate government grants and incentives and speak to a mortgage broker to understand their borrowing capacity before committing to a purchase.
"If the apartment is nearing completion at the time of exchange, it may be appropriate for the buyer to obtain pre-approval before paying the deposit and exchanging contracts," says BAL Lawyers director Benjamin Grady.
In most cases, pre-approval – which is usually only valid for 90 days – will lapse before settlement and should be arranged closer to completion.
"There's usually an 18 to 24-month build process," says Independent Property Group project marketing coordinator Meg Taylor. "Even if you have a two-year wait time, it's important that you continue to save. The bank will take into consideration your saving and spending habits."
Although some lenders loan up to 95 per cent of the property value, borrowing less than 80 per cent avoids lender's mortgage insurance (LMI). This insurance protects the lender if the borrower defaults, and is usually paid up front or added to the loan, typically costing buyers several thousand dollars.
Buyers who use the construction phase to set a saving target and put aside a portion of their income will be in a stronger position come settlement. Establishing healthy saving habits prepares borrowers for making regular mortgage repayments, and contributing more money to the purchase helps borrowers avoid LMI and increase their equity.
Keep up to date
As construction continues, the sales agent will provide buyers with updates on key milestones, such as when excavation is complete, when the building has "topped out" or reached its final height, and when the internal fit-out is complete. 
Although buyers usually aren't able to tour the construction site due to safety restrictions, driving past the development from time to time allows buyers to visually track progress while also familiarising themselves with their new neighbourhood.
Prepare for settlement
The sales agent will prompt the buyer to prepare for settlement once the build process is finished and only minor work remains, a stage known as practical completion.
"It means the building is ready for the developer to submit to receive their titling and unit plan," Taylor says. "That would be the point we'd be advising people to speak to their brokers again and organise their finance. That's usually within 90 days prior to settlement occurring."
When construction is complete buyers will need to arrange a pre-settlement inspection to ensure they're receiving exactly what they've purchased.
"Buyers should be particularly mindful to record any superficial defects, such as scratches, marks, and stains, as those types of defects are not normally allowed for in the defect liability period post-settlement," Grady says.
"Buyers should also verify that all inclusions or agreed variations are present in the apartment."
When the unit plan has finally been registered, solicitors will exchange contracts, the buyer becomes the owner and can collect the keys.