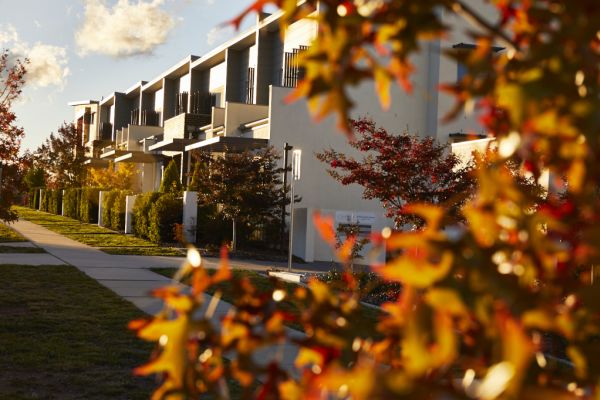 What to expect from the Canberra property market in 2020
It's a few weeks into the new year, meaning we should probably start implementing those resolutions. If buying or selling a home is on your list, you may be wondering what the market will do this year.
Last year hit several milestones in the real estate industry, including the ACT government abolishing stamp duty halfway through the year and interest rates hitting an all-time low.
So what can we expect from the Canberra property market in 2020?
According to Badenoch Real Estate agent Symon Badenoch, 2020 will see more first-home buyers dip their toes into the property market.
"The first-home buyer demand will continue and I think what will happen then is there will be a slight flow-on effect to second and third-home buyers," he said.
"First-home sellers now have the confidence to buy their next home because the demand from first-home buyers is slowly flowing on."
Speaking on the north side of Canberra, Badenoch said the suburbs of Higgins, Holt, Latham and Charnwood were the most affordable areas in 2019 and this would likely carry into the new year.
"Those areas will continue to improve in price in 2020 because the demand is picking up from first-home buyers," he said. 
"In a nutshell, most first-home buyers would prefer to buy anything close to the town centre as they can and as prices are increasing, demand in the past six to nine months are pushing them further out and those prices are increasing as well."
Badenoch said Page had the most notable change in the Belconnen region.
"Page was traditionally a suburb full of old, ex-government property," he said.
"With increasing land prices in the new suburbs through Molonglo and Gungahlin, we are seeing, for the very first time since Page was built, people starting to knock down and rebuild new homes."
The Domain House Price Report for the September quarter 2019 saw Belconnen, Gungahlin and the Inner North's median house prices at $615,000, $675,000 and $880,000, respectively. 
"I don't think it'll be quite as good as the second half of 2019 but I think it will be consistent and will continue to increase," Badenoch said.
In Canberra's south, Peter Blackshaw Tuggeranong principal Robert Peaker said the market would also continue on that steady growth from the previous year.
Peaker points to notable movements in Tuggeranong's inner suburbs including Wanniassa, Kambah and Fadden. 
"Many buyers have been priced out of the Woden area and the next stop is these suburbs," he said. 
"A lot of buyers have seen the value in these areas as there are only a few extra minutes' travelling time and generally a purchaser can secure a more modern house at a similar or lower price."
The median house prices of Tuggeranong, Weston Creek, Woden and the Inner South are $590,000, $713,500, $850,000 and $1.315 million, respectively.
"I expect the inner areas of Tuggeranong to continue to grow – with large block sizes and pockets with excellent views and I expect strong buyer interest to continue," Peaker said.
"Other suburbs a little further from the city centre will also benefit from buyers being priced out of inner areas and having to look further afield for the right home."
As for the Queanbeyan region, Aaron Papahatzis from Belle Property Queanbeyan said the area's affordable houses would be a high point for potential buyers and, overall, the market would not differ greatly from last year.
"I think we're trailing well and getting momentum with interest rates being so low … we still think that 2020 will be very similar to 2019 with consistent sales and plenty of first-home buyers looking at buying into an affordable area."
The median house price in Queanbeyan is $585,000 and the median unit asking price $255,000 – the most affordable across the nation's capital.
Papahatzis noted that parts of Karabar and the Googong areas would provide buyers with affordable land and house prices.
"But, in saying that, a lot of the innate areas and the inner cottages of Queanbeyan have really been performing well, so it's only going to increase in value," he said.