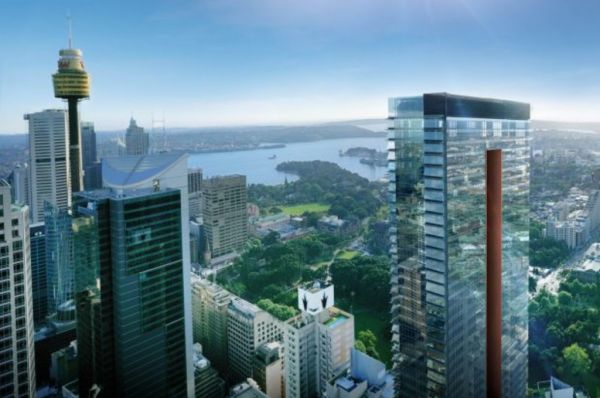 Chinese developers here to stay, unperturbed by government measures to cool foreign buying
Two of the biggest Chinese developers in Australia say the government's measures to cool foreign buying won't hinder their plans to further invest in the country's apartment market.
The top bosses at Greenland Australia and Shokai Ausbao were part of an annual industry event last week hosted by the Australia-China Relations Institute (ACRI) at the University of Technology, Sydney, and development lobby group Urban Taskforce.
Both executives quashed suggestions that recently-increased stamp duty and Foreign Investment Review Board (FIRB) fees for foreign buyers would dampen demand for their development projects.
In 2017, the government increased fees for foreign buyers applying to buy property by 10 per cent and last year NSW doubled its stamp duty surcharge from 4 per cent to 8 per cent for foreign buyers.
FIRB's latest annual report showed approvals for residential purchases fell by 67 per cent over the 2015/2016 financial year because of the combination of state-based taxes, increased fees and tighter capital controls.
But Greenland Australia managing director Sherwood Luo said the government measures would ultimately give Chinese and other foreign developers that already have a firm footing in the local market a competitive edge in the long term.
"We do realise the market has been slowing down during the past 18 months. But the reason I still hold a positive view is because the population within the Sydney area is still growing," Mr Luo said.
"If that's the case, brand new foreign investors [developers] will be blocked from investment in Australia. Maybe it will be an advantage for [Shokai Ausbao] and also for Greenland because we already have assets here ready for marketing, so they will give us an even better chance." 
Greenland Australia has developed projects such as the Primus Hotel in Sydney's CBD, which was completed in 2015, and has begun working on Greenland Centre Sydney, which is due for completion in 2020. When finished it will be the tallest residential tower in the harbour city, sitting at 235 metres high or 67 floors.
Shokai Ausbao, meanwhile, is the Australian arm of Shokai Group, which has $53 billion worth of assets. The Australian division owns multiple hotels including the new Crown Plaza and the Radisson in Sydney. It recently completed the $300 million refurbishment of The Quay Haymarket and launched the $400 million mixed-use development in Granville.
Shokai Ausbao regional director Jason Gao, who acknowledged the property market had been in overdrive for the past four to five years, said Australian government measures to cool the market would keep it "healthy and sustainable" and would "make it smooth going ahead".
While the likes of Thailand, Vietnam and Japan were emerging as competitors to Australia for Chinese capital in the space of residential development, Mr Luo said Australia remained a strategic investment destination because it was "a very stable and transparent environment".
Partner and head of real estate at global law firm King&Wood Mallesons, Stuart Dixon-Smith agreed less capital was flowing into Australia but said capital from prior investments made in the country was here to stay.
"The capital is here and I don't think it's going away. That new capital coming out of China is going to other locations," Mr Dixon-Smith said.
"I agree there is much less money coming from purchasers in residential. The ability to sell residential projects to Chinese nationals is very hard," he said.
Both developers insisted their Australian divisions were at arm's length from their respective Chinese counterparts and were in fact buoyed by local interest.
Mr Gao said Shokai Ausbao didn't have much planned in the pipeline for the next 12 months.
"Two words that can describe us is slow and steady. I want to stay here longer so I need to be steady and safe so not be too aggressive," Mr Gao said.
Mr Luo expected Australians to drive their residential sales in the next year.
"We see the local buyer paying for the majority of growth within this market," Mr Luo said.
 BIS Oxford Economics' senior manager of residential property Angie Zigomanis said the proportion of total sales to overseas buyers had dropped off and developers had undoubtedly taken a hit with fewer off-the-plan pre-sales.
"At the end of the day there's still people out there who want to buy. It's never going to stop completely but any reduction in demand will make things more difficult," Mr Zigomanis said.
He said fewer pre-sales were compounded by the federal government's 50 per cent cap on pre-approvals of foreign ownership in new residential developments.
It came into effect in May last year as part of budget measures to improve housing supply and affordability for Australia.
"In some respects they've got to tap into the local market if they want to get enough pre-sales," he said.