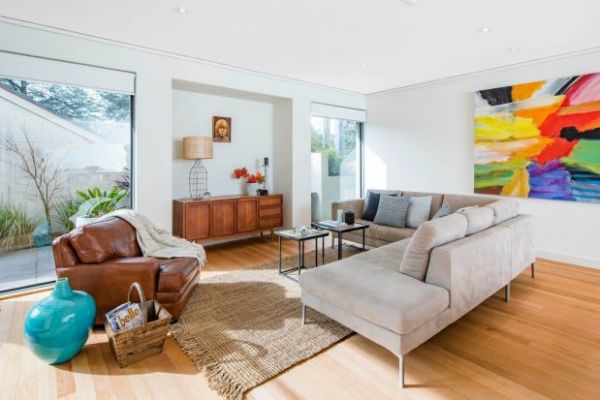 How to choose art for your home: we speak to some Canberra experts
Walls make a great backdrop for art, but many home owners find selecting pieces the height of intimidation. After all, your taste is on display for the world to see.
Award-winning architect Terry Ring says art for him is almost indivisible from architecture.
"Architecture at its purest level is art," he says. "I think most of us can think of buildings that transcend their purely functional form as a dwelling."
Ring has taken his passion for art and architecture to a new level through a collaboration with Archibald Prize-winning artist Tim Storrier in the design of Point to Point, a modernist-influenced home on an elevated site in Narrabundah's Caley Crescent.
"It was brilliant working with Tim and seeing how he approaches art in his studio," Ring says.
"The way he introduces light, texture and colour into his paintings really emphasises their importance in architectural design."
Ring says the collaboration inspired the three-level design that is flooded with light and has a strong connection with the landscape with views toward Black Mountain and Mount Ainslie.
"I believe art injects personality into a home and it helps create mood in different rooms," Ring says.
"At home, I have big, colourful pieces in the family room that inject vibrancy and warmth; in the study, pencil sketches create a different ambience; and softer, restful colours bring a sense of serenity to bedrooms."
Melinda Jamieson, from Sold on Styling, hires works by local artists in staging homes for sale.
"Art reflects the personality of a home and provides a window into the lives of the people who live there," she says.
"There is something very moving about living with art; it makes you feel something, usually happiness."
Jamieson says art can also help curate memories.
"It's inextricably linked to where you acquired it; places you've lived, places you've visited, gifts from loved ones," she says. "Art, like personal photos, can provide a narrative of your life."
Colleague Suzy Piani says art creates the perception of completeness in a home.
"When a home has great art on the walls, and we don't necessarily mean expensive art, it's consistently the one thing that people comment on when they inspect a property," she says. "This is because art evokes an emotional response."
The Sold on Styling duo recommend an eclectic mix of artworks.
"For instance, having a child's self-portraits or other special pieces framed and hung in their bedroom, expresses their individual style," Piani says. "If you're into music, old band posters framed and hung together make a statement, as do old movie posters."
Martin Beaver, co-owner of Canberra's largest privately owned art gallery, Beaver Galleries, says the vast majority of his clients are looking for pieces for their homes.
"Often they ask about the investment potential of a particular artist," he says. "I tell them if the piece is for their house, they should go with their heart as they need to be able to live with that art work on a daily basis."
Beaver says original art in his gallery can range from hundreds of dollars to $30,000.
"It's not so much about price and it's definitely not about choosing colours that match an aspect of the house decor," he says. "A piece you like should resonate; you should feel a visceral connection. It's a very personal process."
Case study
Mary Gilmore standing next to her one of her paintings. Photo: Dion Georgopoulos
Home is where the art is as far as Mary Gilmore is concerned.
The Narrabundah resident's Goyder Street home is fairly brimming with artwork. That's hardly surprising for an artist, but it's the meaning that art gives to a home that resonates with this painter and collector.
"Apart from my own art, I've collected many pieces over my life and they all tell a little story about my experiences," she says.
"I lived in Brunei for four years and I have many pieces that remind me of my years there."
Gilmore says art should match the mood of a room and bring personality and warmth into a home.
"Visitors often find it hard to pinpoint what it is that makes it so welcoming – certainly the art plays a huge role."
She is now seeing her artworks through fresh eyes after Sold on Styling duo Melinda Jamieson and Suzy Piani prepared her home of four years for sale.
"I thought I knew everything about my pieces, but the way they've presented them, it's like they're new all over again."
Cover property
8 Hooker Street, Yarralumla. Photo: Supplied
Expansive white walls provide the perfect backdrop for a series of colourful artworks that complement the modernist influence in the design of this two-level Yarralumla residence.
The sensitive selection and positioning of artwork and sculpture enhance a gallery style that never loses sight of its primary function: to provide the familiarity, warmth and security that turns a building into a home.
Striking minimalist design, highlight by geometrically crisp lines, is accentuated by a neutral palette of materials including steel, timber, glass and stone. This is sharply contrasted through vivid pops of colour from the hanging art to deliver an unfolding series of pleasant surprises.
8 Hooker Street, Yarralumla. Photo: Supplied
This is a generously-sized home with 450 square metres of internal space, including the garage and a massive basement space that is currently being used as a gym.
A main bedroom on the ground level will appeal to those who appreciate single-level living, while a further three bedrooms upstairs offer plenty of options for family and guests.
There are two big living areas, and the hub of the home is a superbly-equipped chef's kitchen, highlighted by a solid jarrah bench.
8 Hooker Street, Yarralumla. Photo: Supplied
PRICE GUIDE: $2 million-plus EER: 3.5
AGENTS: Leanne Palmer, Louise Harget, Belle Property Kingston, 0400 545 343, 0412 997 894
AUCTION: September 2, 10am, on-site
INSPECT: August 26, 1pm-1.45pm; August 30, 4pm-4.30pm; September 2, 9.30am-10am
SEE MORE: goo.gl/MhMbJJ