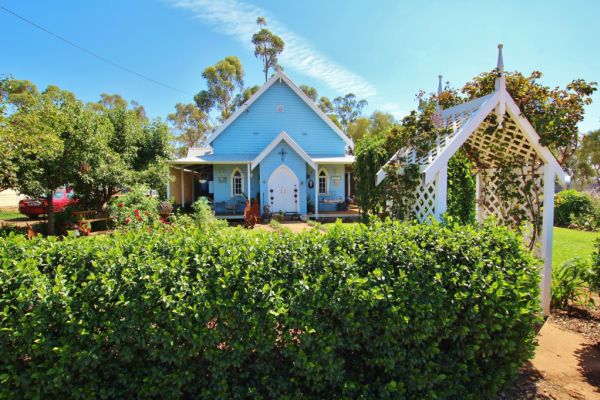 The churches and church conversions for sale across Australia right now
Churches across Australia are hitting the property market in a bid to be resurrected and transformed into stunning residential homes.
While some turn to the church to pray in tough times – and 2020 has been tough indeed – others are keen to roll up their sleeves and convert former holy houses into family homes.
In Lucknow, in the central west of NSW, David Dent of Benchmark Lifestyle Property has been inundated with interest in a former bluestone church near Orange.
"I'm getting absolutely hammered with inquiries," he said. "I've had inquiries from as far away as Adelaide and south-east Queensland."
About half of the interest in the St John the Evangelist Anglican Church – headed to auction next month with a guide of $360,000 – has been from locals, with the remainder predominately from Sydney.
Most are looking to convert it into a permanent residence, but some buyers are looking for a weekender or property to rent out on short-term letting platforms like Airbnb, Mr Dent says.
"We've had people  hoping to spend $200,000 to $250,000 to convert it, others looking at three-quarters of a million. It all comes down to everybody's individual plan," he said.
"I've sold a few of these churches around the Orange region over the years … people can get quite emotional and quite carried away with the price for these properties, especially with the bluestone. People love the bluestone churches."
Distinctive as they are, finding the right buyer can sometimes take time – particularly amid the coronavirus pandemic.
A former church in Port Wakefield, about an hour's drive north of Adelaide, has drawn interest from buyers in Melbourne looking to make a tree change, as well as locals.
The historic St Alban's Church and Hall had been home to a cafe and gallery, but has the potential to be transformed into a country getaway.
"It's been beautifully restored and has been a passion of love for the owners, who absolutely adore the quirkiness of Port Wakefield," said Merilyn Catford of Harcourts Sergeant Property.
"We're getting a lot of inquiries but people need time to arrange to come over. The coronavirus [pandemic] has put a bit of a hold on it."
For those lacking the divine inspiration to tackle a church conversion themselves, there are multiple former holy homes on the market that have already been transformed.
On the Central Coast, just north of Sydney, a former church has been drawing strong interest from house hunters looking for a perfect holiday home or sea-change escape.
Selling agent Lynette Malcolm of Chadwick Real Estate said her phone had been ringing off the hook since the expressions of interest campaign for the three-bedroom home went live on Monday.
"People are focused on it from an architecture point of view, for a sea change or a holiday home," Ms Malcolm said of the Patonga property that was once St Anthony's Catholic Church.
While it still has some holy hallmarks, such as the cross on the roof and one religious painting within (which can both be removed), it has been masterfully transformed into a modern home.
In Sydney, two more high-end conversions in the city's eastern suburbs have hit the market in recent weeks.
There's a four-bedroom Bondi Junction home on the market for $3.6 million, which blends gothic revival architecture with cutting-edge design.
There is also a six-bedroom home in Maroubra that is "blessed with multiple living zones" and scheduled to go to auction on October 31.
For those looking for their own slice of paradise outside of the big cities, there's a three-bedroom conversion for sale in Newtown, Geelong, with an indicative selling price of $1.6 million to $1.7 million.
If you're on a bit more of a budget, there's an original condition church and hall for sale for $215,000 in Allenstown in Rockhampton, Queensland.
"There's been a fair bit of interest, but it's heritage-listed so that has daunted a lot of people, as you can't alter the outside of the building," said Penny Keating of Pat O'Driscoll Real Estate. "[But] it would make a beautiful home for somebody, and it's really well priced."
She said the church could also be retained as a working place of worship or turned into the likes of a boutique coffee shop or book shop, subject to council approval. You can even hold on to some of the pews if you like.
If you're still looking for the right project for you, take a peek at some of the other former churches for sale across Australia right now:
Click to open gallery