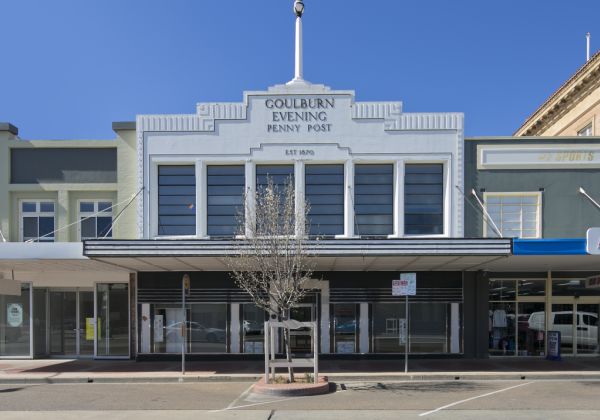 Newsworthy sale: Goulburn Post art deco building set to make headlines
There's probably a long list of journalists, sub-editors and printers who have called this Goulburn art deco building home over the past 80-odd years.
Now it's time for the existing generation of Goulburn Post scribes to move into a purpose-built facility and let this grande dame welcome a new owner.
Ironically, the two-storey gem was itself built in 1935 as a purpose-designed home for the newspaper (in one of its six or so masthead iterations).
But time and technology march on.
Justin Gay of Ray White Goulburn says the building is an "absolute classic" and holds plenty of options for a potential new owner.
"It sits in a great location with a big 12-metre street frontage, right in the city centre between Goulburn Square and Belmore Park," he says.
"The site is zoned office or retail – and would ideally suit someone with a vision of what it could become."
Gay says a co-operative workspace concept that took advantage of some 800 square metres of internal space could be an option.
"That's something that Goulburn could use with a growing influx of new residents from the Sydney, Melbourne and Canberra markets," he says.
"A co-operative workspace where desks and meeting rooms are available could be a real winner."
Gay says another option might be ground floor retail, even a cafe subject to usual approvals, with upper-level offices.
Price guide: $1 million +
Auction: 10.30am, October 11
Agent: Ray White Goulburn, Justin Gay 0429 795 507