Design trends: matching materials which seem unlikely partners, plus welcoming snake and rubber plants
Whether you're buying, building, selling or staying put, home improvement is never far from a property owner's mind. A makeover can be as drastic as a complete knockdown rebuild or as simple as adding some fresh colour or soft furnishings to the interiors. Some of Canberra's top designers share the trends worth considering in 2016. 
Architecture
If you're building a new home this year, award-winning architect Terry Ring suggests investing in a classic design that will stand the test of time, rather than trends that could soon pass. 
Click to open gallery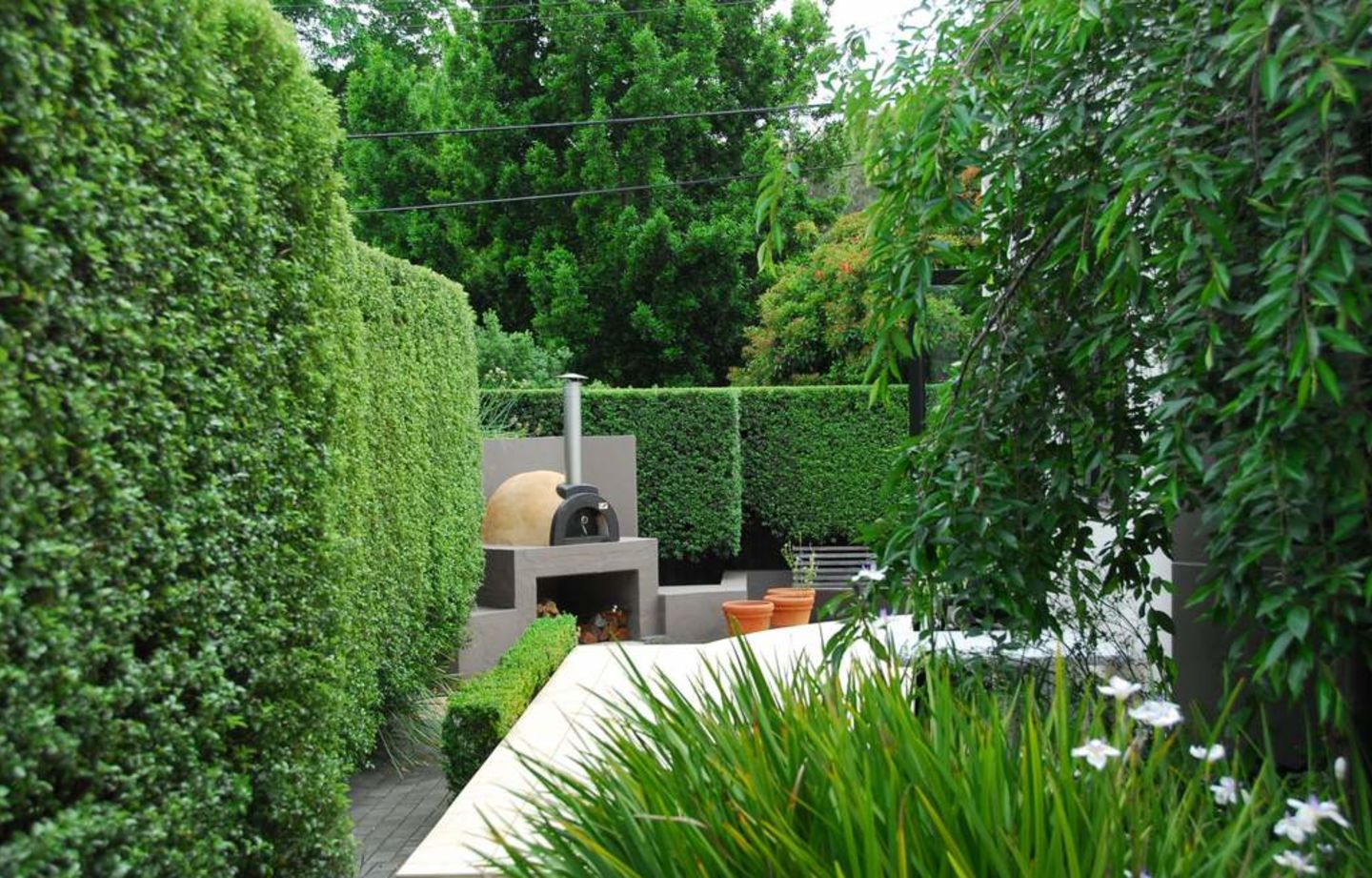 "Architecture is like fashion – it changes to suit people's trends or fads," Mr Ring says. 
"Great architecture is built to design for the occupants and create a great space which encompasses the environment and obtains solar gains. Trends do not equate in this scenario."
While the cyclical nature of new materials and colours will always have its place, a thoughtful architectural design will never go out of style. 
"I believe designs will stand the test of time in architecture if it has order, balance, form and scale," Mr Ring says.
"If the architecture has these elements then it will stand the test of time. Parliament House is a great example of this philosophy."
Mr Ring says 2016 is seeing a resurgence of pastels and materials such as terracotta. 
"Following the Paris fashion parades has always been a great way to tell the colours that will be popular in the next year."
Interior design
Interior design features are continuously evolving to accommodate new technology and modern materials. 
YOLK interior designer Nicola Smith says there are a range of smaller details that can make a real difference such as high-quality hinges, handles and drawer runners. A well-planned lighting scheme can also create a beautiful ambience in the home. 
In 2016, Ms Smith says features like benchtops and splashbacks will evolve as new materials and new ideas of how to use them are shared. 
"There's already a growing trend of matching materials which are seemingly unlikely partners," Ms Smith says.
"More traditional benchtop finishes are being revived and reworked in a different format and teamed with new cutting-edge materials such as large format, digital print porcelain tiles."
Contrast will also play a role in colour and texture, with colour blocking used to create interest in joinery and finishes such as tiles. Ms Smith says metallic hues in tiles, cladding, plumbing accessories and appliances are becoming more popular as well.
Styling
They're a lot of fun and the most affordable way to update your living space, but those finishing touches can make or break a home. 
Sold on Styling's Melinda Jamieson and Suzy Piani say you should begin with a good declutter, whether you're styling your home for sale or for yourself. 
Sheepskin or plush faux fur throws, cushions and small rugs draped over Scandinavian-style chairs will add cosiness to a room, Ms Piani says. 
"White or cream sheepskin-covered stools and chairs are also making a big statement in Europe."
Indoor plants will also liven up a room and now is the time to take advantage of the abundance of display options that are available.
"Indoor plants look crisp and contemporary when displayed in white textured ceramic planters, retro planters on feet or funky waterproof bags," Ms Jamieson says. 
While colour can make a big difference, Ms Piani says artwork is the most important feature to get right. 
"Blank walls and badly hung works let down everything else," Ms Piani says.
"Great art really is the icing on the cake."
On trend in 2016
Mix and match: Sold on Styling's Melinda Jamieson and Suzy Piani suggest mixing up furniture styles for a natural, eclectic finish. "This trend continues to prevail because it looks as though you've collected pieces over time and put them together in a stimulating and harmonious way," Ms Jamieson says. "The trick is to make it seem effortless and not overly curated."
Streamlined finish: YOLK interior designer Nicola Smith suggests built-in appliances with interesting finishes and a clever design that will manage cables for a tidy, functional kitchen. Power and USB points behind mirrored cabinet doors and a bin system built into the joinery will have a similar effect on the bathroom.
Technical solutions: Ms Piani says more people are doing away with the TV over the fireplace and creating a living space without digital distraction. "Most people are victims of technological device overload, so many are saying enough is enough and are claiming back a space in the house purely for conversation and reading books."
Bring the outside in: Architects will do this with a clever design that invites the views into the home. If your home is lacking in greenery, don't fret as indoor plants have made a huge comeback. Ms Jamieson suggests the rubber plant and snake plant as a low-maintenance option. "Then there's the fiddle leaf fig as a statement plant, it grows up to three metres indoors, monstera, for retro appeal or chain of hearts for a bit of whimsy."
Couple see world without leaving home
Sun, right, and Yun Liu have welcomed their love of travel and different cultures into their home with its striking design. Their open-plan kitchen and family room fuses Asian and Western influences with their feature wall a homage to New York City.
"We love travel," Yun says.
"We were both born in China and we've been in Australia for six or seven years. We've learned a lot in Australia and we love to visit other countries to see their differences, but also their connections with each other."
The Brooklyn Bridge feature wall is a source of inspiration. While the couple have never been to New York, it's their dream destination. Other Western cities play a role in the family room, but when you move towards the kitchen you enter a calm green space inspired by Asia's bamboo forests.
Yun has gradually added pieces to the home over the past few years, surprising Sun with a new wall when she comes home from work. He advises other decorators to take their time and stick to a master plan.
After selling their home, the Lius plan to travel to Paris and London before spending some time in Sydney. 
38 Aida Ball Circuit, Forde, is open this Saturday from 11.30am to noon and Thursday from 5.30pm to 5pm. It will be auctioned on Saturday, February 13. Phone Luton Property Gungahlin agents Jason Roses and Karen Broadhurst on 0431 419 847 or 0405 404 792. Price guide: $650,000+. EER: 5.5.
Cover property
27 Jacka Crescent, Campbell
$1.75 million-plus
Designed by renowned Canberra architect Terry Ring and crafted by multi-award winners Creative Building, this magnificent home features a flexible floor plan and more than 320 square metres of living space.
The elegant formal lounge and dining rooms off the large formal entry feature extensive architectural detailing including angled blade walls, north-facing glass and a superb picture window.
The sun-drenched family room and meals area at the rear of the home includes 3.4-metre ceilings and opens onto a superb outdoor entertaining with a fabulous wood-fired pizza oven. Tall manicured hedges along the fence line ensure complete privacy.
Serious chefs will appreciate the beautifully appointed kitchen with an island bench, granite bench tops and quality stainless steel appliances, while wine buffs will love the purpose-built 2000 bottle underground wine cellar.
Three secondary bedrooms are on the ground floor around a media or rumpus room, making this a great area for guests or children.
The sumptuous main suite is segregated on the upper floor and opens onto a large covered patio with leafy views. It offers an abundance of wardrobe space and an enormous bathroom with an oval spa and custom-built double vanity units.
On a quiet, tree-lined street, the home is set in the sought-after suburb of Campbell. With its close proximity to Lake Burley Griffin, Mount Ainslie, the city centre and the exciting redevelopment at C5, it's unsurprising that Campbell has emerged as Canberra's top performer for 2015.
27 Jacka Crescent, Campbell, will be open this Saturday and Sunday from 12.30pm-1.30pm. It will be auctioned on Saturday, February 20, at 10am, on site. Phone Peter Blackshaw Real Estate Manuka agent Albert Stavaruk on 0418 628 641. EER: 4.5