Developers push price of Ermington block with duplex potential $110,000 above reserve
An old housing commission block held in the one family for 60 years has a date with a bulldozer, after it was snapped up by developers on Saturday.
On the market for the first time since 1957, the four-bedroom Ermington house drew 19 registered bidders and a crowd of more than 70 people.
The 740-square-metre block was one of 868 Sydney properties scheduled to go under the hammer on Saturday. By evening, Domain Group had recorded a clearance rate of 65 per cent from 463 reported results.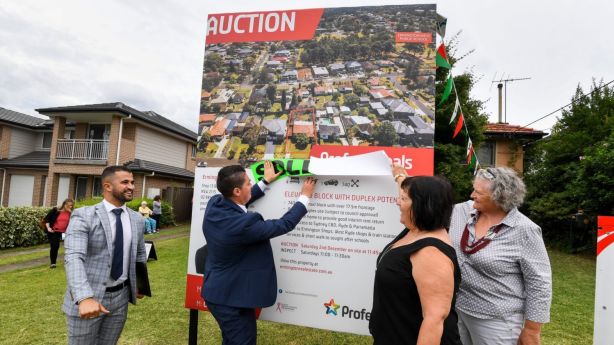 It was a very different story the last time 17 Woodward Street sold to long time locals Phyllis and Noel Haverfield.
The couple, now deceased, moved to the property in 1957, swapping a two-bedroom apartment in Bellevue Hill for a house to accommodate their young, growing family.
They forked out about £3500 for the housing commission property, where they went on to raise six children.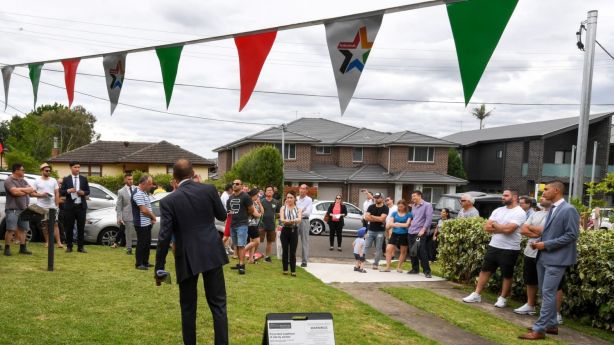 "When we lived here as kids, people would say 'Where on earth is Ermington?'" said their daughter Jenny Lindsay.
"Mum and Dad came here because it was what they were offered," she said. "They had five children at the time and had to do something to get out of the apartment they were renting."
While many of the original housing commission properties in the area still stand, duplexes have been popping up on surrounding blocks in recent years.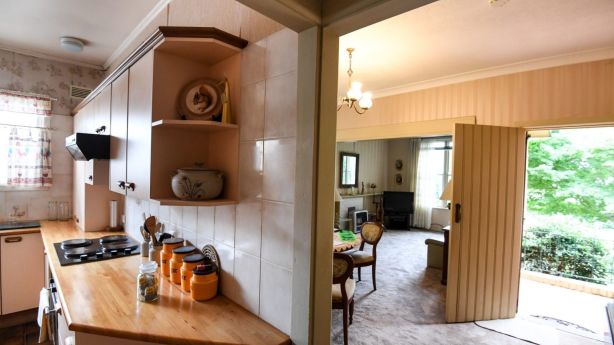 The Haverfields' property, with a 17.5-metre street frontage, made for a hot auction because of its potential to become a duplex.
It took just seconds for auctioneer Rocky Bartolotto of Auction Services to get an opening bid of $1.3 million, which came from a developer that previously lived next door.
It was almost a minute before another developer duo – two builder brothers from Concord – piped up with a $1.35 million offer. From there the bidding went up in $50,000 and $25,000 bids, quickly passing the $1.46 million reserve.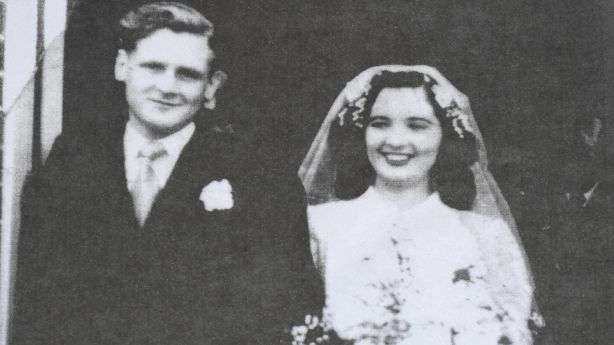 A third developer joined in at $1.56 million, but the Concord duo hit back with the winning bid of $1.57 million. The pair, who set foot on the property for the first time on auction day, plan to knock down the house and build a duplex on the site next year.
While the home sold for $110,000 above reserve and well above the suburb's median house price of $1.36 million, it was a bittersweet moment for the six children of Phyllis and Noel.
"We couldn't hold on to it," said daughter Louise Haverfield-Price. "It will be knocked, but progress is progress."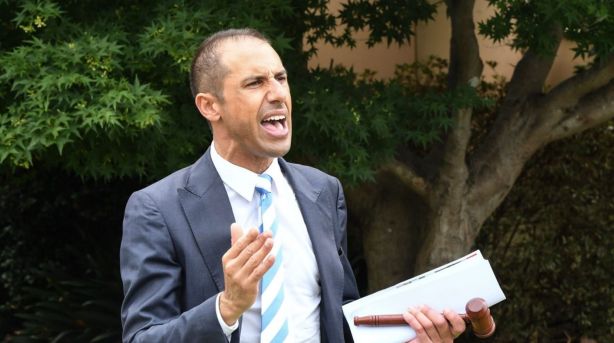 "We got about what we hoped for," she added. "If we'd put it on the market when Mum first passed away [a few months back when the market was stronger] we could have possibly got substantially more, but we weren't ready."
Selling agent Paul Tassone of Professionals Ermington said it was an "unreal result" considering comparable sales in the area and current negativity in the market.
He said owner occupiers looking to renovate and live in the property were well and truly outnumbered, making up just three of the 19 registered bidders.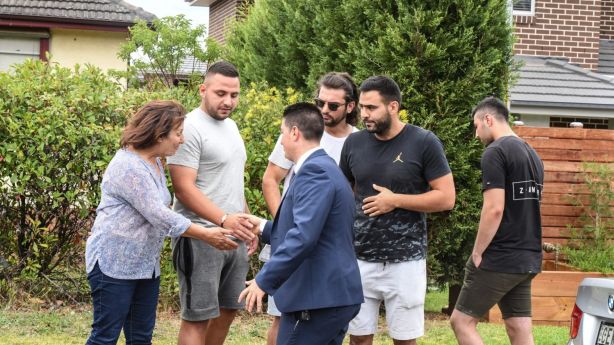 While there was plenty of demand for duplex sites on Saturday, it was a quiet affair at the auction of a brand new four-bedroom duplex in nearby Denistone.
Only one person registered to bid on 39a Pennant Avenue and when they failed to make an offer, the property passed in on a vendor bid of $1.7 million, $50,000 short of the $1.75 million written reserve.
Shortly afterwards the home sold, through Liz Wiggins of wiggins keenan, to the sole bidder for $1.67 million.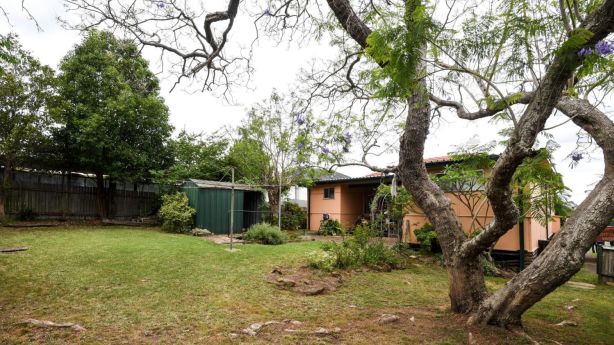 "We always prefer to set a higher reserve, so the vendors were happy to go for a lower price," Ms Wiggins said.
In the city's inner west, a boarding house that caught the eye of both investors and owner occupiers also passed in at auction on a vendor bid.
The 12-bedroom property at 75 Cobar Street, Dulwich Hill, operating as a privately-owned boarding house up until this week, drew two registered bidders.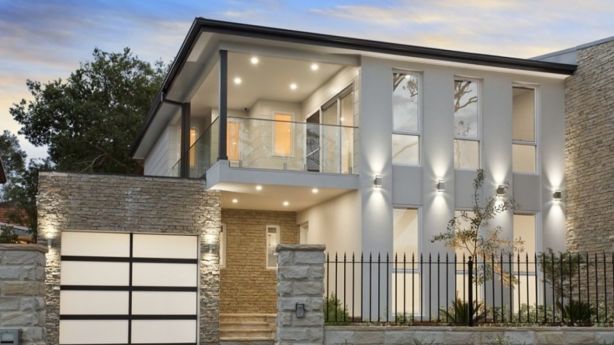 When they failed to make an offer, a $2.4 million vendor bid was made and the property passed in. Selling agent Lars Foged of Ray White Petersham was in negotiations with multiple parties on Saturday afternoon.
Elsewhere in Sydney:
159 Hastings Parade, North Bondi Photo: Supplied.
SOLD $7.55 million
North Bondi
159 Hastings Parade
3 beds, 2 baths, 1 car space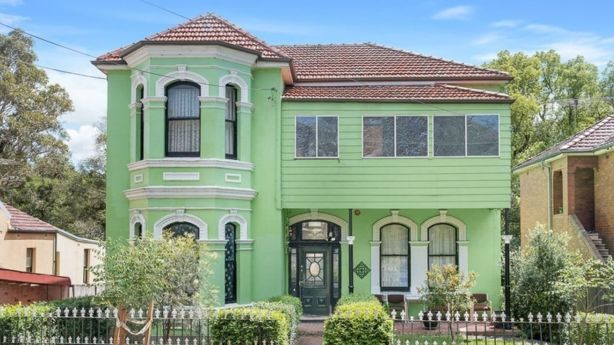 Three bidders went head to head for this 1920s home on Ben Buckler headland. The auction opened at $6.1 million and bidding went up in $200,000, $150,000 and $100,000 jumps until the hammer fell. The 398-square-metre block, with Bondi Beach views, sold for almost $19,000 per square metre. It sold to a family relocating from Melbourne, through Peter Starr of McGrath Edgecliff, who plan to build their dream home there. Mr Starr wouldn't reveal how far above reserve the result was, but the price guide for the home was $6.1-6.6 million. Records show it last sold for $3.15 million in 2006.
13 Benelong Road, Cremorne Photo: Supplied
SOLD $4,065,000
Cremorne
13 Benelong Road
4 bedrooms, 3 bathrooms, 2 car spaces
An extensive renovation paid off for the owners of this family home, when it sold for $365,000 above reserve. After bidding opened at $3.55 million it went up in $50,000 and $20,000 jumps as a downsizing couple from Mosman and four local families battled it out. Bidding soon dropped to smaller increments, with almost 50 bids made before the hammer fell. It sold through Piers van Hamburg of McGrath Neutral Bay, to the downsizing couple. The result was more than triple the $1.23 million records show the home last sold for in 2003.
98 Cecily Street, Lilyfield Photo: Supplied
PASSED IN $1.47 million
Lilyfield
98 Cecily Street
3 bedrooms, 1 bathroom, 1 car space
It's cute as a button, but that wasn't enough to secure a buyer at the auction of this Victorian cottage. When a young couple from the eastern suburbs – the sole registered bidders – failed to make an offer, a vendor bid of $1.47 million was made, at which point the home passed in. Selling agent Peter Gordon of Cobden & Hayson was confident the home, now listed for sale at $1,475,000, would sell in the coming weeks. He said while an increasing number of homes in the area were passing in at auction, the majority were still selling shortly afterwards. Records show the home last sold for $713,000 in 2008.
16 Searl Street, Petersham Photo: Supplied
Sold $1,545,000
Petersham
16 Searl Street
3 bedrooms, 2 bathrooms, 0 car spaces
This federation home failed to sell under the hammer, passing in on a vendor bid of $1.57 million. However shortly afterwards it sold through Nicholas Arena, of Ray White Petersham, to a Surry Hills couple, who were one of two registered parties at the auction. Mr Arena said there were still plenty of buyers out there, but vendors had to be willing to meet the market. Records show the home last sold for $1.1 million in 2013.