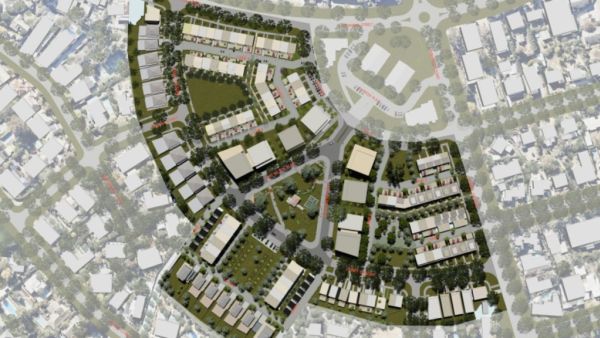 First releases in the redevelopment of the Red Hill public housing precinct hit the market
The first sites in the redevelopment of Red Hill's public housing precinct have been offered for sale.
The 53,003-square-metre precinct will be called The Parks, as it will connect six landscaped parks. The Parks will encompass 242 dwellings alongside commercial offerings.
The first sites to hit the market are ten residential blocks ranging in size from 327 to 728-square-metres. These will be going under the hammer next month.
This comes almost two years after the ACT government first launched a development application to renew the site.
The DA outlined a plan for 252 dwellings, with 108 single detached and terrace-style homes and up to 144 multi-unit dwellings.
The Estate Development Plan was approved in June 2017, and tenders for the site opened in November 2017.
In June 2018, Doma Group and Stockland were announced as the successful tenders. The consortium paid more than $50 million for the site – which is one of the largest to be offered in the ACT. 
Doma Group will develop 134 apartments and ground floor commercial spaces, while Stockland will deliver 83 "luxury" townhouses and 25 land lots.
This first release falls under Stockland.
"We're very pleased to announce 10 lots for public auction at our new community, The Parks. Opportunities like this are so rare in Red Hill and the Inner South," said Stockland general manager of built form development, retirement living and residential homes development, Ben Cantwell.
This the second residential foray into Canberra for the Sydney-based developer. The company was behind Kingston Foreshore's Waterfront development.
Stockland plans to release the remaining 15 land lots by the end of the year.
Colliers International executive Peter Scott said the opportunity to build in "Canberra's most exclusive suburb does not come along every day".
"We've been really pleased with buyer interest but aren't surprised given the premium location of The Parks in the elevated position of Red Hill, combined with the scarcity of available blocks in the established suburb," he said.
"In our experience in selling established blocks in the Inner South for the ACT government, when the occasional block of land has come up for sale in recent years, it has sold quickly."
Successful buyers of the land lots will be required to follow design guidelines, and the houses will be able to be approved under the certification of the Estate Development Plan.
"The Parks precinct is designed to deliver timeless street appeal. To support this intention, Stockland has created design guidelines for homes being built on the land that aligns with planning rules and ensures a high level of quality reflecting the premium nature of the community," said Mr Scott.
The land lots will be auctioned on April 6 at the Hotel Realm from 9am.