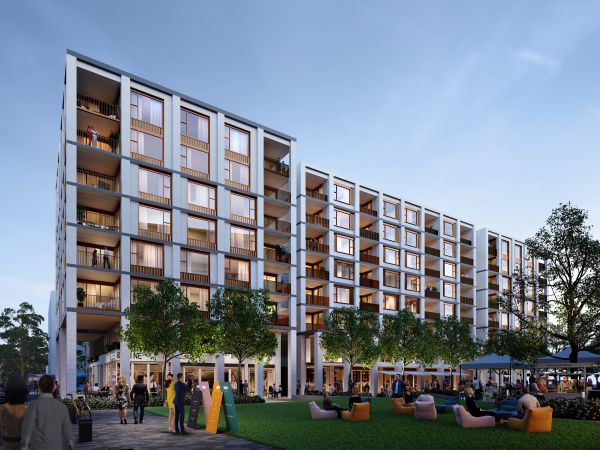 First stage of DKSN development on former Dickson Motor Registry site hits the market
The first stage of Doma Group and Englobo's $160 million DKSN development has hit the market.
Named Cape, the first stage will feature 102 residential apartments that are a mix of one, two and three bedrooms. It is set to be the first full-offering precinct on Canberra's light rail corridor.
Colliers International director of residential Shane Radnell said DKSN meets a demand for residential apartments on the highly anticipated transport line.
"Canberrans are embracing apartment living and all the benefits it offers, such as low maintenance, proximity to amenity, and centrality. DKSN residents will get the complete precinct package," he said.
One-bedroom apartments will be priced from $304,900, two-bedroom apartments from $449,900 and three-bedroom apartments from $669,900.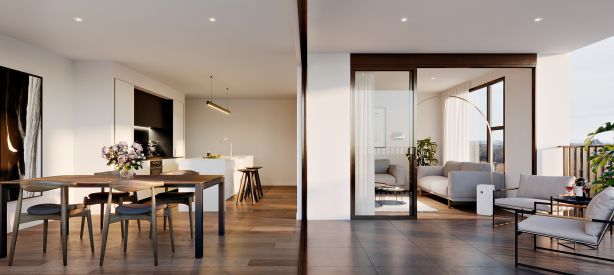 The development is located on the former site of the Dickson Motor Registry.  Doma Group won the right to redevelop the 16,000-square metre site in April 2017, and purchased the land for more than $35 million in December.
Cape received development approval in June.
A large part of DKSN has been set aside for commercial and retail spaces, with the ACT government anchoring 13,200 square metres of office space in the first stage. An Access Canberra office will be located in the development.  
The second stage will comprise 175 residential apartments, 4000 square metres of commercial space and 3700 square metres of retail space.
"What DKSN offers is a new social heart for Dickson – a place where commercial, residential and retail come together in a cohesive precinct," said Doma Group managing director Jure Domazet.
"The substantial commercial and retail offering on the site means that at completion there will be more than 1500 people who will come to work each day at DKSN."
DKSN's masterplan has been designed by Australian architecture firm Bates Smart. The firm also designed Kingston Foreshore development Atelier.
The Cape exterior features a palette of concrete, anodised aluminium and glass, and buyers can choose from two architecturally-designed colour schemes for their apartments.
"We have curated two timeless and sophisticated colour palettes to give buyers choice between a light and dark colour scheme," said Mr Domazet.
"The interiors – minimalist and monochrome – provide the perfect blank canvases on which residents can project their own individual style."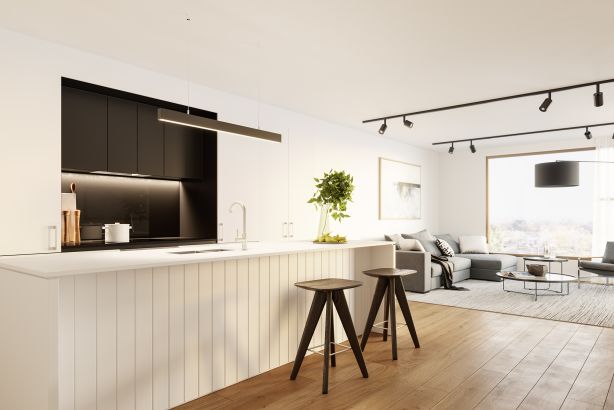 Doma Group and Englobo formally entered into the joint venture in June.
"The popularity of Dickson and demand for residential opportunities on transport hubs is demonstrated by the strong apartment rental returns being achieved here, in excess of 5 per cent," said Englobo managing director John Susa.
"The rejuvenation of the Dickson town centre will be led by DKSN."