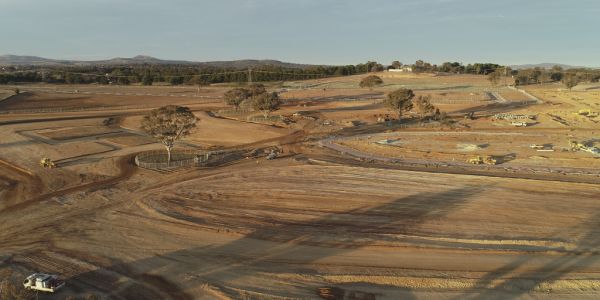 Ginninderry sees its first multi-unit auction of new suburb blocks
The ACT government is set to auction 12 multi-dwelling blocks in Canberra's newest suburbs in the coming weeks.
Blocks in Coombs, Wright and Strathnairn will go under the hammer in two auction events.
It will be the first auction event held for multi-dwelling blocks in Strathnairn – the first suburb of Canberra's newest crossborder region, Ginninderry.
Three terrace packs are on offer at the Ginninderry auction totalling 22 dwellings, with individual dwellings sitting on blocks ranging from 124 to 274 square metres.
"Smaller scale builders have shown interest in the terrace packs as they can build multiple homes on the one site," said Ginninderry sales consultant Ross Hincksman.
One 1345-square-metre multi-unit block with a maximum of eight dwellings will also be auctioned.
Purchasers will be required to work with the Ginninderry project team to design the sites.
"There's a set of design requirements specific to the multi-unit site and terrace packs," said Ginninderry project director Stephen Harding.
"We require purchasers to submit designs to us and work with our design manager, and there's a process to go through in terms of seeking approval on those designs before they are taken to market."
According to the ACT government's 2018/19 Indicative Land Release Program a total of 300 blocks in Strathnairn will come onto market.
Mr Harding said construction in Strathnairn was "on track".
"We anticipate the first blocks to be ready for our purchasers to settle in April or May next year," he said.
In Molonglo Valley, three multi-unit blocks in Wright and three multi-unit blocks in Coombs will be going under the hammer, ranging from 2032 to 9831 square metres.
There will also be an additional two packages of detached blocks on offer in Wright.
"We have taken blocks adjacent to each other in great locations in North Wright and packaged those up together," said ACT Suburban Land Agency assistant director Julia Forner.
"The blocks are designed to appeal to builders who may be looking to design house and land packages to home owners."

The largest site on offer is a 9831-square-metre block in Coombs which allows for a maximum of 98 dwellings – of those, 20 have an affordable dwelling requirement as part of the ACT government's Affordable Housing Strategy.
"It is zoned CZ5 which means that developers have the opportunity to build commercial on the ground floor, but if they don't decide to do that they have to build to commercial grade," said Ms Forner.
"This means it can be used as residential but in the future if someone wanted to refit it for commercial purposes, they could."
Ms Forner said interest was strongest in the multi-unit blocks.
"There is a strong market in the multi-unit space particularly in Molonglo because it is such a growing community, and there's an opportunity to get in now before it gets saturated," she said.  
There are a total of 53 mandatory affordable dwellings as part of the ACT government's Affordable Housing Strategy across both auctions, however, there are only two affordable dwellings mandated for Ginninderry.
The auction for the Coombs and Wright sites will be held next Wednesday, September 26 at the Ainslie Football and Social Club from 11am. The Strathnairn auctions will take place on Thursday, October 18 from 11am at The Link Ginninderry.