Home values rise in capital cities and regions in December: CoreLogic
Housing markets in the nation's largest cities picked up pace last month, with prices rising faster across the board amid a surge in buyers.
Sydney home values rose 0.7 per cent over December while Melbourne rose 1 per cent and Brisbane lifted 1.1 per cent, according to the CoreLogic December Home Value Index, a faster rate of growth than the prior month.
The latest figures show dwelling values rebounded strongly in the second half of 2020, with every capital city except Melbourne recording annual growth.
National home values finished the turbulent year 3 per cent higher, after rising 1 per cent over December.
AMP Capital chief economist Shane Oliver said the housing market outlook had turned out "a lot stronger" than he was expecting six to nine months ago.
"It was the worst recession since the end of World War II, and with 900,000 jobs lost around the middle of the year, normally against that backdrop we would have seen sharp falls in prices, particularly because the level of immigration collapsed."
Despite the economic hit from the COVID-19 pandemic, the housing market has been buoyed by falling interest rates, mortgage holidays and government stimulus.
Regional markets ended the year on the strongest footing, with combined annual values surging 6.9 per cent, a capital gain more than three times higher than the combined capitals, which rose 2 per cent.
"Regional housing markets had generally underperformed relative to the capital city regions over the past decade, but 2020 saw regional housing values surge as demand outweighed supply," said CoreLogic research director Tim Lawless.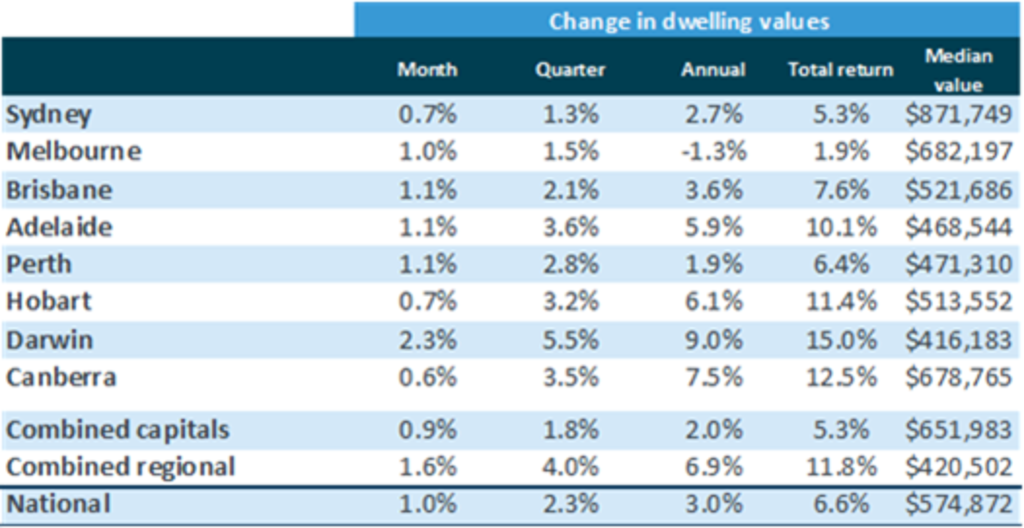 In Sydney, home values posted an annual rise of 2.7 per cent while Brisbane's strong final quarter saw values up 3.6 per cent over the year.
Despite a late rebound, the Melbourne market was down by 1.3 per cent over 2020.
But in a remarkable turn of events, the strongest performing capital city over the year was Darwin, where values grew by 2.3 per cent in December, contributing to a substantial annual jump of 9 per cent.
Domain senior research analyst Nicola Powell said the Top End had struggled to come out of multi-year downturns, but the tide had well and truly turned.
"A city like Darwin has really contained the virus very well, and that in itself has made it an attractive location in which to reside," Dr Powell said.
"Darwin has always suffered an exodus of people to other states and territories, and 2020 has been the year where people have stayed put."
Over the year, home values rose in every capital city except Melbourne.
Canberra values rose 7.5 per cent, while Hobart added 6.1 per cent, Adelaide lifted 5.9 per cent and Perth was up 1.9 per cent.
Mr Lawless said housing values had "showed remarkable resilience" in a period of economic volatility.
"Record low interest rates played a key role in supporting housing market activity, along with a spectacular rise in consumer confidence as COVID-19-related restrictions were lifted, and forecasts for economic conditions turned out to be overly pessimistic," Mr Lawless said.
The number of residential property sales plummeted by 40 per cent in March and April, but Mr Lawless said by the end of the year, sales were up by almost 8 per cent relative to a year ago.
Momentum in the market is expected to continue into early 2021, according to Dr Oliver.
He predicted strong price gains of around 10 per cent next year for capital cities outside of Sydney and Melbourne, where collapsing immigration, weak rental demand and low investment levels have weighed down dwelling values in the inner-city markets.
Dr Powell warned of possible risks ahead given international borders were still closed, and Australia had continued to see new outbreaks of COVID-19. "But I think those risks lie more so for the apartment market," she said.
Higher density dwelling values in the capital cities underperformed throughout the year compared to houses but still held firm, with capital city unit values up 0.2 per cent in 2020.
Mr Lawless said a transition of demand towards lower density housing options had helped buoy house values, up 2.6 per cent annually in the combined capitals.