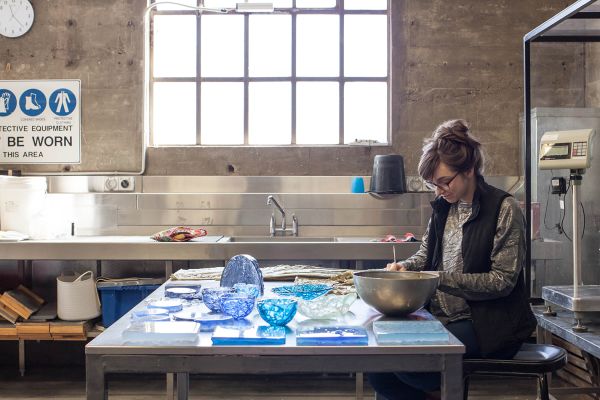 Homegrown: Meet the Canberra artist who's reinventing glass making
As a country girl myself, I can honestly say that there is nothing quite like flowing rivers, rolling hills and open spaces.
But, to capture the feeling and essence of nature in an art form, is something really quite unique and special. Alexandra Frasersmith is from Leeton, NSW, a small town not far from my own, and through her own form of glasswork, she has captured her expression of the natural world.
"I make cast and fused glass artwork and run a handmade business called Alight Glass, producing unique tableware and jewellery," Frasersmith says.
"The way I make my work is called a lost wax, cast glass process. I model what I want the glass object to be out of wax and then invest it in a plaster silica mould."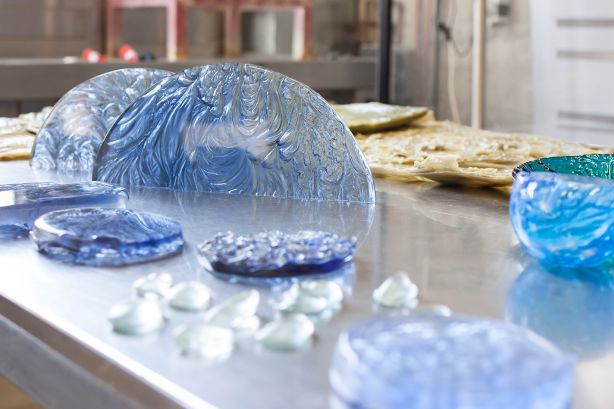 By steaming out the wax, Frasersmith is left with a negative space in the mould, and this is where the glass takes shape.
"This is done in a kiln at 800 degrees celsius and, depending on the thickness of the piece, a cooling down process called 'annealing' takes place over a couple of days. Once the glass is cool, the mould is broken off and the polishing and cold working begins."
As a natural art form that plays with elements of light, a stunning piece of glass art can act as a lens to the world beyond the walls of any space.
With delicate hues and minimalist features, Frasersmith's pieces do exactly that and aim to catch the eye in the process.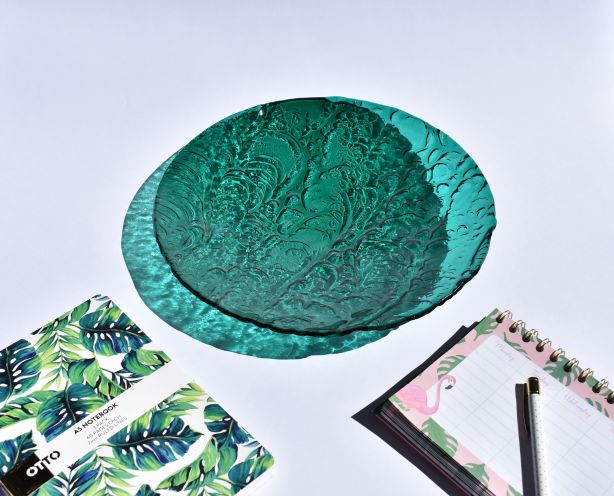 "My style has a natural liquid feel which can swing from the ornate to very minimal, often in blue tones at the moment, but I adore dark and light contrasts too," she says.
"I'm attracted to exploring visceral objects like bones and other natural phenomena in cast glass sculptures. More recently the importance of water, climate change and the similar material qualities glass and water hold have captured my imagination providing many rich avenues to explore."
Frasersmith often finds herself at the Canberra Glassworks working in the kiln or mould room alongside other local artists. The ability to brainstorm her work and run ideas past other artists lends itself to the support of the Canberra design community.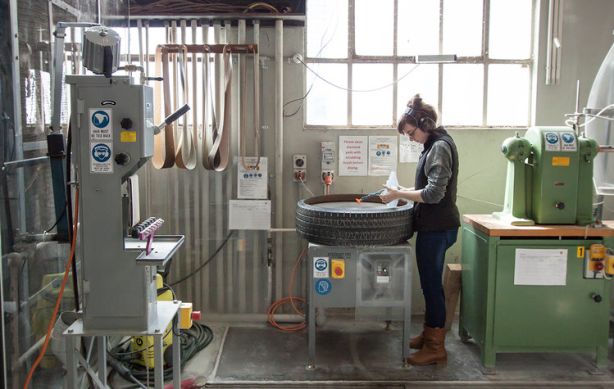 "Canberra has been essential to my work and business. It enables me to work part-time in the arts and retail industries and has all the cultural facilities any artist could possibly wish for to get work made," Frasersmith says.
"Over the last year, I have concentrated on developing my Alight Glass production, tableware and jewellery.
"I've enjoyed selling at some local markets like the Makers and Shakers, Handmade and Winter Glass and then being approached by retailers to stock my glass from all over the country as a result."
If you are interested in glass art or would like a statement piece in your home or to compliment your wardrobe, you can find Alight Glass pieces at the Canberra Glassworks and KIN Studio and Gallery. For custom pieces and more information contact Frasersmith direct via alightglass.com