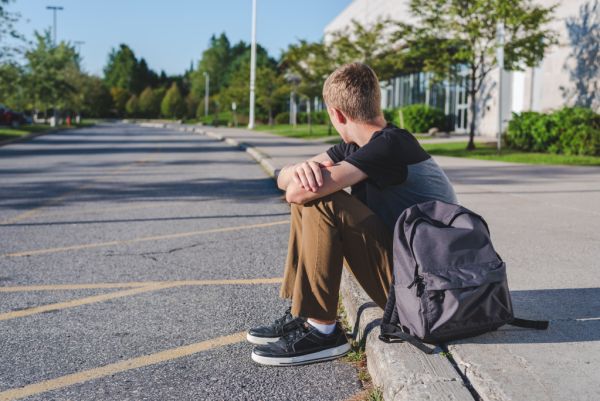 Homelessness services call for masks, gloves and affordable housing during COVID-19 crisis
A lack of personal protective equipment for workers and fewer volunteers to distribute food are just two of the challenges Australia's homelessness services are grappling with during the coronavirus crisis.
The issues were raised at a forum on the responses to rough sleeping during the COVID-19 crisis held on Wednesday.
ACT Shelter chief executive Travis Gilbert called on the Federal Government to urgently provide protection for frontline workers who were visiting rough sleepers and other vulnerable people. Many were older volunteers who were at greater risk of COVID-19.
"We really need to see the stockpile replenished," Mr Gilbert said.
The challenges facing rough sleepers compounds the risk of COVID-19 infection and complications. Many suffer serious health issues, as well as mental health issues, while there was also limited opportunity to wash their hands regularly and maintain a high level of hygiene.
John Berger from the WA Alliance to End Homelessness' said 34 per cent of rough sleepers who had received medical treatment in the past 12 months were seen to be at much higher risk of COVID-19.
So far, 27 rough sleepers across the state had been tested for coronavirus after presenting with symptoms. They have been self-isolating in a hotel in Perth, Mr Berger said.
He said more was needed to be done to ensure people who had been living on the streets were offered a place to feel safe if they needed to self-isolate.
"We all agree permanent housing is the answer to the impact of COVID-19," Mr Berger said.
Across the country, 750 people who were rough sleeping now have accommodation in hotels and motels, allowing them to follow the government rules and socially isolate.
Not only had it helped those most in need, it was also assisting hotels that had been forced to close.
"The spin off benefit for them is to be able to maintain a workforce," said Kim Holmes, the South Australian manager for Neami National, a community-based organisation that provides services to improve mental health and wellbeing.
Ms Holmes said the challenges for homelessness services in Adelaide were made more difficult given some of those sleeping rough appeared to be unaware unaware of the coronavirus and its dangers.
While housing with hotels was a good short-term solution, Ms Holmes said there would be a larger challenge for South Australia's homelessness services.
"We have 100 people we weren't expecting," Ms Holmes said. "There's been a lot of work responding to this larger group."
In Melbourne around 280 people had been helped, with homelessness services setting up housing to quarantine people who had been sleeping rough and showed COVID-19 symptoms. There had been no positive tests by late on Tuesday.
"If we do have an outbreak in one of our services that is going to make things tough," Launch Housing's general manager of finding housing Andrew D'Arcy said.
Launch Housing was due to undertake the annual street count of rough sleepers across seven municipalities of Melbourne in June, however this has now been postponed until later in the year.
In Sydney, 200 spots for crisis accommodation had been found and so far 135 had been filled. However, counts of rough sleepers in February revealed there were around 334 people sleeping on the streets of Sydney.
"Additional temporary accommodation is going to be needed there," said Neami National NSW's Shane Jakupec.
Mr Jakupec said they were working to accommodate those who wished to be housed with similar cultural groups including Aboriginal and Torres Strait Islanders.
In Brisbane, Micah Projects chief executive Karyn Walsh said the focus was shifting to the future for homelessness services, especially after the coronavirus crisis in Australia ended. Ms Walsh said more was needed to be done to ensure affordable housing was available.
"We know the emphasis has to be on the long term. Housing is both a healthcare issue and a human rights one especially now," Ms Walsh said.