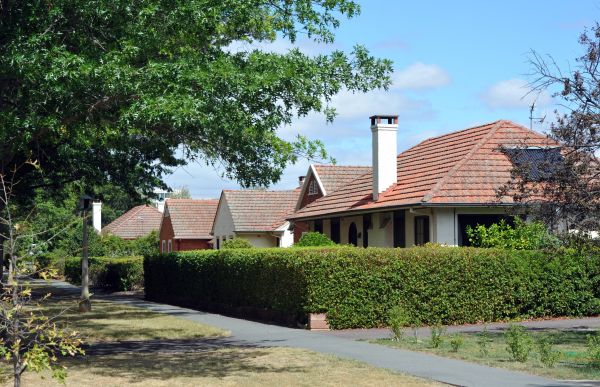 House prices fall in Canberra's most expensive region
Lucy Bladen
twitter
Editorial producer
As Australia faces a price downturn, Canberra's housing market is holding up with most regions in the territory recording growth over the year. House prices have dropped, however, in the Inner South.
Domain data shows the Inner South's median house price has dropped 3.3 per cent over the last 12 months to $1.25 million. The region is Canberra's most expensive.
"One of the reasons we're seeing the concentration of negative growth in the Inner South is because it's our highest-priced region and the conservative nature in the lending environment is having an impact," said Domain senior research analyst Nicola Powell.
"Areas with a high debt-to-income ratio will certainly be targeted by this more conservative nature."
While the Inner South has recorded a decline, the neighbouring Inner North region has enjoyed the biggest growth in median house prices, at 9.6 per cent, to $936,000.
Maree van Arkel of McGrath Estate Agents Dickson said despite the annual growth in the Inner North, she has noticed a slow down more recently in the last four weeks.
"We're not seeing the urgency, or numbers of people coming through open homes," she said.
"We are in the plateau stage. Things have levelled off."
The Domain September Quarter 2018 House Price Report, released on Thursday, showed Canberra's median house price sits at $740,215 – representing a growth of 4 per cent over 12 months.
However, the unit market has fallen by 4 per cent in the same period to a median of $412,888.
Weston Creek led the fall with an annual decline of 6.6 per cent, followed by the Inner South at 6.5 per cent and Woden at 6 per cent.
While unit prices have dropped in Canberra, across the border in Queanbeyan unit prices have risen 11.1 per cent over 12 months.
LJ Hooker Queanbeyan director, Jason Maxwell, said on Friday he sold a unit for $252,000, after selling a near-identical unit in the same complex four weeks prior for $240,000.
"We call units in Queanbeyan the perfect melting pot – they are more affordable and they have the potential to be improved," he said.
Queanbeyan's median unit price is significantly lower than that of any other Canberra region at $277,000.
Mr Maxwell said in the last year, 72 per cent of his agency's buyers in Queanbeyan were from a Canberra address.
House prices in Queanbeyan have also grown by 7.5 per cent over the year, with the median of $575,000 now on par with Tuggeranong.
Over the quarter, Queanbeyan's growth was stronger for both houses and units than any other region in Canberra.
"That's driven by affordability and people hopping over the border to get more bang for their buck. This has been a trend for some time," said Dr Powell.
"NSW's first-homebuyer incentives are helping as well. I expect the landscape will change when stamp duty is abolished for first-homebuyers in the ACT next July."