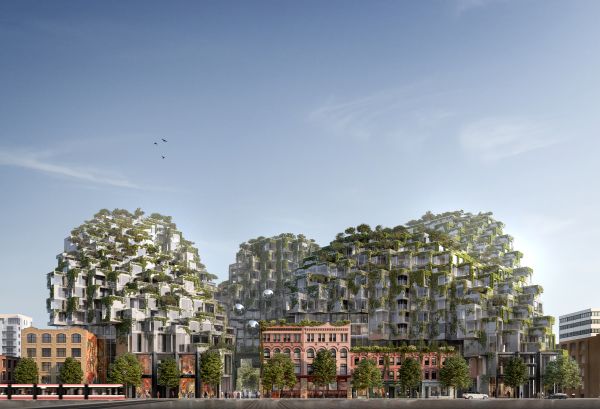 King Toronto, the quirky landmark that will transform Toronto's fashion district (for better or worse)
Something big is coming to downtown Toronto's fashion district. Big as in sprawling, with 624 plant-draped apartments plus shops, offices and a huge public courtyard.
And big as in the high-profile architecture practice Bjarke Ingels Group, which has designed the eye-catching project King Toronto.
The building sits at the meeting point of three neighbourhood parks, near the towering central business district and the low-rise Northwest.
King Toronto rises as sets of pixels arranged from the ground up on a block that is also home to three heritage buildings, which will be preserved. Each pixel is the size of a room, rotated 45 degrees from the street grid to increase exposure to light and air.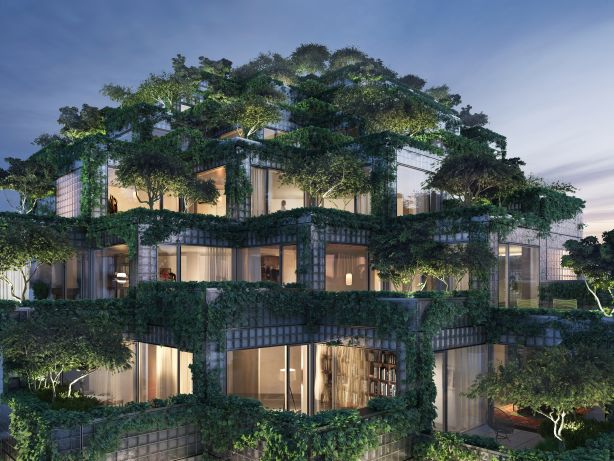 The roof surface is manipulated into mountainous forms up to 16 storeys. This shape invites sunlight into the building and creates space for terraces attached to each unit – a splash of plant life in the inner city.
On the ground level, the pixels are raised in some sections, allowing pedestrians to criss-cross the site. The new public plaza has two distinct zones: a lushly landscaped forest next to a hard-surfaced court.
Danish architect Bjarke Ingels cites the Israeli-Canadian architect Moshe Safdie as an inspiration for the 57,000-square-metre Toronto project.
Safdie's Habitat 67 building in Montreal, completed in 1967, explored how prefabricated modular units could be used in densely populated cities.
It also attempted to incorporate some of the best qualities of a suburban home into an urban high-rise building.
"With King Toronto, we wanted to find an alternative to the tower and podium you see a lot of in Toronto and revisit some of Safdie's revolutionary ideas," Ingels says.
"It would be strange if one of the most diverse cities in the world had the most homogenous architecture."
The plans were approved in September.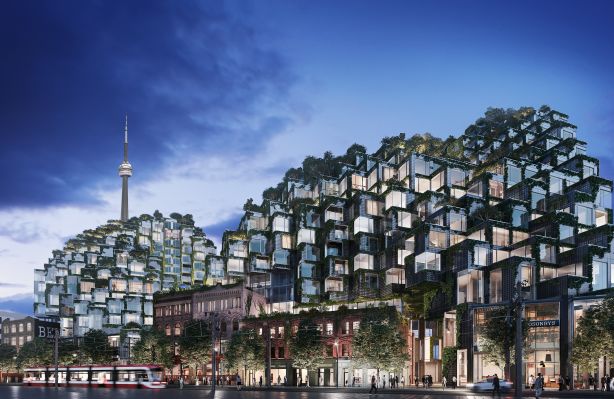 Ingels is known for his highly innovative architecture, such as a ski slope on top of a power plant. This latest project has polarised observers. Some have praised the design as a bold new landmark, while others have questioned its appropriateness.
"This proposal makes Godzilla look like a social worker," remarked one reader on the widely read Dezeen blog. Another wrote: "A mountain-shaped cellular gelatinous blob straight out of a low budget 1950s horror film. Run!"
Sydney architect Shaun Carter, of Carter Williamson, says context is fundamentally important when designing buildings.
"Just imagine if every building was trying to be or compete with the Sydney Opera House," Carter says. "It would devalue the Opera House and I doubt would make a very good city."
Most architectural works don't stand out or, if they do, it is because of "subtle, clever and skilful design".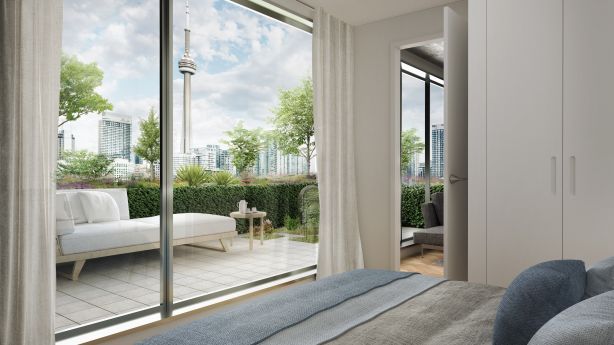 Carter chairs the Save Our Sirius group, which is fighting to prevent the demolition of the Tao Gofers-designed Sirius former public housing building in Sydney's The Rocks. He notes a resemblance between the 1970s structure and King Toronto.
"For a government that is in the thrall of the shock of the new, I'm sure they'd like to know the building they are trying to demolish is now the latest 'design' for apartments in 'starchitect' land."
Though he hasn't studied the King Toronto plans in detail, Carter says amenity should be the most important factor. "I would want to make sure this building wasn't just another big showy building, but had substance. A city doesn't want too many buildings like this. Maybe just one," Carter says.