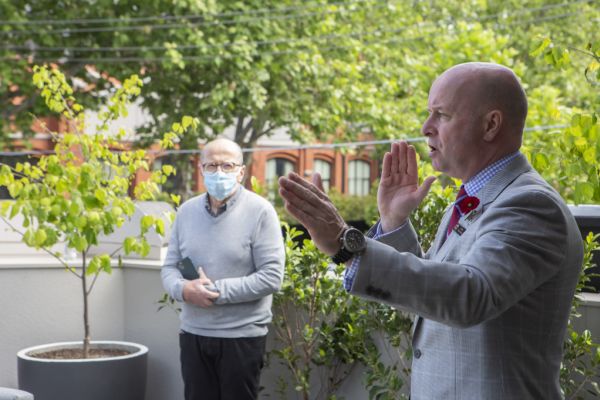 Melbourne auctions: Converted milk bar in Richmond fetches $2.125 million under the hammer
A former corner milk bar-turned-family home in Richmond sold under the hammer for $2.125 million on Saturday.
Eight bidders registered, of whom three tussled for the keys to 43 Bendigo Street, which was on the market for the first time since 2009.
It was one of 450 auctions scheduled in Melbourne this weekend.
By evening, Domain Group recorded a preliminary clearance rate of 68.1 per cent from 364 reported results, while 55 auctions were withdrawn. Withdrawn auctions are counted as unsold properties when calculating the clearance rate.
Since its last sale the single-level corner store has been transformed into a three-storey home under the ownership of developer and vendor and buyers' advocate Ben Reid, who used it as a family home.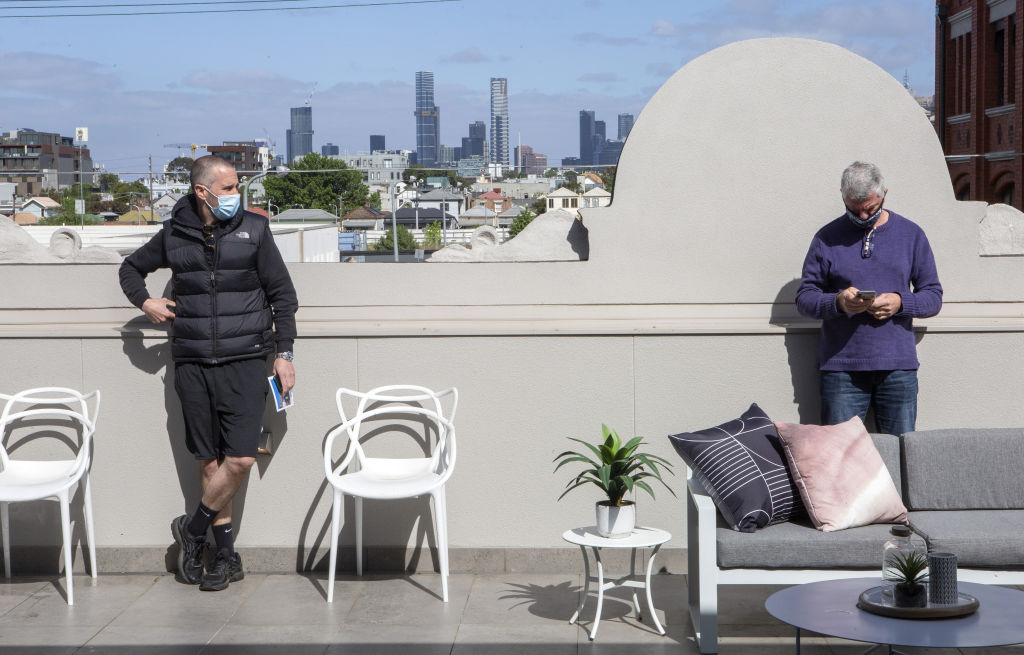 Listing agent Lachie Fraser-Smith of Jellis Craig Richmond said the property, which fetched two offers prior to auction, had attracted a range of prospective buyers, including downsizers, investors and young couples.
The winning bidder was a man buying on behalf of his daughter, who could not attend due to strict COVID-19-related restrictions limiting auction attendees to 10.
Mr Fraser-Smith said the property garnered attention due to its location and unique back story – it was held by the same family from the 1880s to 2009 and previously operated as a milk bar and wine bar.
He said the north-facing terrace with city views was a major drawcard.
"The most important thing was just the way [the vendor] had renovated it and the quality of that finish," Mr Fraser-Smith said.
In nearby East Melbourne, a lack of renovation was no barrier to bidders competing for ownership of 138 Simpson Street.
Four bidders pushed the price to $2.106 million for the terrace house that lacked a functioning kitchen – easily surpassing the reserve price of $1.95 million.
"This is essentially for a house you could declare uninhabitable because it didn't have a kitchen," listing agent Arch Staver of Nelson Alexander Fitzroy said.
The winning bidder intends on renovating and occupying the property.
Interest came from a range of buyers spanning Baby Boomers to Gen Y, most of whom were attracted to the idea of putting their personal stamp on a property within tightly held East Melbourne.
"I think it's almost always about position – this enjoyed a really nice spot in front of the tennis court – and the fact that people really do want to do their own thing to a property," Mr Staver said.
The vendors, who have held the property since 1984, had listed it after relocating the eastern suburbs during the height of the pandemic.
"They moved out a little while ago – they realised during the lockdown that they needed more space," he said.
The desire for unrenovated properties, which was likely driven by the current low-rate environment, Mr Staver said, was also apparent in Fitzroy, where a terrace at 391 Gore Street sold for $1.522 million.
It was previously the headquarters of the Combined Tramways & East Melbourne RSL.
The new owner of the property, which had a reserve of "around $1.1 million," would likely spend another $1 million on renovations, according to Mr Staver.
With 20 registered bidders, the agency was forced to conduct the auction online in order to adhere to current COVID-19-related guidelines.
Interest in excess of the 10-person physical auction cap also resulted in the auction of 18 McCormack Street in Port Melbourne being held via Zoom.
The striking Port Melbourne home sold for $307,000 more than its reserve in a highly contested virtual auction.
The three-bedroom residence was listed with a price guide of $1.55 million to $1.6 million.
Set on 220 square metres of land, the brick house was designed by Ric Bonaldi of the eponymous building facade consultancy as his own home in about 1990.
Interest was so strong that the auction was held via Zoom to accommodate a larger crowd than Melbourne's 10-person cap on physical auctions.
Proceedings kicked off at $1.5 million and rose quickly with four main bidders fighting it out, soon passing the reserve of $1.6 million.
When the price reached $1.9 million, the bidders drew breath but, after a handful of $1000 bids, the house sold for $1.907 million.
"There is precious little like that on the market at the moment," Belle Property Albert Park listing agent and auctioneer David Wood said. "It is going to be slim pickings."
Buyers were drawn to the home's good bones and generous accommodation with the potential to update in future without the worry of a heritage overlay, he said.
Since the lockdown ended, he has seen a spike in buyer demand, spurred on by the interest rate cut this week.
"Buyers now see a clear path forward and they are stretching themselves to purchase because they think there's going to be more [price] increases to come," he said.
With Elizabeth Redman