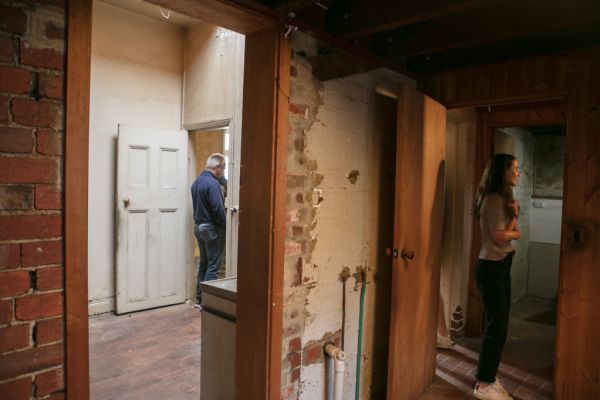 Melbourne auctions: Derelict Burnley house draws seven bidders, fetches $1.252m
Torn carpet, a hole in the floor and dangling cobwebs didn't discourage bidders for a period home in Burnley at auction on Saturday, with the derelict house fetching $1.252 million.
Seven parties fought it out for the chance to undertake a full renovation of 18 Crimea Street, pushing the price $287,000 above its reserve.
It was one of 905 auctions scheduled in Melbourne on Saturday. By evening, Domain Group recorded a preliminary clearance rate of 73.7 per cent from 650 reported results.
The three-bedroom fixer-upper was a State Trustees sale listed with a price guide of $900,000 to $990,000.
Bidding kicked off at $950,000 and quickly passed the reserve price of $965,000, as young builders competed hard with hopeful owner-occupiers in front of a crowd of about 100.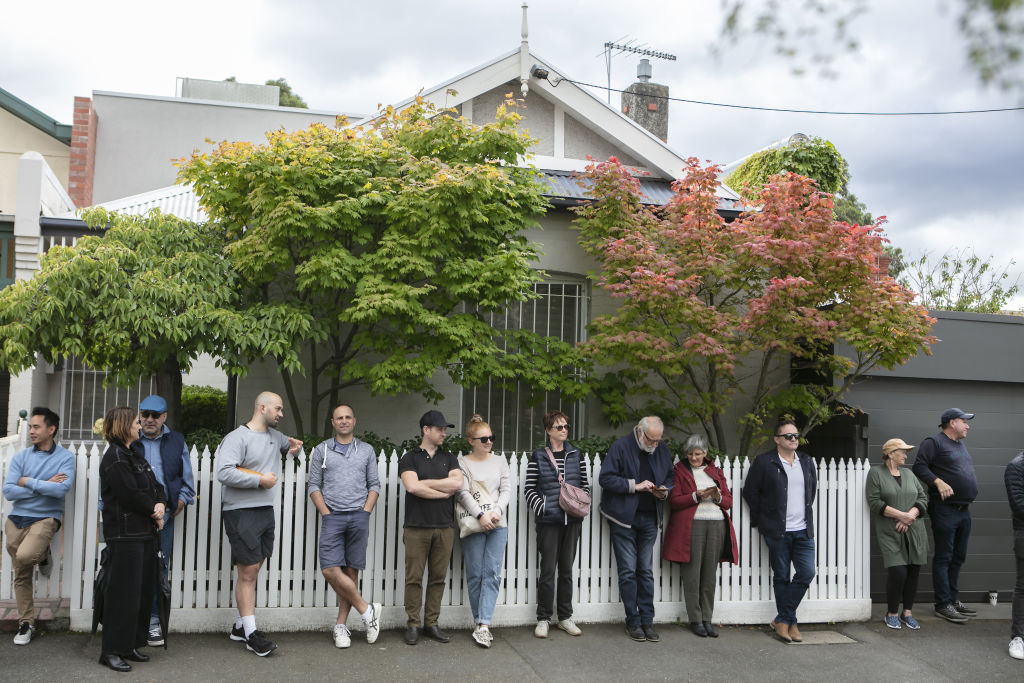 The bidding narrowed to mostly rapid-fire $1000 offers until it was sold for $1.252 million.
A couple hoping to renovate and move in won the day, and will keep the facade but otherwise transform the home, Biggin & Scott selling agent Andrew Crotty said.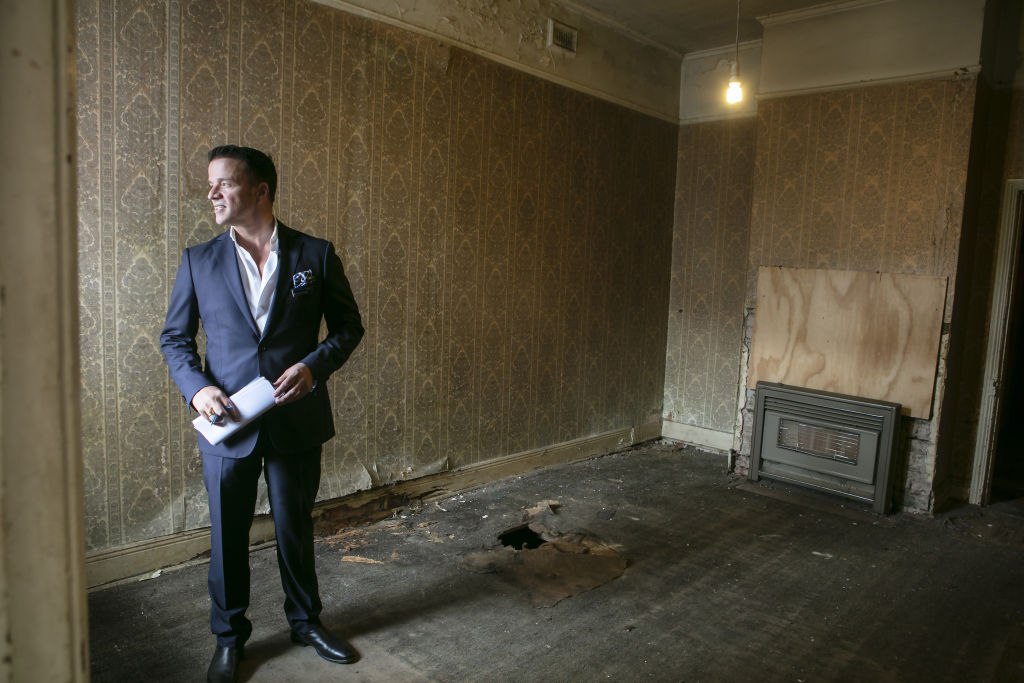 "It shows that the market is very much heating up," Mr Crotty said.
"And unrenovated properties seem to be really the flavour of the month, if [people] can add some value to them."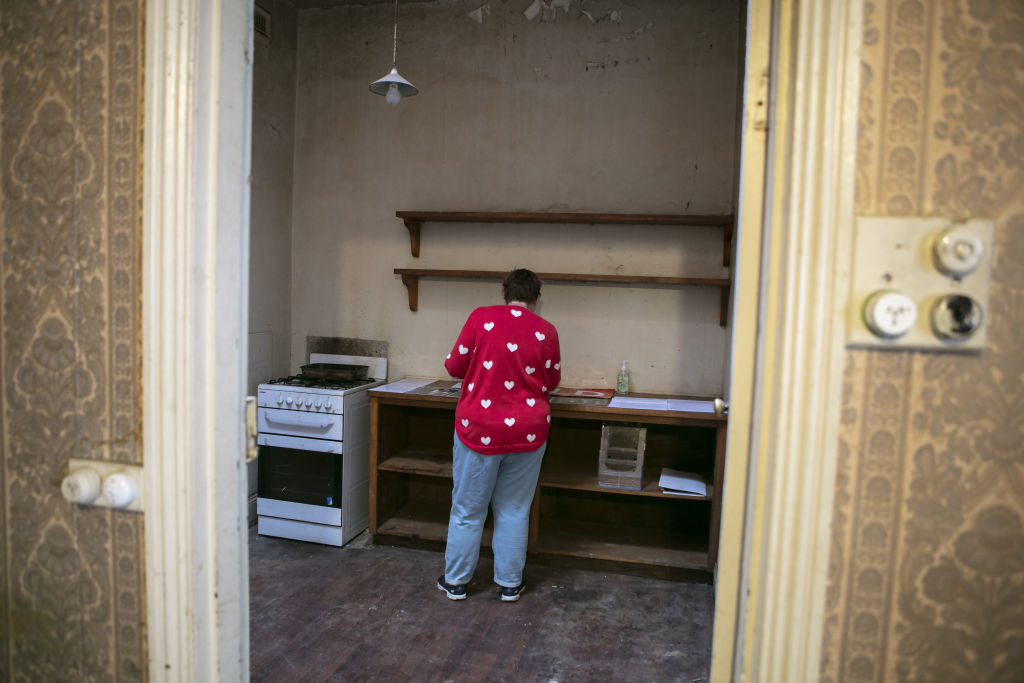 He said the housing market in his area was tracking "very well" but there were different segments.
"Unrenovated Victorians and blue-chip Victorians are travelling really well, period homes," he said.
"Apartments are struggling a little bit, unfortunately, I think from the flow-on effect from COVID. But all in all the market seems to be very buoyant."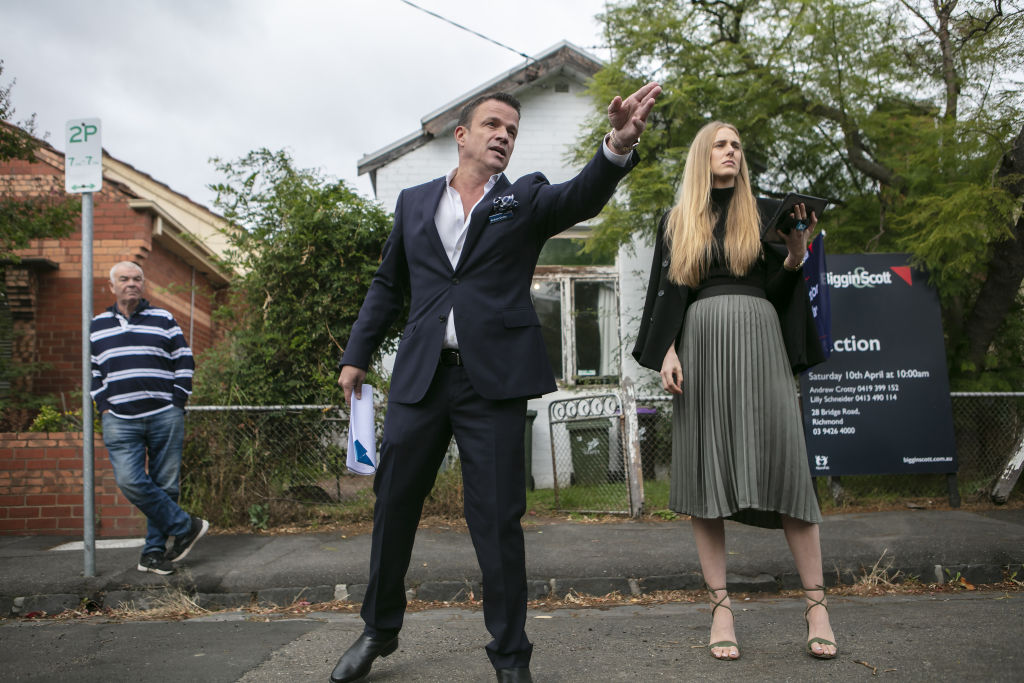 Elsewhere, a single-fronted terrace on a long block in Fitzroy North sold under the hammer for $1.623 million.
The well-presented two-bedder at 183 Scotchmer Street had been asking $1.3 million to $1.4 million.
Its deep courtyard was a drawcard, set on a block of 201 square metres — larger than a usual terrace in the neighbourhood — with dual frontage to the street at the rear.
It offers scope to add a home office or studio in the north-facing courtyard to accommodate remote working, and there is room to add a second storey on the main house later.
Bidding began at $1.3 million and rose quickly in increments of $20,000 to pass the reserve price of $1.42 million.
Five parties competed, mostly young professionals, with two left in the race after $1.55 million.
The buyers are a couple moving into the inner city from Eltham, Jellis Craig Fitzroy selling agent Charles Atkins said, the opposite of last year's pandemic-era tree-change trend.
"It's normally the opposite – we see people moving out [to the suburbs]," he said.
"Having a dual street frontage was a big point of difference for this house."
The underbidders had been looking for six to 12 months trying to find a property like this, he said.
In Yarraville, a block of apartments was sold by one family of real estate agents to another.
The brick six-pack of two-bedroom units was advertised with a "conservative" rental return of about $90,000 a year, and a price guide of $2.25 million to $2.4 million.
Four bidders went toe-to-toe for 30 Stephen Street, with the block soon passing its reserve of $2.55 million.
It was snapped up for $2.72 million in a quick, 10-minute auction in front of a large crowd.
Greg Hocking Footscray selling agent Tracey Dean said whole blocks such as this in the western suburbs were rarely offered to the market.
"Our market is moving very fast," Ms Dean said.
"Anything from townhouses to big opportunities are selling extremely well."
Further north, a new townhouse in Glenroy sold for $690,000 after offers from four bidders.
The two-bedroom home at 1 Milton Street traded at the top end of its updated price guide of $630,000 to $690,000, which had been lifted during the campaign from an initial $600,000 to $660,000 after strong interest.
"It shows how effective our price guides are," Boutique Estate Agents selling agent Tim Harris said. "Good agents know what their property is worth.
"Underquoting, it shouldn't happen but it does … If properties are going well beyond the reserve, that shouldn't happen."
Another townhouse in leafy Hawthorn East passed in at auction at $1.395 million but sold afterwards for $5000 more.
Three bidders were keen on the three-bedroom home at 6 Kooyong Close, which was quoted at $1.35 million.
An offer of $1.3 million kicked off the auction before a series of $20,000 rises, which narrowed until the home passed in.
After negotiation, a young man paid $1.4 million for the residence.
Despite the small gap between auction offers and final price, Jellis Craig listing agent David Macmillan was philosophical.
"The vendor's happy," he said.
"I haven't had anything that hasn't sold," he added, although a couple in the last month had gone to post-auction negotiations to ink a deal. Most of his recent sales had been drawing two or three bidders.
In Glen Iris, a bright entry-level apartment passed in and was still available at the time of writing, with a fresh open home scheduled for Monday.
The updated two-bedder at 3/1431 High Street was asking $600,000 to $660,000 and passed in on a vendor bid of $620,000, Marshall White selling agent Brandon Whitta said.
First-time buyers who may need to make offers subject to finance will now have the chance to do so, Mr Whitta said.