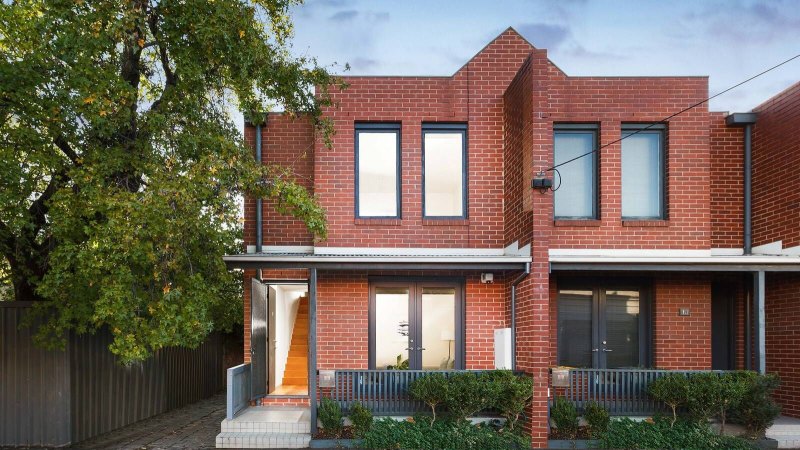 Modern Carlton North home sells for $1.615m in election day auction
A modern, two-storey Carlton North home sold under the hammer for $1.615 million on election day after four bidders vied for it despite the slowing property market.
Prospective buyers rugged up to stand in the chilly morning air at 11 Sutton Street, as bidding opened at $1.35 million – under the price guide of $1.4 million to $1.5 million the home was advertised at.
A vendor bid of $1.4 million then saw a flurry of action, with $10,000, $5000, $1500 and $1000 advances following.
Four bidders raised their hands, but ultimately, a man and his partner were the buyers, making a final $4000 bid to win the keys.
In a sign of the times, the man's partner was listening in to the auction over the phone, as he was quarantining at home with COVID-19, Woodards Carlton partner and auctioneer Glenn Bartlett said.
"Buyers told me they had been up early and voted before coming to the auction," Bartlett said. "We're expecting inspections to be busy because everyone will be out and about today and will come to look at a home after grabbing a democracy snack."
The vendor, who has owned the three-bedroom townhouse since it was built in 1995, and lived there before turning it into an investment, was thrilled to make a sale $115,000 above the price guide.
It was one of 585 auctions scheduled on federal election Saturday, almost 50 per cent fewer than the previous weekend, but buyers were still out and about. By evening, Domain Group recorded a preliminary clearance rate of 60.2 per cent from 417 reported results, while 48 auctions were withdrawn. Withdrawn auctions are counted as unsold properties when calculating the clearance rate.
Another three-bedroom home at 12 Waratah Street, Pascoe Vale exceeded its price range of $1.05 million to $1.15 million, selling under the hammer for $1.175 million.
The home was snapped up by a young professional couple as an investment property.
Brad Teal Woodards head of sales and auctioneer Andrew Butler said the auction started on a vendor bid of $1.08 million, with two bidders making $5000 advances to take it to its sale price.
"There were 20 to 25 people in the crowd including neighbours and friends of the vendors who were watching on," Butler said. "People were definitely out and about."
While many of the bidders had already voted in the election, the nervous vendors waited until after the auction to head to their local polling booth.
On the other side of the city in Mentone, a two-bedroom unit at 8/58 Naples Road was passed in on a bid of $680,000 but sold after a short negotiation for $700,000 to a downsizer.
The unit, on the market as part of a deceased estate, sold just below the top end of the price guide of $650,000 to $710,000.
"It's what I would call a fair and reasonable price," Hodges Mentone selling agent Mark Pearman said. "It's a more balanced market.
"I don't think that election day has had any impact – the cost of living has gone up by so much. That is hitting everyone," Pearman said. "It's not the interest rate rises people are talking about, it's the cost of living and how much more people have to pay for everything."
A doctor, still dressed in his scrubs, rushed from work at a nearby hospital to another auction in Carlton North, buying the home with his partner for $1.62 million, above the $1.5 million reserve.
The couple was among four bidders for the two-bedroom home at 15 Macpherson Street, where the auction opened at $1.4 million.
Nelson Alexander Fitzroy director Arch Staver said the vendors, who had owned the property for about eight years, were also medical professionals.
"Most of the bidders were young couples," Staver said.
In Mickleham, a four-bedroom home at 15 Nebula Crescent sold to a young first home buying family, after they made a final $500 bid for the keys.
C Square Real Estate selling agent Jatin Mehta said the couple was one of six registered and four active bidders for the home that sold for $701,000.
An opening bid of $580,000 was soon eclipsed by a succession of $20,000 and $10,000 bids.
"That final $500 sealed the deal," Mehta said. "There was a really good turnout as well, so people were out and about."
A four-bedroom home in Cheltenham's "golden triangle" also attracted a large crowd of about 100, before selling under the hammer for $1.67 million.
The vendors of the home at 39 Cobham Street are now planning to make the ultimate tree change, after buying a pub near the South Australian border, Ray White Cheltenham selling agent Trevor Bowen said.
Five bidders fought it out and a woman who lived close by and wanted to move closer to friends won. Bidding opened at $1.4 million, with the home called on the market at $1.575 million.
"This election there's been less negative talk about the market [like changes to negative gearing and capital gains tax], but some people are still waiting until after the election," Bowen said. "I expect things to bounce back a bit next weekend."
Bowen said the market had tightened since last year, with fewer people attending open for inspections and fewer bidders turning out to auctions. But it was quality over quantity, he said.
"Quality homes, they're still selling really well," he said.