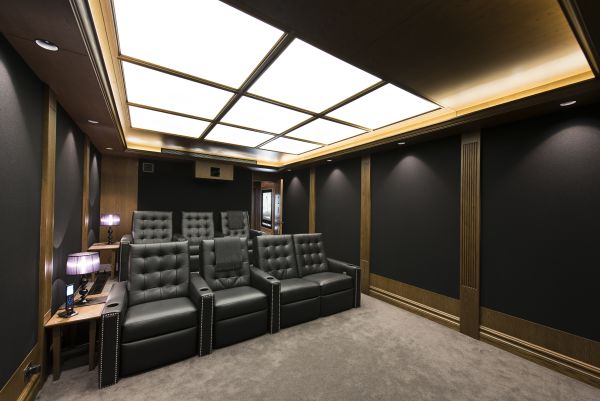 'Nobody uses TVs for proper cinemas': What the best home theatres in the world have in common
How do you know if your house has a mere, middling "media room" or an actual home cinema?
It is, I'm afraid, as so many things are in the toy-toting world of men, all about size, at least according to experts such as high-end home installer David Moseley.
You might have a special room with a whopping TV of many inches, comfy couches and your favourite movie posters on the wall, but Moseley, director of Wavetrain Cinema,  would scoff at you for branding it a "cinema".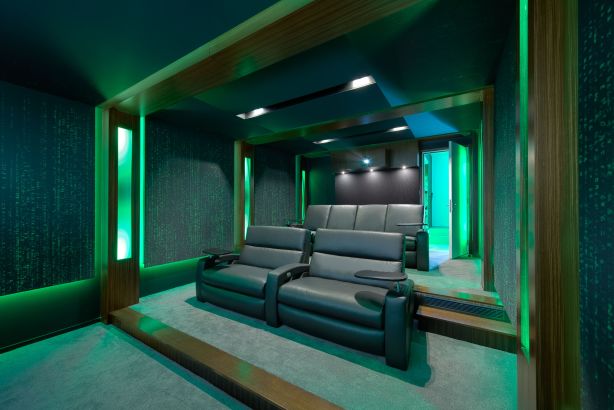 "Nobody uses TVs for proper home cinemas; they're just not big enough," Moseley explains. "Most TVs are typically 42 to 80 inches, while  65 inches is the most common these days, but when we do home cinemas we're looking at a minimum of 140 inches, right up to 200 inches.
"Most of our clients would never go out to the cinema, because it's not as good as what they've got at home."
If you want maximum size, you're going to have to go for an overhead projector, and if that sounds like a slightly outdated technology, you're kind of half right. Moseley admits that no projector – even the truly excellent 4K ones – can offer the picture quality of a modern OLED television screen, but once again, it's all comes down to size.
"An OLED screen has by far the best contrast, but it's not about that – if you go to the cinema and watch something on a screen that's 10 to 20 metres wide and then you come home and watch a 65-inch screen, it's just not cinematic," Moseley says.
If you're a proper cinephile, then, what you need is a whopping great screen, the best overhead projector you can afford (Ben Q does good ones from as low as $2500 or $3000, according to Moseley, while a Sony 4K one will set you back around $10,000), and a purpose-built room that shuts out all light.
Building your own, proper home cinema isn't cheap, of course – and don't even start Moseley on setting up your bespoke room for proper sound – but think of the money you'll save by never visiting Hoyts again.
Home cinema highlight: Hamilton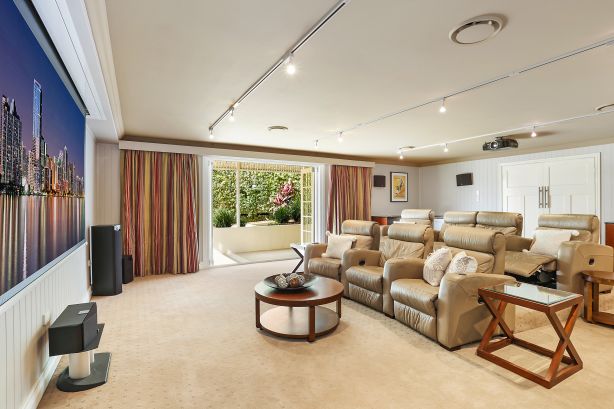 It's called "screen envy" – the feeling that other people have better, or bigger, screens than you – and easy to get a touch of it when you gaze upon the magnificent home cinema at this resort-like property in Hamilton.
The experts would surely approve of the giant wall screen and projector.
Drew Davies of McGrath New Farm is selling the property, which currently has a $4.75 million price tag.