Record auction numbers continue as sellers rush to offload property before Christmas
Sellers concerned about what 2022 holds for the property market are auctioning their properties now while the market is still strong, experts say.
The rush to offload property before Christmas is well and truly on, with another weekend of Super Saturday auctions set to test the market again this weekend. Every capital city except Sydney saw a dip in clearance rates last week.
Nationally, there are 3039 properties set to go under the hammer, marking the third Super Saturday of auctions in a row. Sydney is set for one of its busiest Saturdays on record (1149 auctions scheduled) and Adelaide will stage its biggest Saturday of auctions on record. Melbourne has 1471 auctions scheduled for Saturday.
Auction volumes
Table 1. Upcoming auction summary, December 4, 2021
| | | | | |
| --- | --- | --- | --- | --- |
| City | Auctions scheduled | Weekly change | Annual change  | 5-year comparison |
| Sydney | 1149 | -3.6% | 52.8% | 35.8% |
| Melbourne | 1471 | -0.4% | 112.9% | 24.6% |
| Brisbane | 130 | -0.8% | 97.0% | -7.1% |
| Adelaide | 178 | 6.0% | 161.8% | 71.2% |
| Canberra | 96 | -13.5% | 39.1% | 26.3% |
| Perth | 13 | -66.7% | 8.3% | -73.5% |
| Darwin | – | – | – | – |
| Hobart | – | – | – | – |
| Combined Capitals | 3,039 | -2.5% | 82.9% | 26.5% |
Domain chief of research and economics Nicola Powell said the flood of properties going under the hammer in the lead-up to Christmas indicated sellers were trying to get their deals done while there was still momentum in the market.
"That bumper three weeks in a row really does show sellers are trying to get their deals done before we see market softness. They want to sell while the market is still strong," she said.
"They're being mindful of what's possibly on the horizon: interest rate rises, moves from APRA. People want to sell at the peak of the market, they want to get it before prices fall."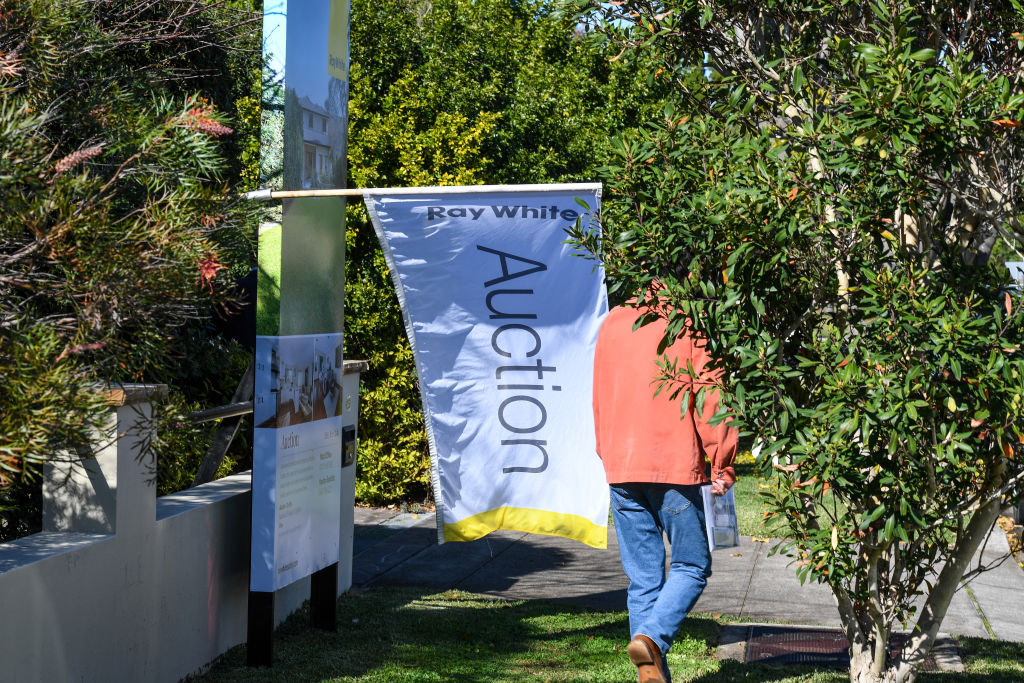 James Ball of Ballard Property said it was what everybody was asking right now: has the market peaked?
"They're all asking the same question. What I would say is, I don't think the market has lost momentum," he said. "I think everyone is just fatigued and that's why we're seeing that softening.
"It's been a long year, people are tired. They're also able to do other things now, able to go places. Everyone isn't stuck at home with property at the forefront of their minds. And December is always when things quieten down.
"If you don't have to buy this year, most of those people are going to reassess at the start of next year. I think it will pick up again in January – there have been some big sales, that will filter through to next year – and we'll get everyone who hasn't bought this year re-entering the market."
Mr Ball is auctioning a historic residence at 15 Busby Parade, Bronte, this Saturday at 8.30am and is expecting interest in the circa-1885 home to be strong.
The property, a five-bedroom manor home that has been held by one family since 1963,  was one of the first homes in Bronte. It features hand-cut sandstone, heritage ceiling roses, floorboards and skirting boards, a hand-carved, solid wood staircase, etched glass and original iron locks.
"There are some people who want to be done with it and others who have bought elsewhere and need to sell before Christmas but this one has been in the family for decades – they'll only sell if they get the right price," Mr Ball said.
Mike Beardsley of Jellis Craig & Company said there was "certainly fatigue" in the marketplace following a massive year not just for the property market but in general.
"Everyone is looking forward to a break and I think there won't be any more new listings at this point," he said. "There could possibly be a few off-market deals if the price is right but otherwise people will be patient and wait to run their campaign in February next year."
He said the flood of new listings had given buyers increased choice, and with it, some difficult conversations with vendors about price expectations.
"If expectations are too high, then potentially a property will pass in. Those that are priced correctly will still see strong results," he said.
Mr Beardsley is taking 7 Evansdale Road, Hawthorn, to auction on Saturday at 9.30am and said he believed interest in Melbourne property would come back strong in the new year thanks to international arrivals.
"Melbourne, relative to other cities, is still very cheap," he said. "I think there will be a lot of expats coming back to Melbourne in the new year. I'm already getting a lot of enquiries from people wanting family homes in the suburbs they grew up in so they can send their kids to the same schools.
"There are environmental factors that could influence people's feelings about the market, like the APRA announcements and interest rate rises … there is an element of that but it all comes down to people's motivations. If a property shows value, it'll still do well."
Across the combined capital cities, auction listings have dropped from the almost four-year high last week and are lower in all capitals except Adelaide, although auction volumes remain extremely elevated for the time of year.
Canberra continues to see extraordinary results, notching 24 consecutive Saturdays with clearances above 80 per cent.