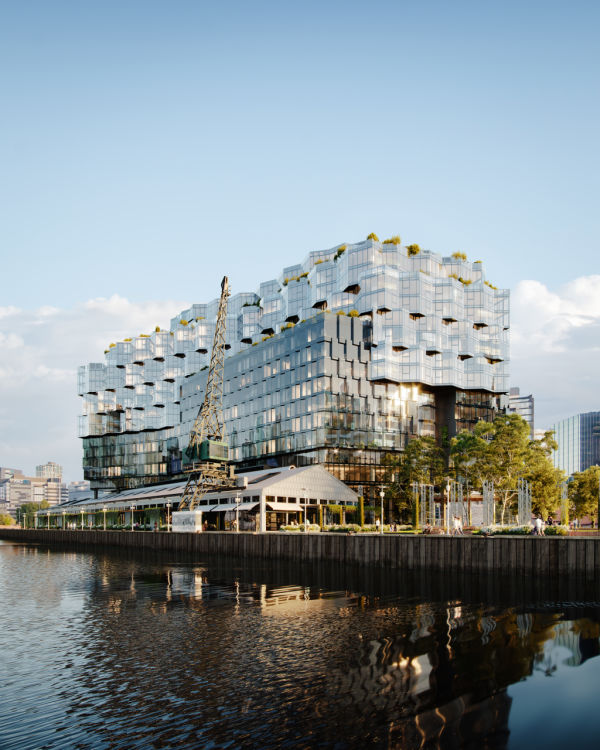 Seafarers Residences: A luxury contender on the Yarra River waterfront
It's the kind of combination destined to deliver true effortless living: spacious, luxury apartments, with the finest fittings, complemented by the staff, amenities and immaculate surroundings of a five-star hotel, right in the heart of everything.
After sitting dormant for more than 40 years, a neglected pocket of industrial land with an enviable waterfront location connecting Melbourne's CBD and Docklands, is being reimagined with a $550 million apartment and hotel complex.
Seafarers, by developer Riverlee, is currently under construction and will be home to Australia's first 1 Hotel, a global brand renowned for its sustainability ethos, as well as the city's first international hotel-branded residences.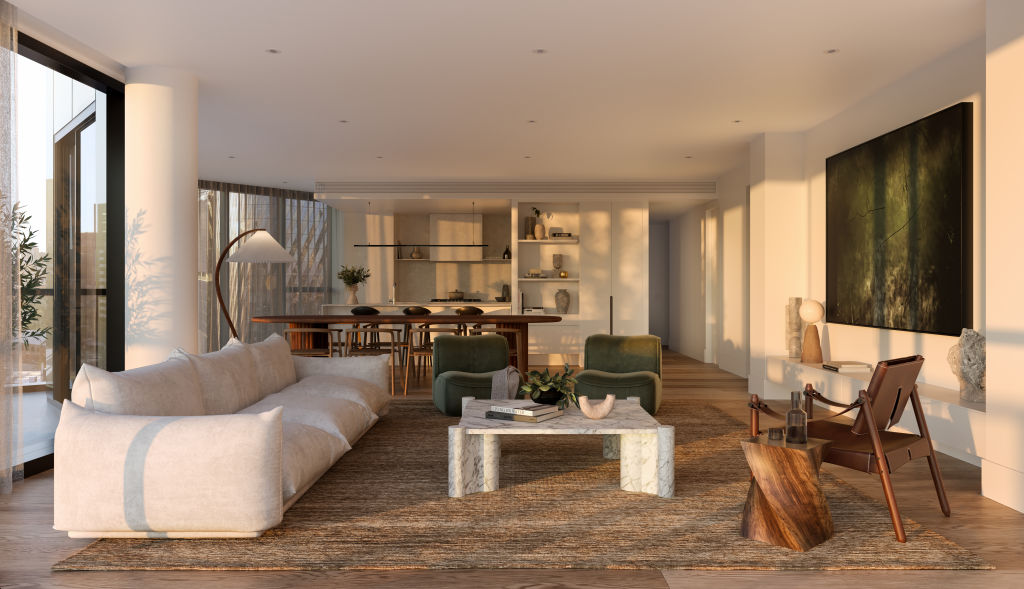 The building's bold sculptural design by Melbourne-based architecture studio Fender Katsalidis and interiors by Carr Design take their cues from the ever-changing form of the Yarra River, which the precinct hugs, blended with a firm nod to what came before on the historical site.
"Celebrating the site's maritime past, the entire redevelopment centres on the restoration and re-use of the heritage-listed Goods Shed No. 5 and its distinctive travelling crane – the only intact remnants from the days before containerisation, when the river was the city's principal port," says David Lee, development director at Riverlee.
"Inspired both by the physical and historical nature of its riverfront setting, the scheme's tripartite layering showcases the industrial heritage of Goods Shed No. 5 while amplifying the movement and reflection of the Yarra through the colour and geometries of its facade."
The incorporation of nature was another important design element, both inside and out, and adjoining the complex will be Seafarers Rest, a lush new 3500-square-metre waterfront parkland, designed by landscape architects at Oculus.
"Breaking the usual boundaries of built form design, the precinct has been designed to work with nature and not against it, with lush greenery inside and out, reflecting 1 Hotel's eco-luxury brand belief that luxury is not derived from extravagance but is borne from the abundant beauty in nature," Lee says.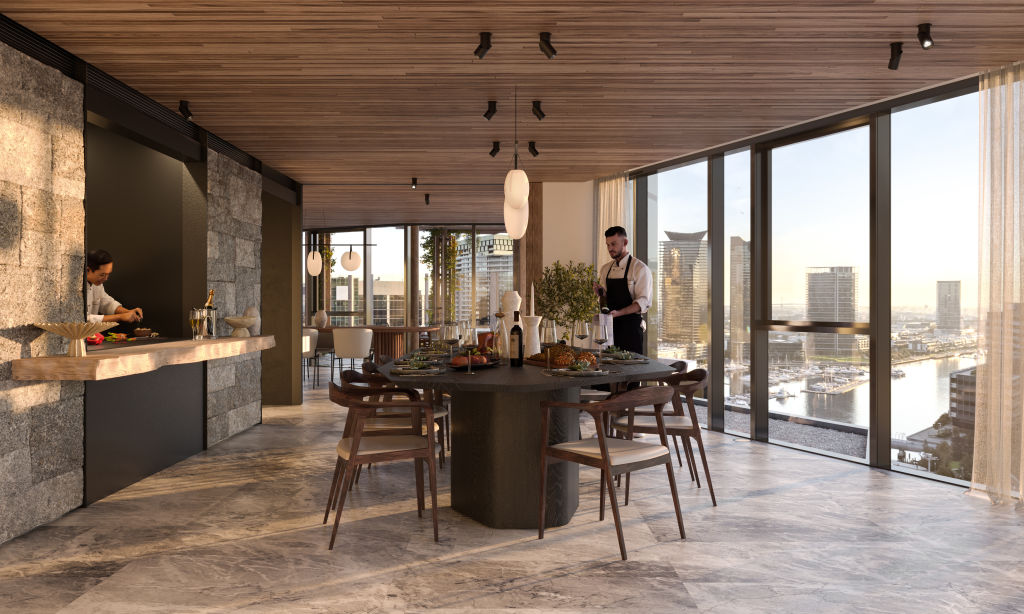 The original good shed was dismantled as part of the redevelopment and each item was catalogued through careful heritage retention works.
Through the painstaking process, around 1944 bluestone pavers, 98 timber purlins, 20 timber sliding doors, 40 steel trusses and 105 steel window frames were salvaged and woven into the new development.
On the ground level, the original shed has been restored and refurbished and will be home to the hotel's public areas. It's nestled underneath the 18-storey complex, which is due to reach competition in mid-2024.
Seafarers Residences incorporates 120 apartments, with one, two and three-bedroom options. A limited number of two and three-bedroom apartments remain for sale.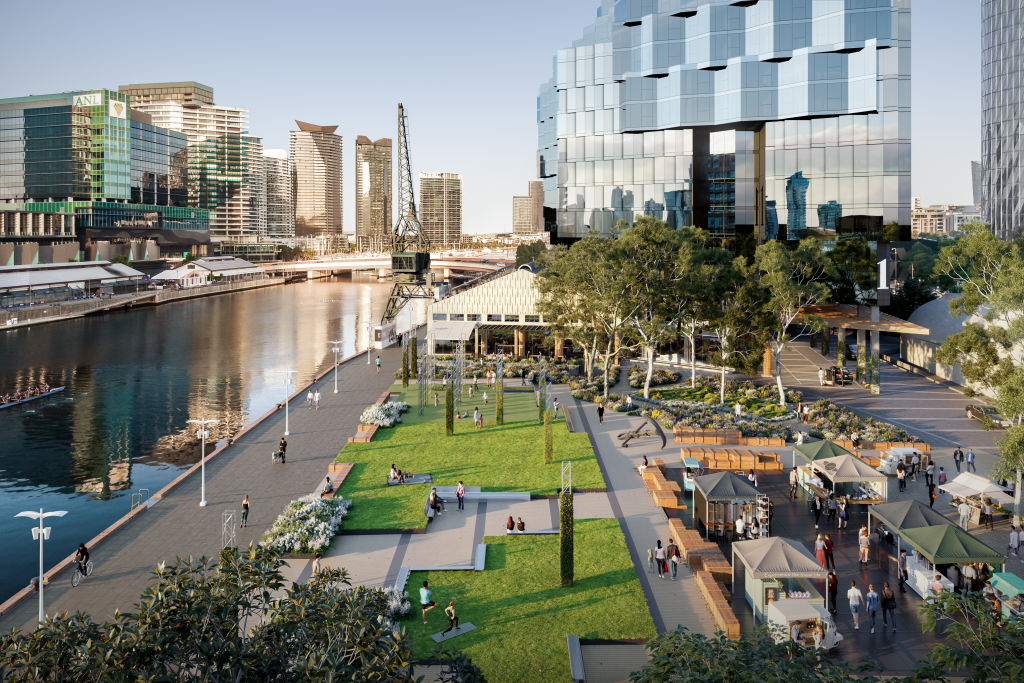 All the apartments have large footprints, with floor plans designed to maximise natural light and external views. Those looking towards the Yarra are priced at $1.215 million, while city-view residences are $1.92 million.
The kitchens are fully integrated, designed for durability and low maintenance.
"Innovative and luxurious in design, the residences feature integrated PITT cooking burners, internally illuminated pot drawers, LED strip lighting, natural stone by G-Lux, motorised blinds and seamless Italian joinery with an abundance of storage," Lee says.
"The project is the first of its kind to feature precision-engineered porcelain-fronted joinery by Snaidero, using a product called Laminam, which is a revolutionary natural slab that is produced using advanced and sustainable technologies.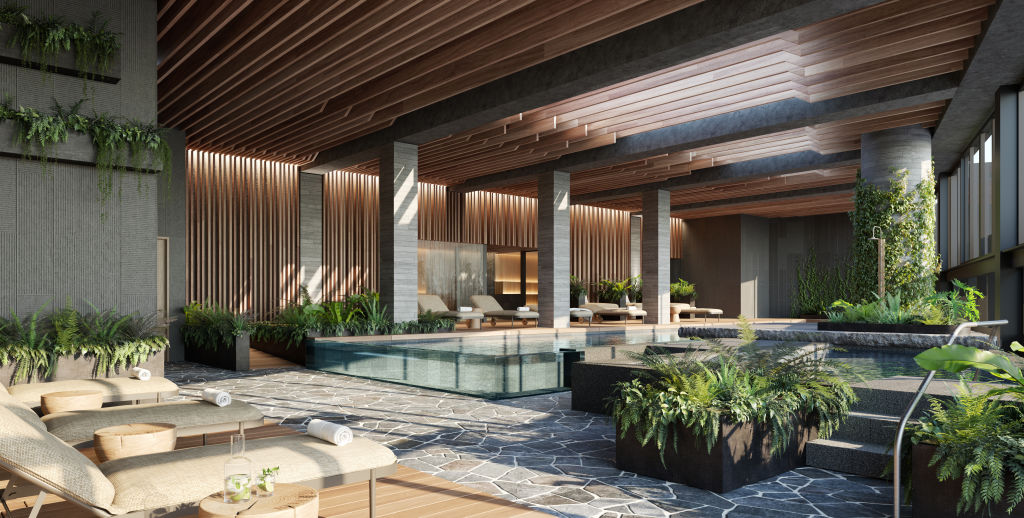 "Breaking the traditional concepts of surfaces, it's fully recyclable and completely resistant to chemicals, wear, frost, fire and mould."
The benefits extend well beyond the apartment doors for permanent residents.
You also get to enjoy all the amenities of the luxury hotel, including the swimming pool, sauna, steam room, full-service fitness centre, and spa treatment rooms.
"Through 1 Homes, residents have exclusive access to owner privileges that 1 Hotels and Riverlee have curated with the aim of creating a home life of pure, effortless simplicity," Lee says.
"Some of the privileges include 24-hour concierge, valet, pre-arrival pantry stocking with organic options, botanical care, pet care, personal shopping, eco-conscious cleaning, in-room dining, catering services, event planning and more."
Level 17 also boasts a residents-only 500-square-metre rooftop terrace with a library, lounge, private dining rooms with chef-catered dinners, and a rooftop garden with views of the Yarra and Docklands Park.
Seafarers' Docklands location allows for further effortless living beyond the walls of the complex itself. The CBD is a short riverside walk away, while it's a one-minute stroll to the Flinders Street tram stops. And, looking in any direction, dining, entertainment, sporting and cultural destinations are close by.