Should I auction my home on a weeknight in Canberra?
There is a particular day of the week that has always been the busiest in the world of real estate – Saturday. It is traditionally the day that an abundance of homes can be found open for inspection and when most auctions take place.
In Canberra there is a strong preference to conduct an auction at the weekend. Data shows that, over the past year, 76.9 per cent of homes went under the hammer on a Saturday while a mere fraction, at 0.9 per cent, were held on a Sunday. This is based on scheduled auctions over the 12 months to the end of July.
It is easy to understand why most vendors opt to go to auction on the weekend, given that weekdays are consumed by the daily grind.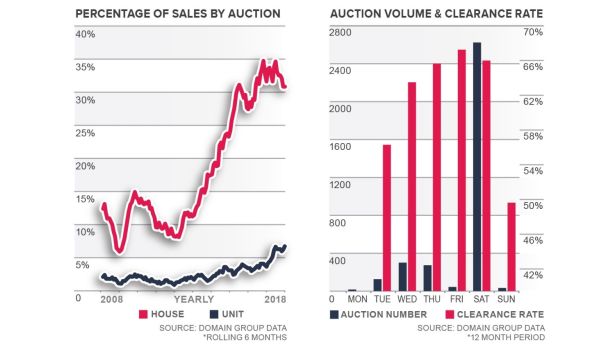 With this strong sway towards Saturday auctions, anyone eagerly monitoring the market waits with much anticipation for the weekend auction results, or clearance rate. Clearance rates are simply the percentage of homes that sell at auction. They are given a great deal of emphasis as they provide a timely insight to the underlying buyer demand currently at play in the market place.
Over the past year Canberra has produced some mighty clearance rates, often outperforming the auction-centric markets of Sydney and Melbourne.
Canberra's Saturday clearance rate scored 66 per cent based on auction data over the past year, illustrating the strong conditions that have been at play.
All regions across the territory displayed a preference towards a weekend auction. That said, there are other days that have produced a clearance rate that rivals the Saturday performance.
The mid-week auction appears to be growing in popularity, with Wednesday and Thursday proving to be the next favourite. While the proportion of auctions taking place on the two days was lower at 17.2 per cent, the success of selling under the hammer remained high, with the Wednesday clearance rate at 64 per cent and Thursday at 66 per cent.
Friday had the highest clearance rate at 67 per cent but saw just 1.3 per cent of scheduled auctions over the past year.
Three regions have a much stronger preference to holding a mid-week auction, with the Inner North leading at 24.1 per cent of scheduled auctions occurring on a Wednesday or Thursday over the past 12 months, followed by Belconnen at 22.6 per cent and Gungahlin at 20.6 per cent.
Other aspects to consider are market conditions and property type. A correlation does exist between price appreciation and the proportion of homes that sell by auction. During strong periods of price growth, a higher proportion of homes will sell by auction, and the opposite occurs during slower periods.
As Canberra house prices excelled, so too has the proportion sold by auction. In the final half of 2017, 34.6 per cent of houses sold by auction, one of the highest rates of auction success in Canberra's history, while at the same time prices rose.
Fewer units sell by auction compared to houses, presumably swayed by the growing volume of off-the-plan sales.
For a vendor it is essential to understand the types of homes that are more likely to sell by auction, whether that be due to property type, location or price point.