Sydney auctions: Surry Hills terrace linked to infamous madam Tilly Devine fetches $2.87 million
A Surry Hills terrace with a colourful past soared $440,000 above reserve on Saturday, trading for $2.87 million in its first sale in more than 100 years.
More than 150 people and 17 registered bidders turned out for the auction of the three-bedroom Victorian terrace – a suspected former brothel during the Great Depression with links to the infamous madam Tilly Devine.
It was one of 826 auctions held across Sydney on Saturday, more than 120 of which were in the city and eastern suburbs.
By evening, Domain Group had recorded a preliminary clearance rate of 81.7 per cent from 503 reported results.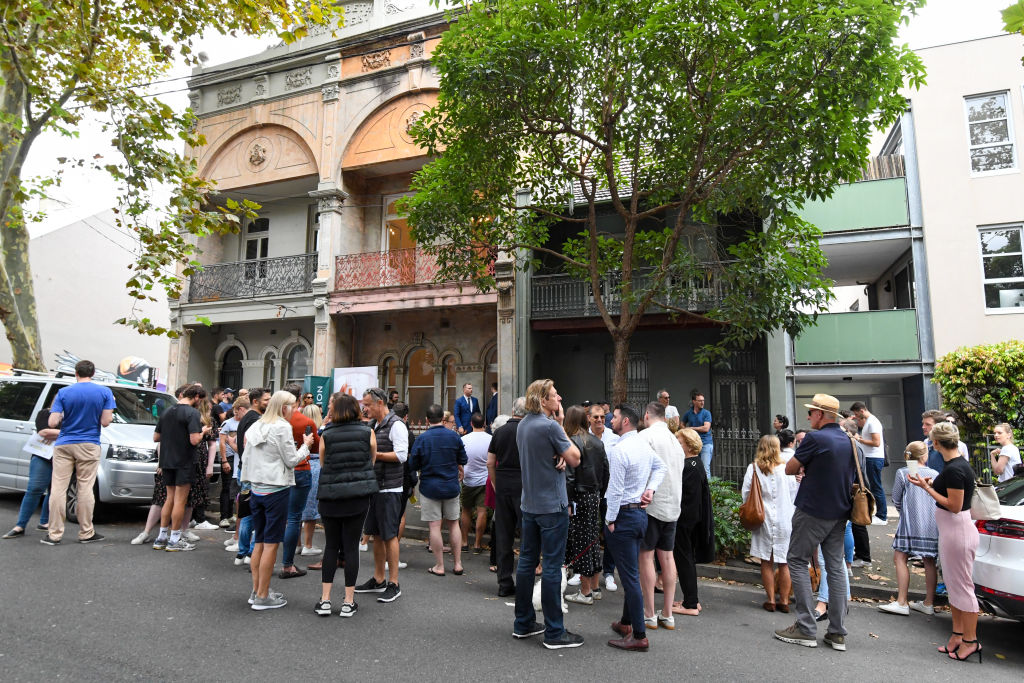 Bidding for 448A Bourke Street kicked off at $2.3 million – pushing the price above the $2.1 million guide from the start.
It climbed rapidly, first in $25,000 increments and then mostly in $10,000 and $5000 jumps, quickly passing the $2.43 million reserve.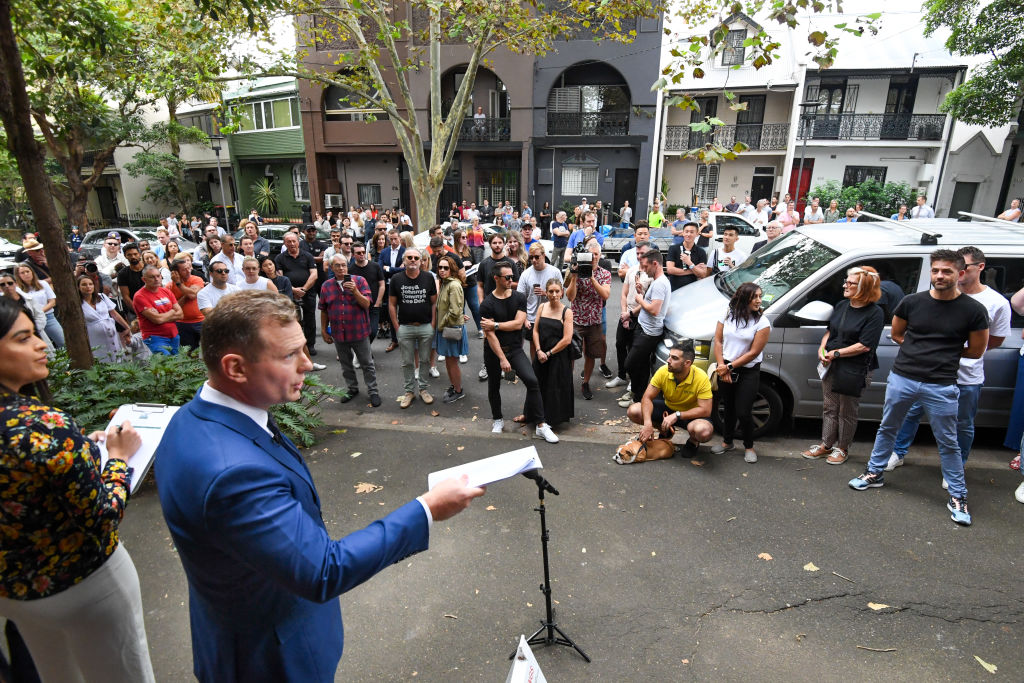 Competition between five bidders pushed the price of the 125-square-metre block to $2.73 million, at which point a sixth and final bidder – a man bidding on behalf of his granddaughter – jumped in and offered $2.75 million.
He and another bidder went tit-for-tat for another dozen bids, pushing the price to $2.87 million, at which it sold to the granddaughter, family of wealthy rag trader Michael Gazal.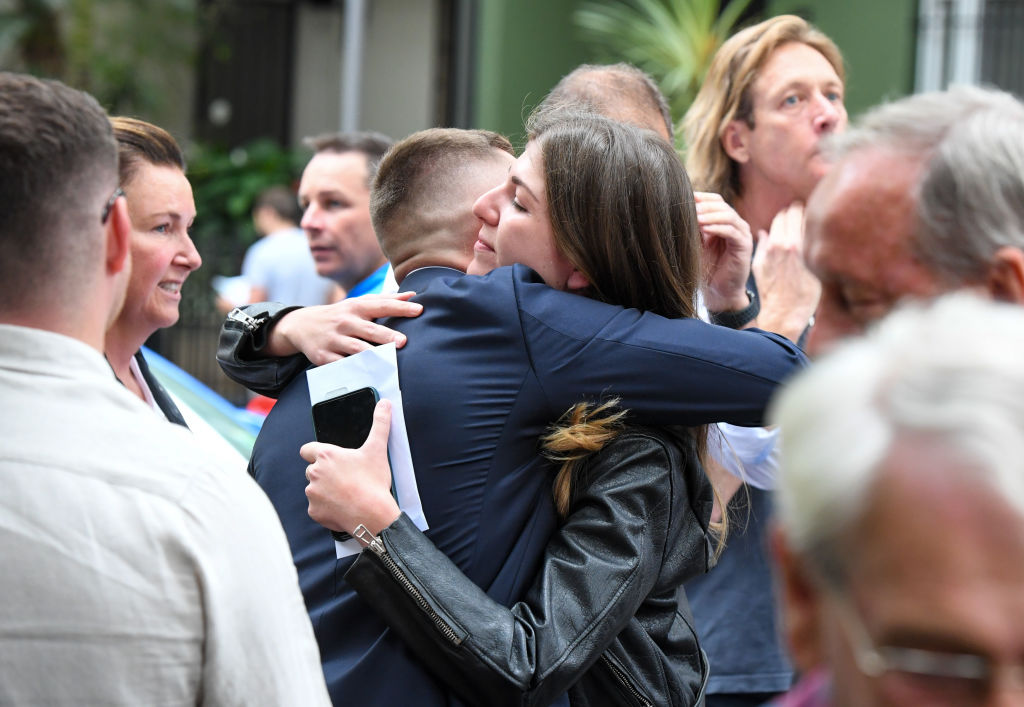 Vendor Karen Geary was elated with the result, but said it was a bittersweet moment to be selling a home held in her family for four generations.
The terrace was transferred to her great grandmother for £30 in 1916, Ms Geary said, then passed on to her grandmother, then father, who called it home for 20 years.
"It was a brothel at one stage [during the depression]. My father probably wouldn't have used that word though," Ms Geary said. "My father used to say what happens upstairs stays upstairs."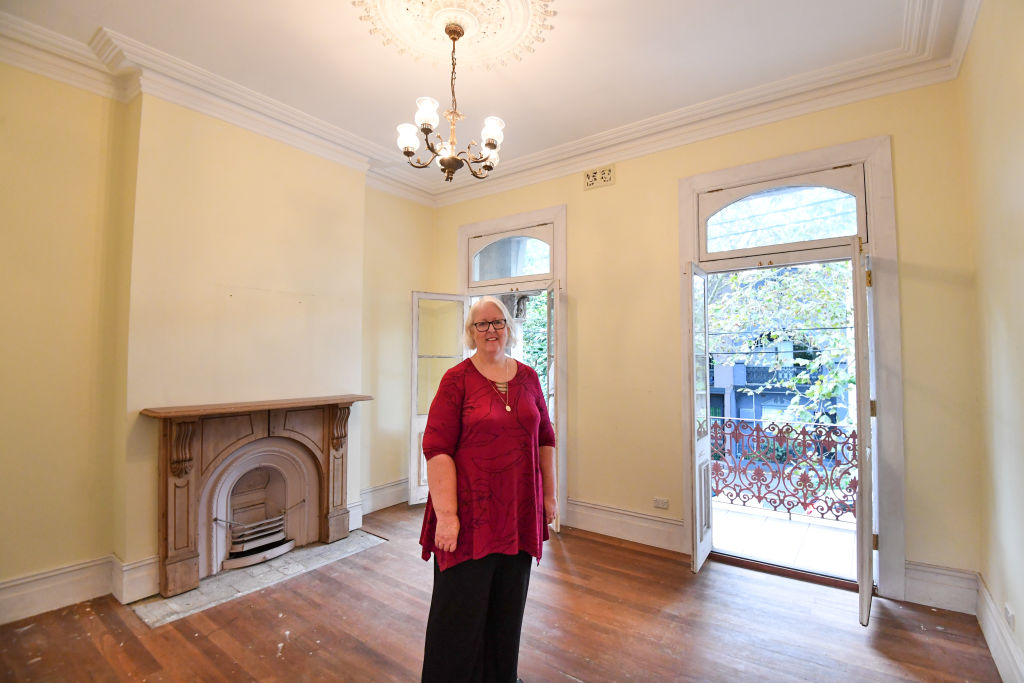 Ms Geary said her great grandmother had been mates with Tilly Devine and was a colourful, caring woman, who often took in hungry children from the street to offer them a hot bowl of soup.
Surry Hills has changed dramatically since, particularly in the last 20 years, Ms Geary said, crediting the gay community with its transformation into one of Sydney's most desirable suburbs. She said the community had been a lifeline for her and her elderly father, and always looked out for him during his years spent in the home.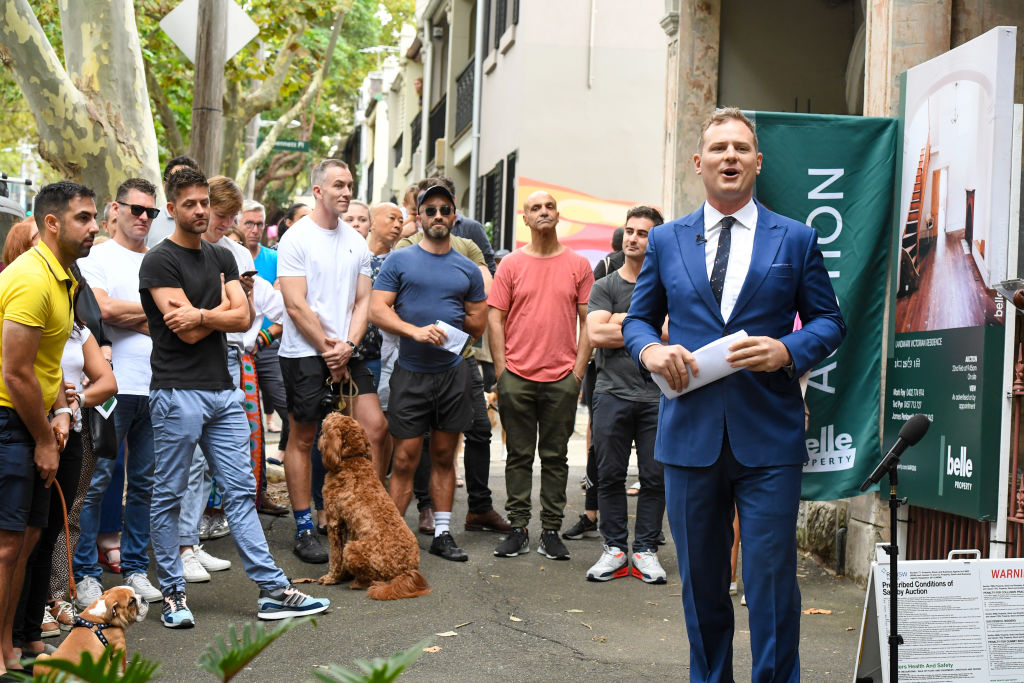 Selling agent Mark Foy of Belle Property Surry Hills, who showed more than 300 groups through the home, put the property's popularity down to its price point, location and the opportunity it offered for a dream renovation. He noted many of the the bidders were passive local buyers, who had been waiting for the right property to come up.
While the Sydney market was strong, Mr Foy said, it was being overhyped by the media. Many properties were selling prior to auction as there were only one or two interested buyers, he added, with rising owner expectations making it harder for agents to bridge the gap.
It was a more subdued affair at the auction for another three-bedroom Surry Hills terrace, just around the corner at 99 Fitzroy Street.
The auction for the renovated terraced opened on a vendor bid of $1.8 million, from which point both registered bidders jumped in.
While there were a few $10,000 and $5000 increases, most of the auction moved in $1000 jumps with more than 100 bids made before it sold to an eastern suburbs family for $1,956,000 – just $6000 above reserve.
Records show the property last sold for $195,000 in 1991.
"I think that they were trying to use that strategy [of changing small increments] to slow the bidding down, but it didn't necessarily work," said Duncan Gordon of Raine & Horne Newtown. 
In the city's south, where 104 auctions were scheduled, 15 parties registered to bid on a thee-bedroom, original-condition cottage at 42 Grosvenor Road, South Hurstville.
The auction opened with an offer of $700,000, and bidding moved quickly in $20,000 and $10,000 jumps – passing the $750,000 reserve before slowing at $850,000.
From there bidding dropped to smaller $5000 and $2000 jumps, with six of the parties making offers before the gavel fell at $940,000. The home sold through Roger Lahoud of McGrath St George to a builder who outbid a young couple, also looking to rebuild on the block.
In the city's north west, 11 house hunters registered to bid on 25 Dallwood Avenue, Epping, which sold for $200,000 above reserve. The four-bedroom home was also a deceased estate held by the one family for decades.
Bidding opened at $1.25 million, hit the $1.3 million reserve on the second offer and then climbed in $10,000 increases and larger $40,000 jumps – made by the young family who went on to purchase the  720-square-metre block.
The property sold through Daniel Mourad of Laing + Simmons Oatlands and Carlingford, who said the buyers, and the majority of bidders, wanted to knock down the home and rebuild on the block.
In nearby Carlingford, a new five-bedroom house with a one-bedroom unit, sold for $1,906,000. Bidding started at $1.55 million and auctioneer Michael Garofolo of Cooley Auctions took bids from five of the nine registered bidders, who pushed the price $306,000 above reserve.
The new home sold through John (junrui) Huang of S|One Estate Agents to a couple from Baulkham Hills. The property had been popular with multi-generational households.