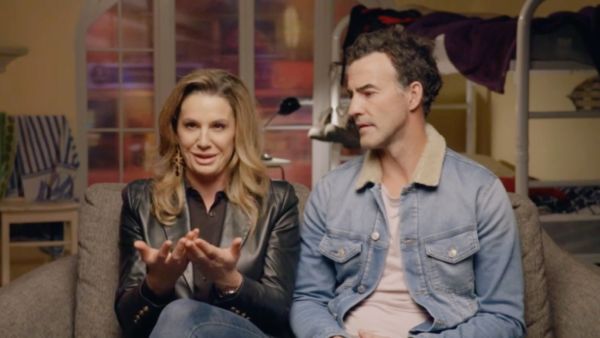 The Block 2019 courtyard reveal recap: Jesse and Mel win, other teams count the cost
Like a grade three kid at a primary school fete, everybody on The Block is fast running out of money.
Three couples have almost spent their entire budget. The only teams looking financially healthy are Mitch and Mark and Jesse and Mel – which means at this stage there could only be two completed houses come auction time.
Most of the action on Sunday evening's courtyard reveal episode came from Mitch and Mark getting the green light from Keith to have a spa-sized plunge pool on their rooftop, and the impact this had on the other teams.
Mark said he "didn't expect" El'ise's tearful reaction to the news that they were putting in a spa, which means he clearly hasn't seen the hours of televised waterworks we have.
The boys held a body corporate meeting to try to get approval from at least three of their neighbours.
They got more resistance than they predicted, which prompted Mark to get snippy and threaten "if the decision is based on 'we want to win and we don't want you to win', we will certainly be playing hard for the next five weeks".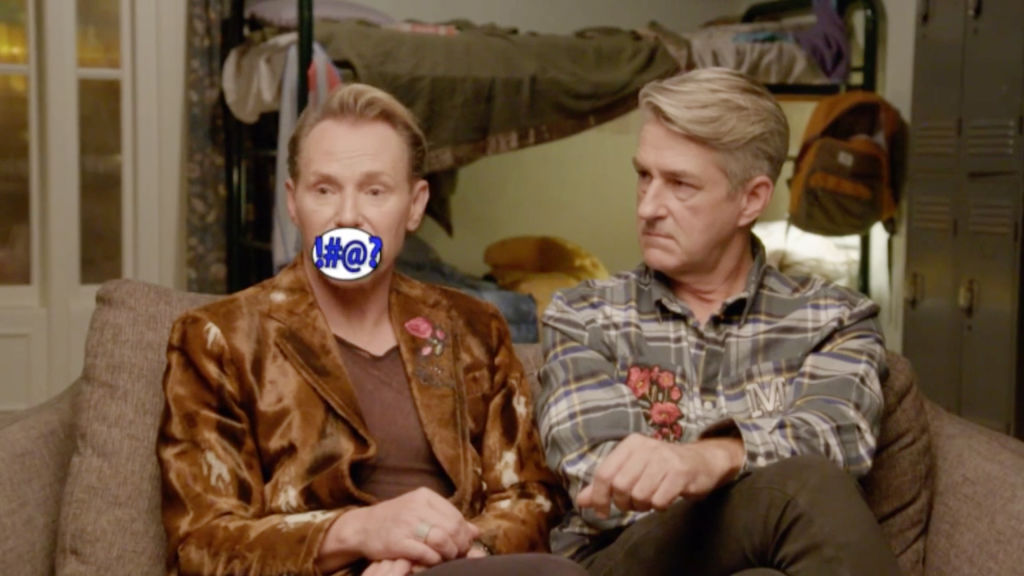 Following the body corporate meeting, Mitch didn't mince words and said: "If anyone needs anything from us … it will be a big fat 'go f— yourself'."
Which is kind of fair. The Bondi gents have been very generous with their time and equipment, and they feel they aren't getting that same generosity of spirit in return.
I mean, how can you say no to two men with matching floral applique on their shirts?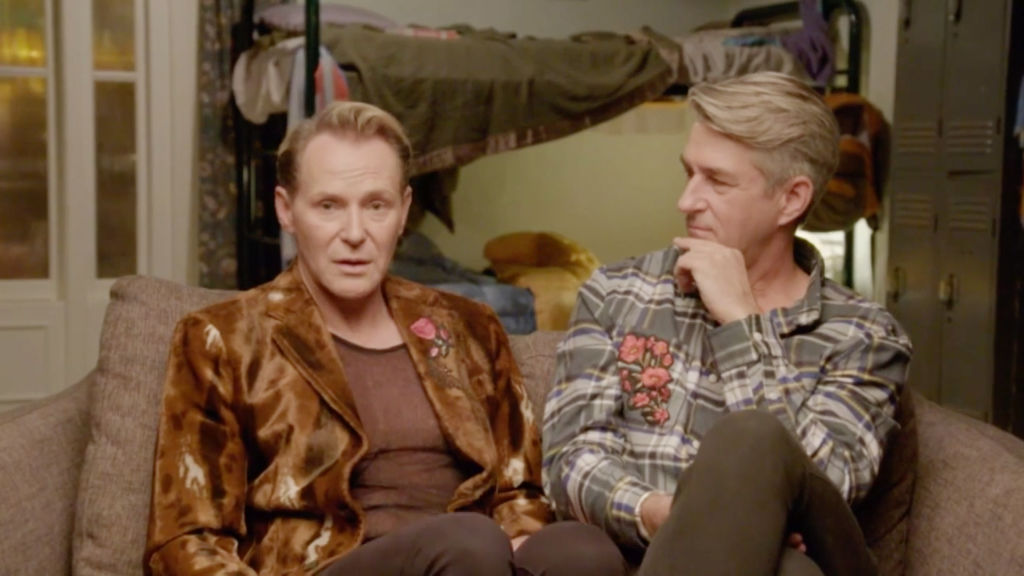 It looks like spa-gate will continue this week, with some of the couples saying they need more time to consider their vote.
In the meantime, here's how the courtyard reveal played out.
Mitch and Mark
These guys have $140k left in the kitty.
Their courtyard was a Palm Springs-style playground with a pink neon sign, enormous feature wall emblazoned with palm trees and a colour palette of Miami blues and whites with splashes of pink in the terrazzo pots.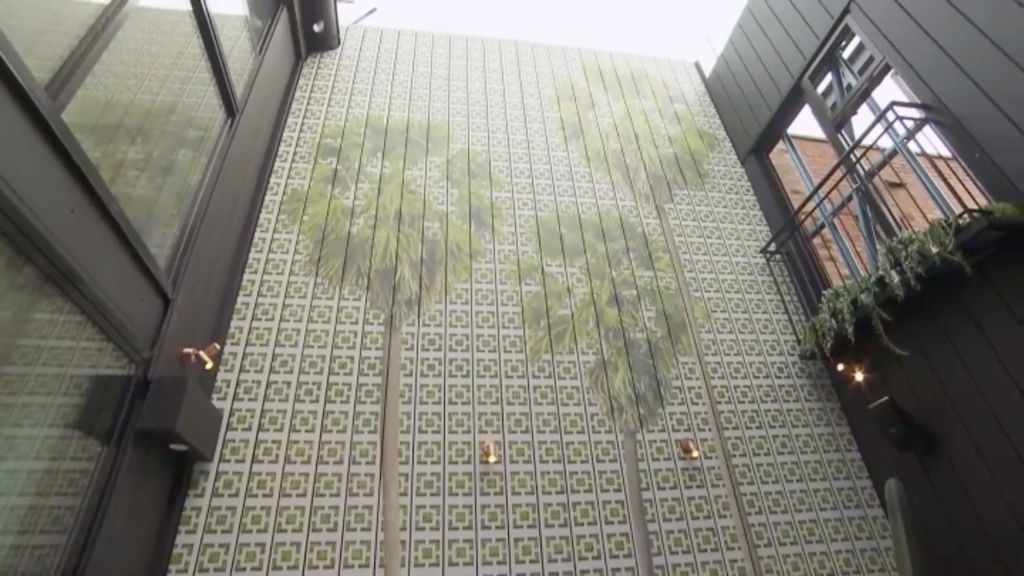 The judges adored it, with Shaynna Blaze describing it as "just pure joy".
That they have money left means they could include a barbecue (which many of the other couples couldn't afford) and a cushioned bench seat for lounging.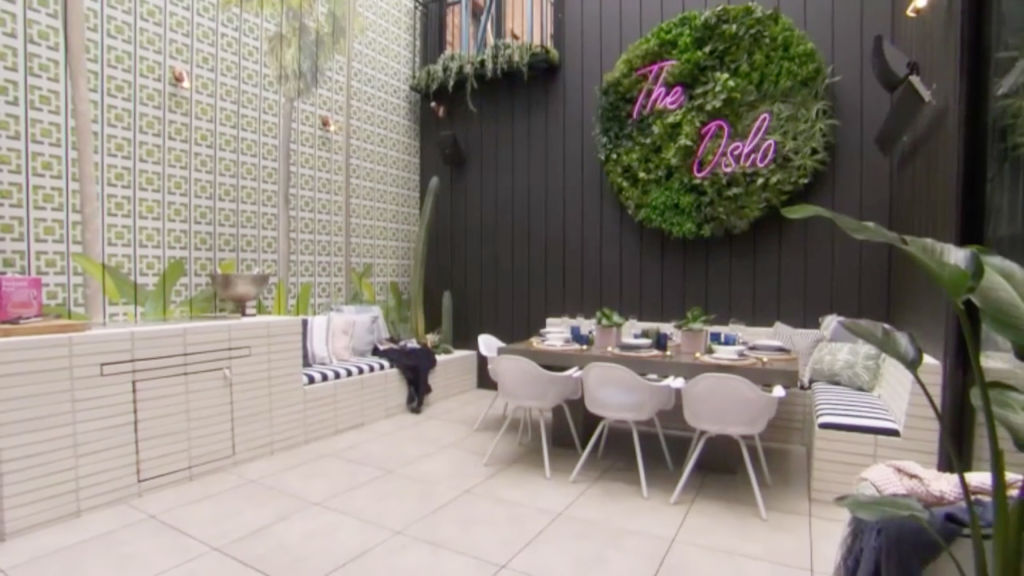 Neale Whitaker loved the feature wall and Shaynna liked it was a low-maintenance area. With just a few succulents to manage, the owner could go on holiday and it would take care of itself.
"This is a space that says 'show time'.  It's got great confidence and a sense of fun," she said.
Luke and Tess
The young guns tied in last spot last week, so the pressure to redeem themselves is heightened.
They incorporated an eye-catching spiral staircase into their courtyard, along with a feature wall clad in dark bricks.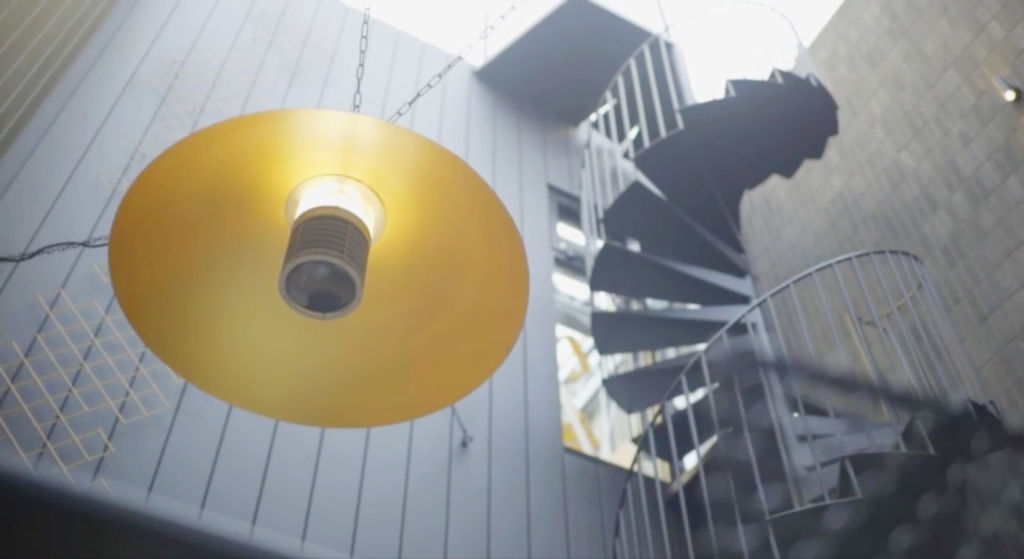 Shaynna loved the way they used the patterned tiling on the ground, and said the staircase was very sculptural and functional.
The dome heater over the table was a good call for the Melbourne climate and they were commended for playing with textures on a neutral monochromatic palette.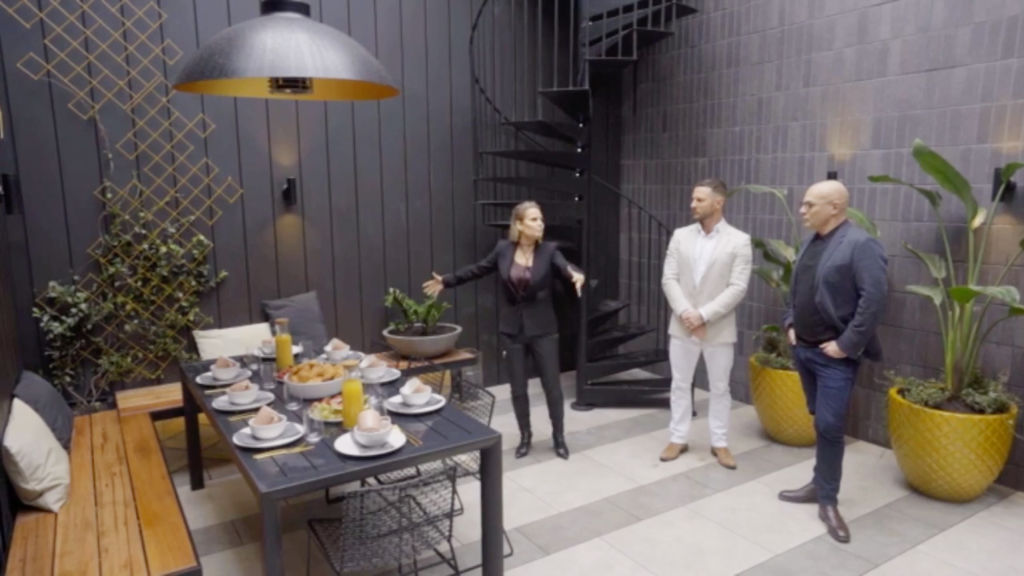 Unfortunately, the judges had some issues with functionality. The table was deemed to be too small and Darren noticed it was missing a cosy, upholstered spot where you can relax and read a book.
Shaynna also noted: "If they want to make this all about dining and entertaining, where's the barbecue?"
Andy and Deb
Andy and Deb created a zen, green space that flowed seamlessly from their living space, with artificial turf and vertical gardens.
While he loved the peaceful vibe of the space, Neale felt it was a bit light on for comfort, commenting "it's all hard edges".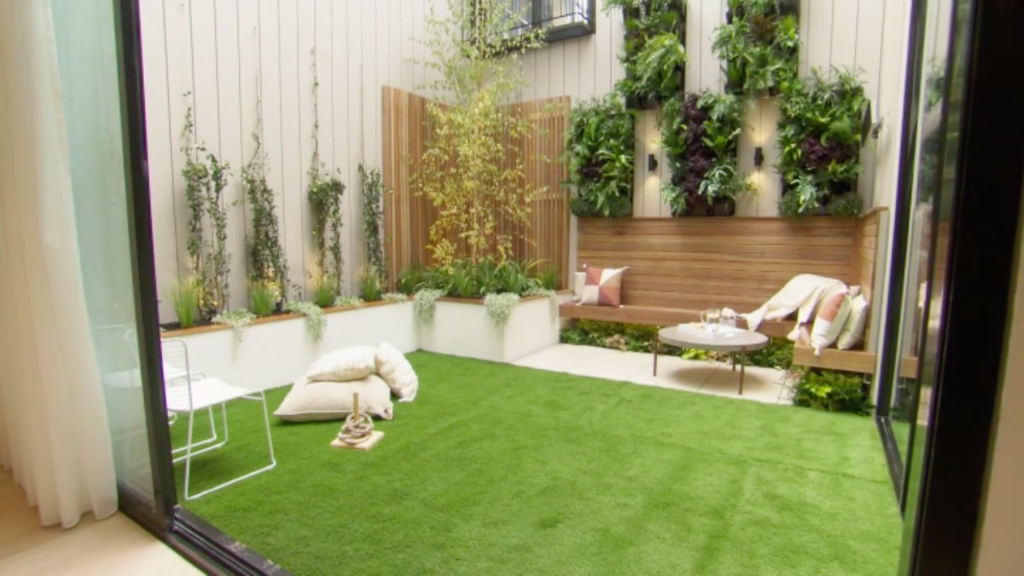 Design-wise they have space for a dining table and a sofa, but the buyer will have to source that, due to the couple's budget constraints.
Darren said: "Design-wise, everything I see I love – the wooden panelling going up to the Juliet balcony, the staggered vertical wall garden, it's a lovely inner-city oasis."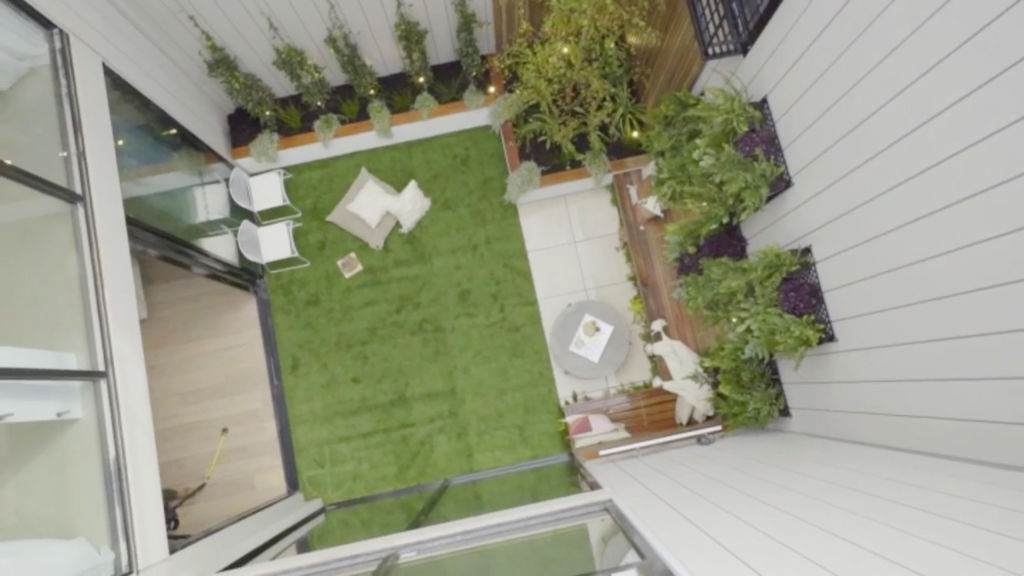 Despite this, Neale said: "It's not quite right, there's a lot to love and a lot to wish for also."
El'ise and Matt
The Perth pair was feeling confident this week, thanks to securing magical landscaper Dave Franklin.
Their design featured a large planter box in the same stone as the indoor fireplace to tie everything together.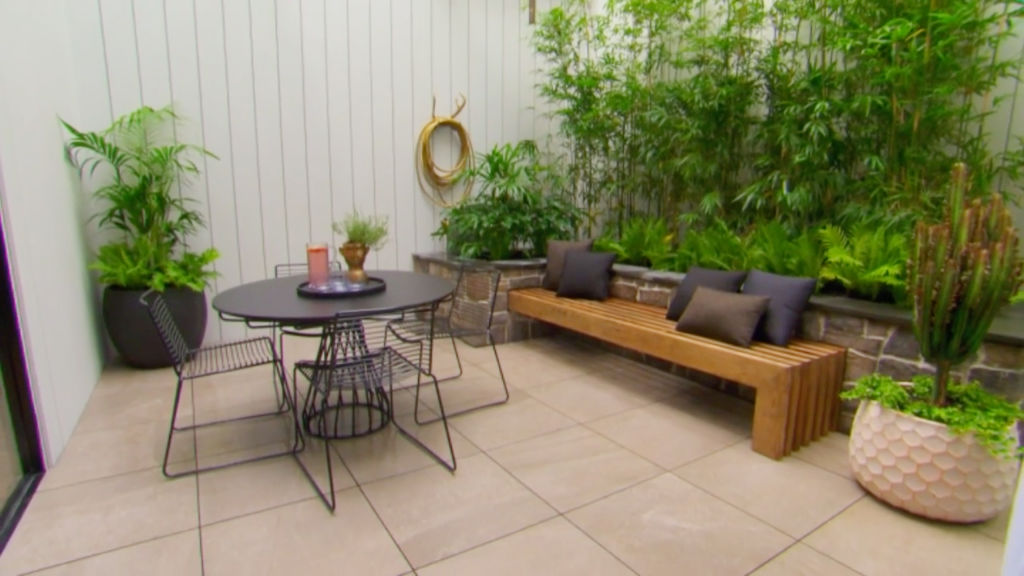 Neale described it as a "tranquil, peaceful space" and noted the sound of the towering bamboo that rustled in the wind providing "a calming cue in the city".
Shaynna felt the wooden bench seat was comfortable and loved the colour palette.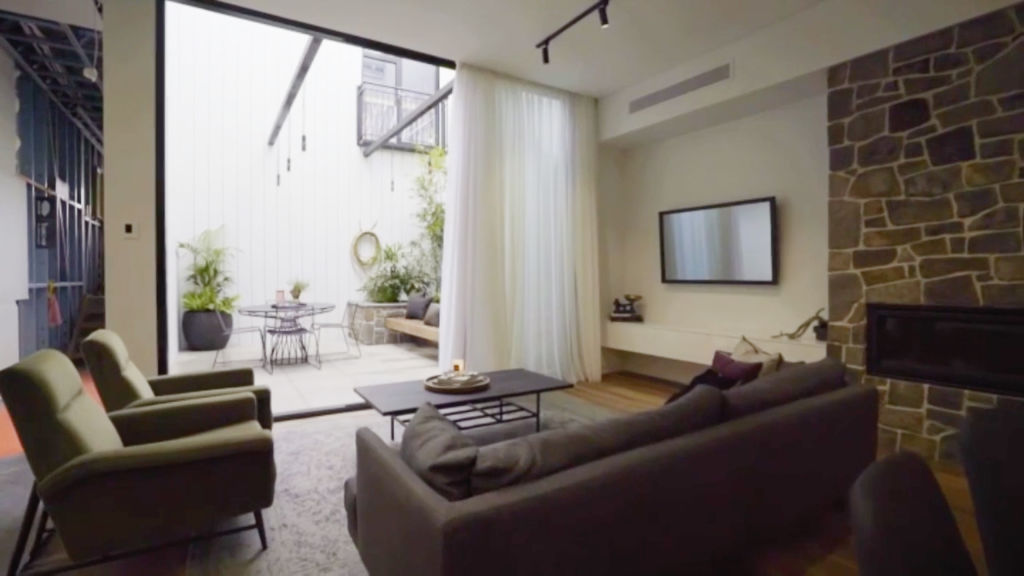 The judges felt the space didn't look particularly spectacular from the lounge/dining area inside – from indoors you see the hard lines of the wall, not the peaceful serenity of the bench seat space. Shaynna felt they needed a bit more softness across the back wall to break up the Colourbond wall.
Darren didn't feel their courtyard added functionality to the floor plan, as a quarter of the space was taken up by the garden bed.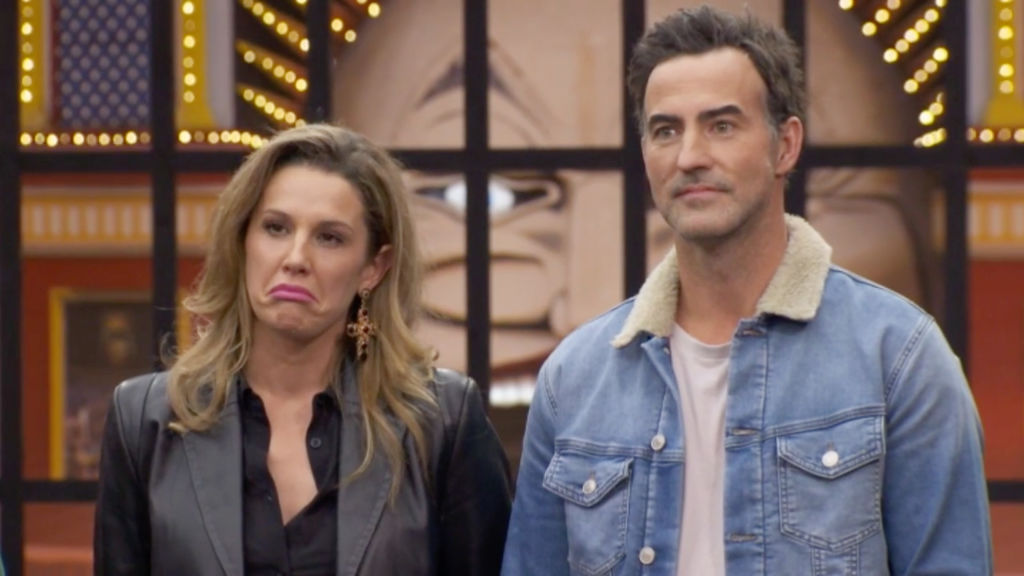 Jesse and Mel
Jesse and Mel were going for back-to-back wins, after nailing the living/dining reveal last week.
The piece de resistance was the 40-square-metre feature wall they tiled themselves with intricate spot-lit mosaic tiles.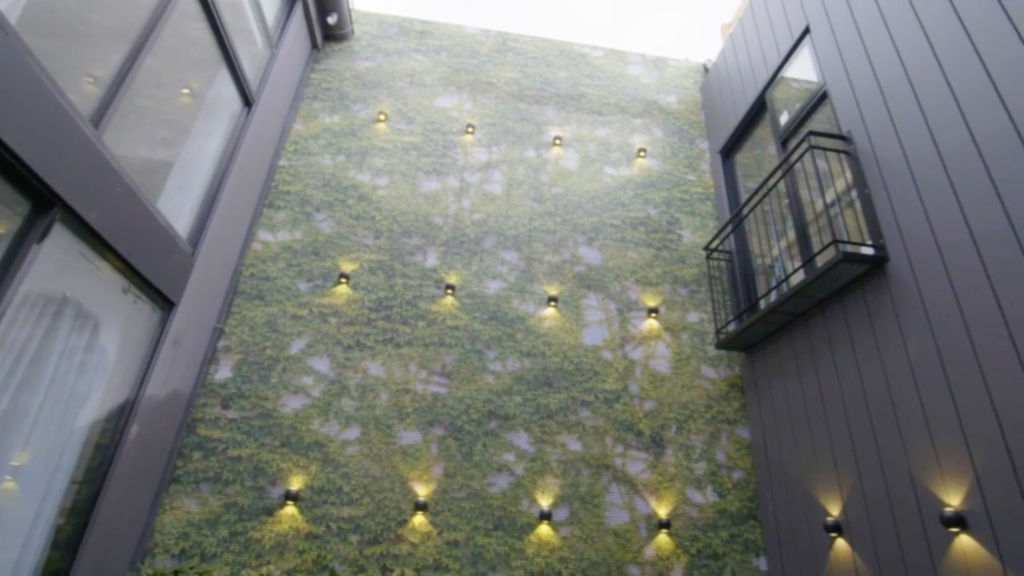 It was a hit, with Neale saying: "I've never seen tiles used to such great effect." Shaynna added: "This feels like the most expensive and glamorous courtyard I've walked into for a very long time."
Jesse also did all the floor tiling himself and they incorporated a barbecue, bar fridge, bench seating, heaps of greenery and a massive dining table into their courtyard, to make the ultimate entertaining space.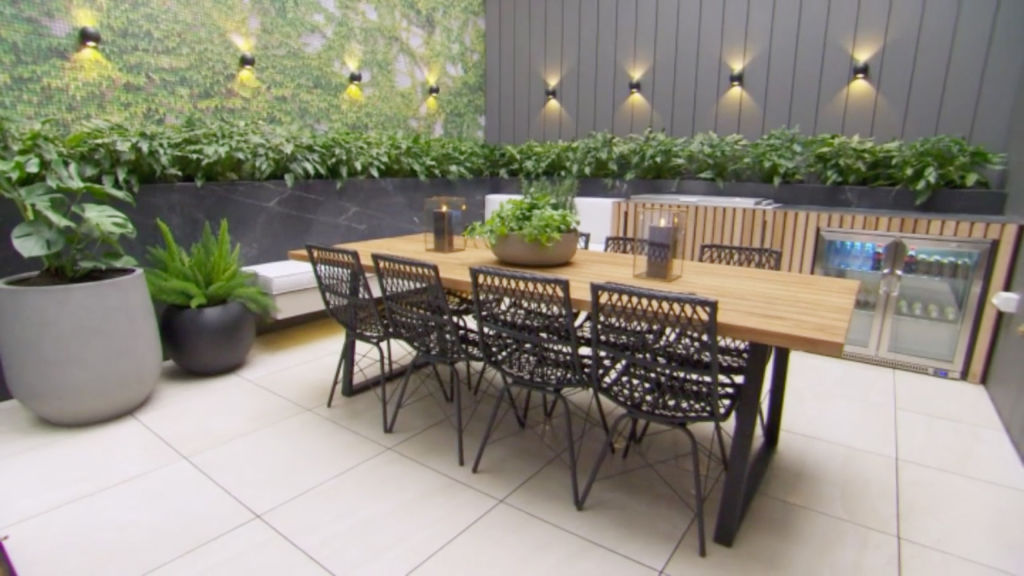 Darren was particularly impressed with their cantilevered seating that made it appear as if it's floating. He also liked the plants around the perimeter so you can enjoy greenery without it encroaching on the footprint and impinging on the functionality.
The judges felt it was the only house that delivered all the functions you would want from an outdoor room, and so Jesse and Mel took out first place by half a point (with an almost perfect score of 29.5).
Final scores:
Jesse and Mel – 29.5
Mitch and Mark – 29
Andy and Deb – 26
El'ise and Matt – 26
Tess and Luke – 24.5
Taking out the wooden spoon regularly is starting to wear Tess down.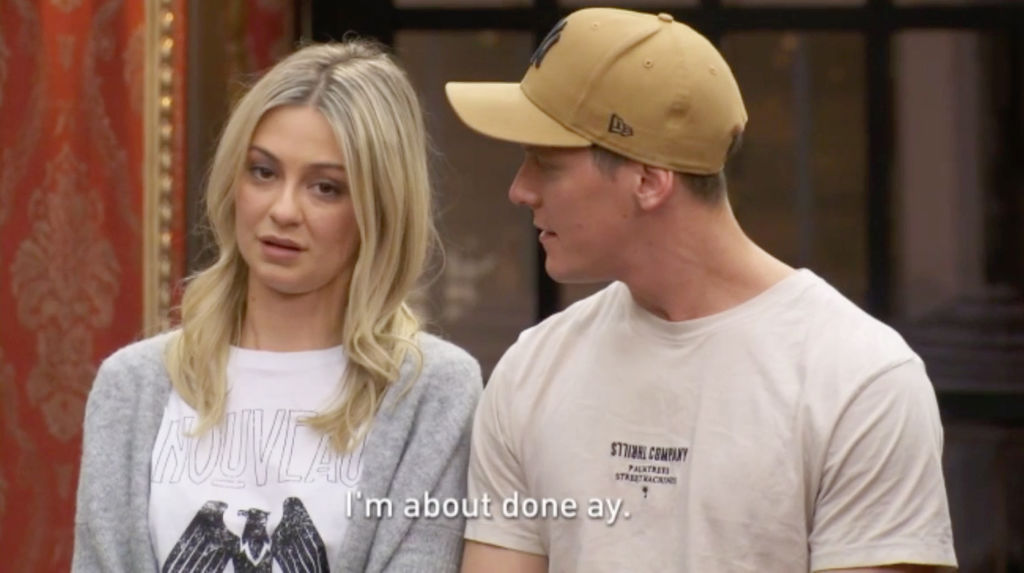 They are almost flat broke, so this coming week – studio week – they are going to gamble everything they have left on a win. It's a high-stakes game and this week could be their last. Stay tuned.