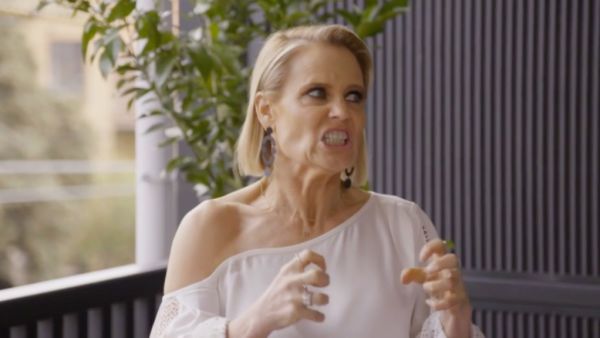 The Block 2019 verandah reveal recap: Shaynna and Neale lash Jesse and Mel's lack of effort
It's verandah week. Frankly verandahs sounded a bit boring from the outset, but with the news that one team scored The Block's highest scores to date this week and another team copped the lowest, we're suddenly interested. Shaynna Blaze in particular was on the warpath, giving three couples scores of 6.5. (Darren Palmer and Neale Whitaker also each awarded a score of just five).
Another point of interest this week was Scotty Cam and Jesse having an argument.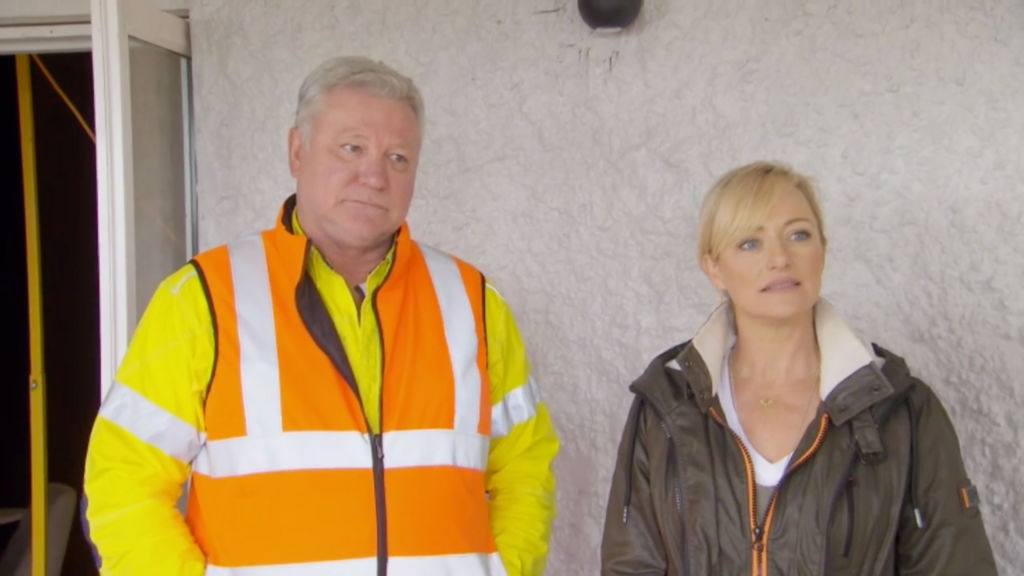 But Jesse apologised quicker than we would have liked and that spark of drama was thoroughly extinguished.
Here's how the teams fared with their presentation of two verandahs on level two and three.
Mitch and Mark
The boys' top floor verandah (an extension of their game-changing entertaining level) was the "final piece of the party puzzle," featuring a 12-seater table, fan, heater, and speakers.
The fact this huge al fresco dining area is right next to the master bedroom of house two is an undeniable issue though.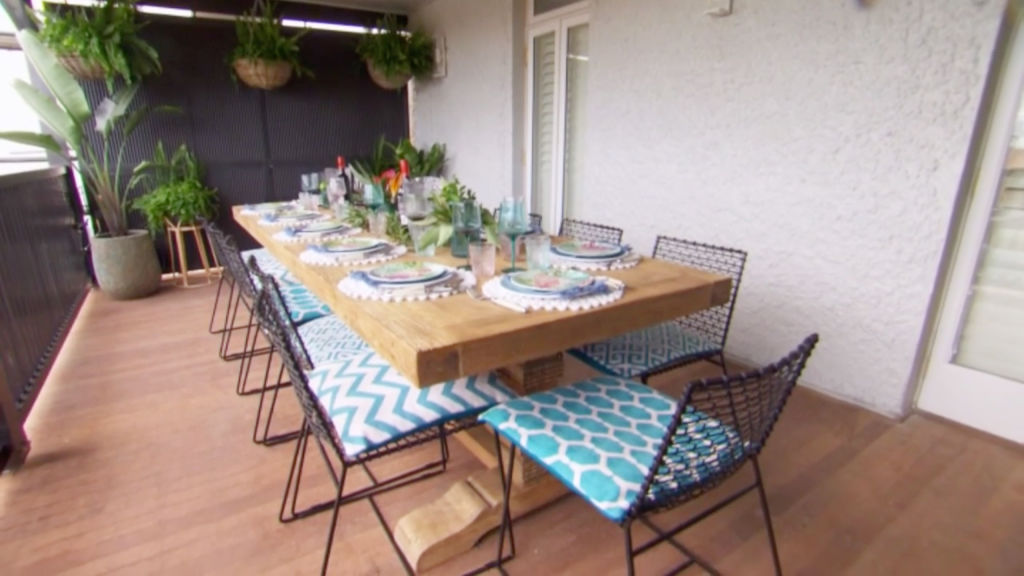 Neale said "this is what I call an outdoor room … It's another living space in a place that already has a lot of living spaces".
Their lower level verandah leads off the guest bedroom, so they presented more of a "chill out" zone. With its day bed, mismatched cane furniture (which harks back to the traditional Australian verandah) and abundance of plants, Shaynna described it as a "comfy sanctuary".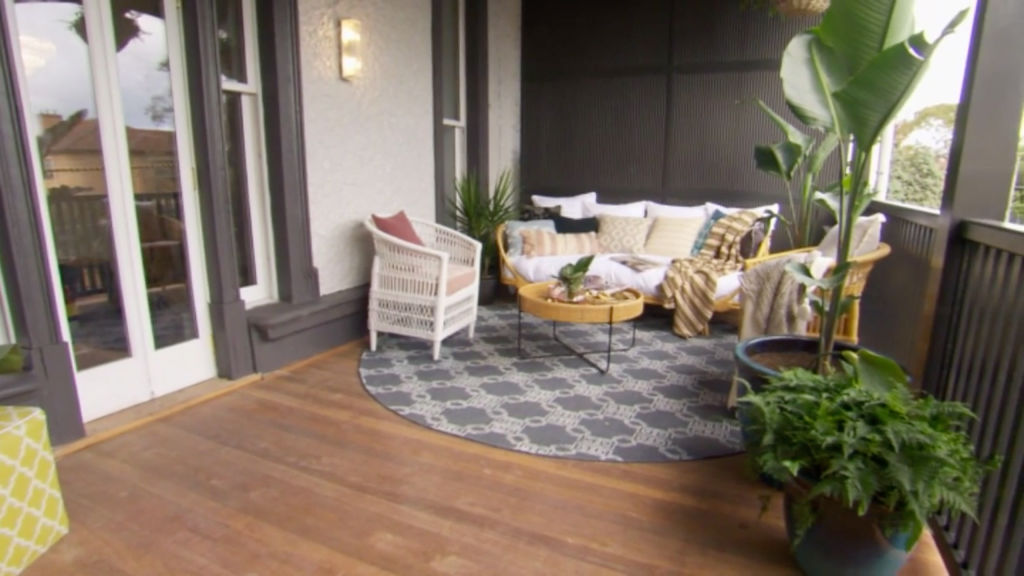 Tess and Luke
The Queenslanders' third floor verandah extends off the master bedroom, so they incorporated an elevated timber table where drinks or breakfast can be enjoyed overlooking St Kilda.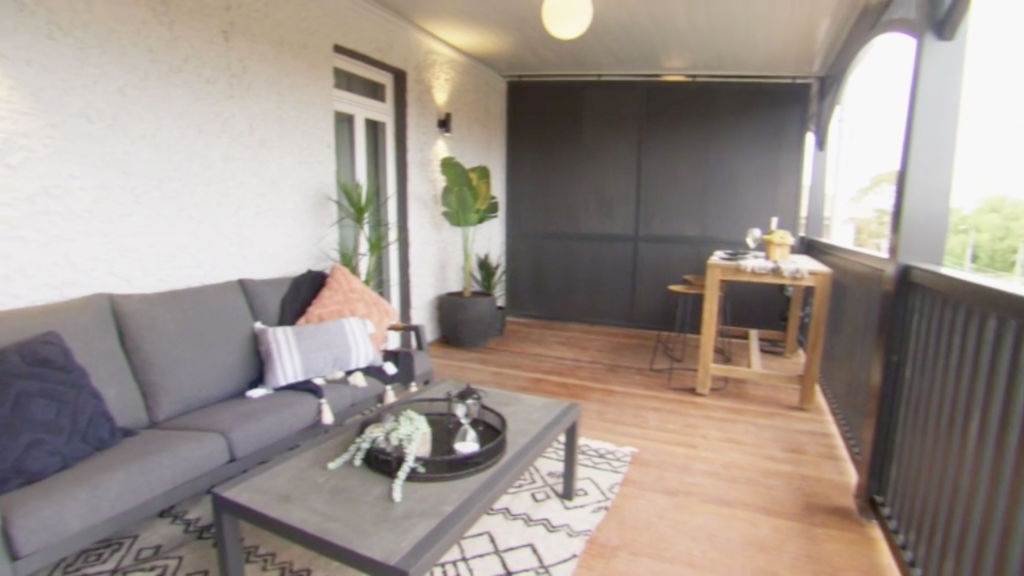 Darren's response on walking in was there's "not quite as much going on as next door … it doesn't have the pizzazz." But what the judges found they really liked – given that Tess and Luke are on a dwindling budget.
The verandah on the second level was designed to be more of a "relaxing lounge space". Complete with comfortable chairs and industrial style coffee table, Neale said "it's beautifully styled and they have done the absolute best they could have done with the available budget."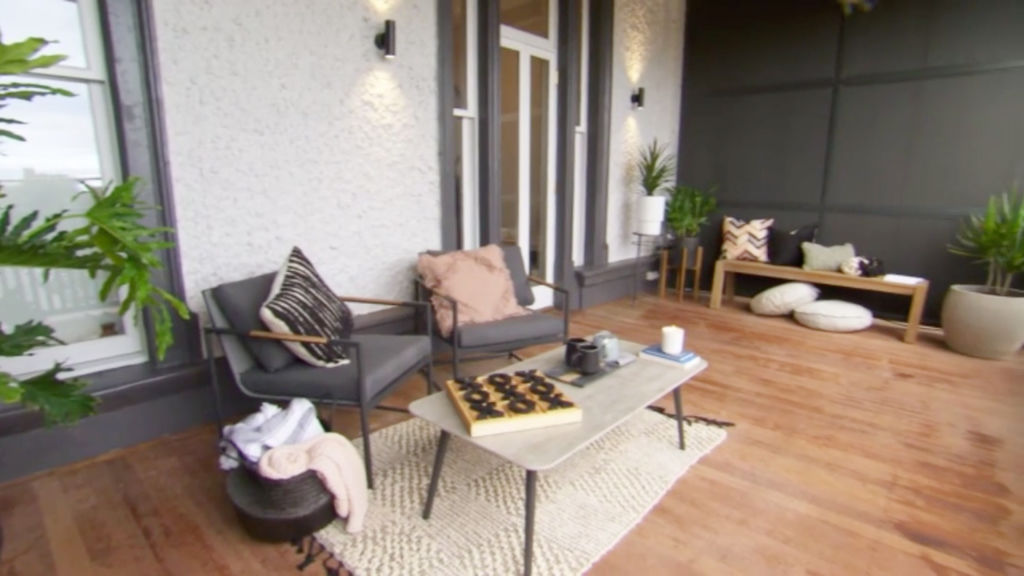 Andy and Deb 
It's fun to watch Andy's hatred of painting grow with each passing week. It could just be the thing that breaks one of the cruisiest dudes we've ever encountered on television. 
For verandah week Deb departed from her traditional beachy styling and instead opted for black and grey tones to suit the exterior of the building.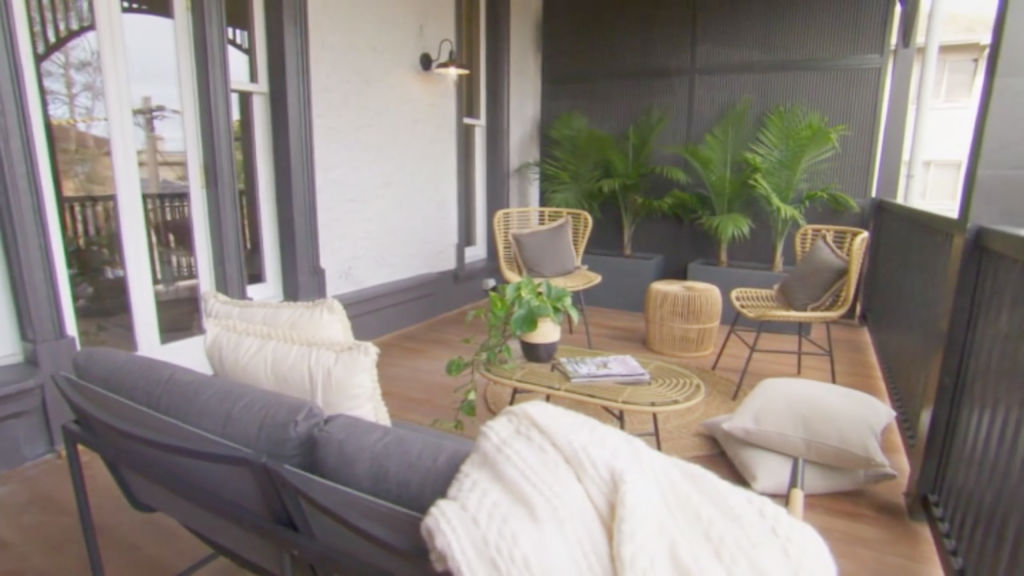 Unfortunately the judges didn't love it.
Shaynna felt there were "a lot of wrong choices" on their level two balcony. She also thought a glass coffee table was an impractical choice for the outdoors, and while rattan chairs look good, they're actually damn uncomfortable (amen).
Neale said the space was "hard to get excited about". He felt it needed more colour and personality.  
Shaynna suggested a hammock would have reflected the beachy vibe of the interior. She concluded by saying "I didn't think I'd walk into a space and be disappointed by what Andy and Deb delivered". 
Ouch.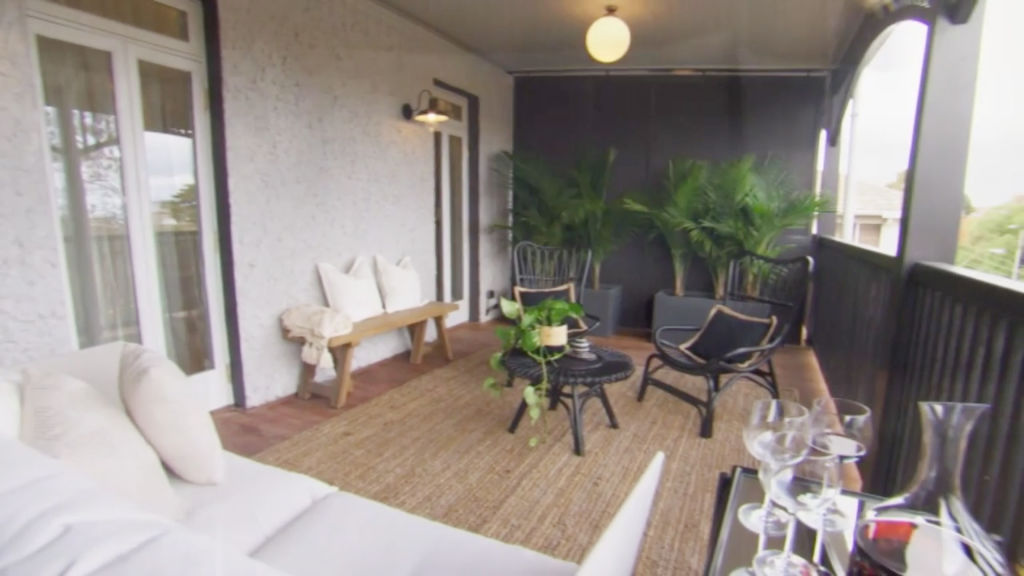 Things improved slightly on level three. This extends off their master bedroom and features a day bed for lounging and a drinks trolley.
As Neale put it, "there's more of a story here, there's more of a sense of lifestyle … they've created a little area that you want to be in."
While he felt this space blended better with the indoors, he still felt it was "undercooked". 
El'ise and Matt
The Perth pair haven't had a win since week two and they need the cash badly.
The big drama came when El'ise ordered two bespoke coffee tables from Perth (as you do) and a courier dropped and smashed one.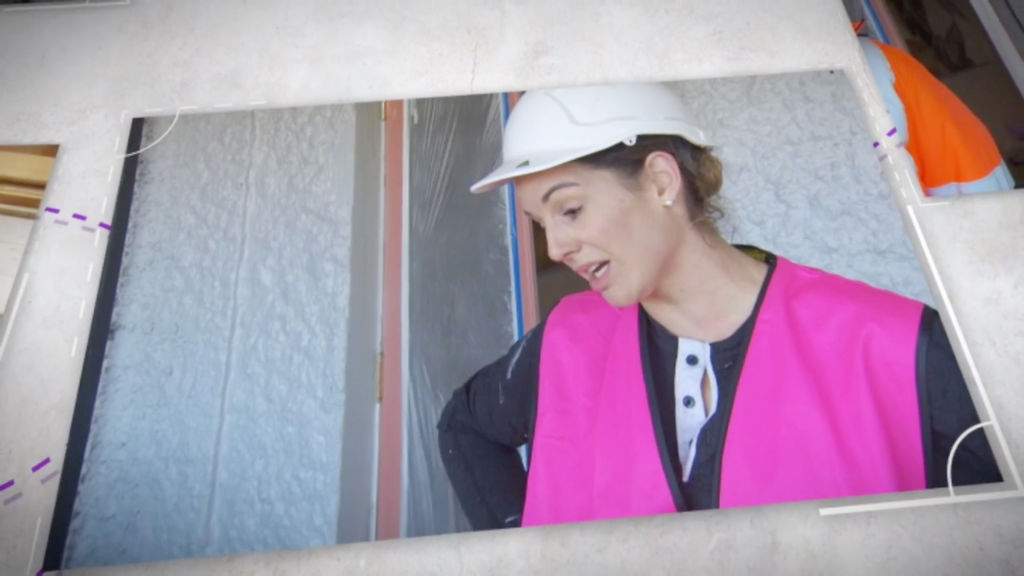 El'ise cried and the world continued to turn.
On level two they created a "family fun space" off the guest bedroom where you can entertain kids. According to El'ise they wanted to show the versatility of the space. Presumably they showed this by including Jenga in their styling – a game that appeals to both children and drunk adults. 
Unfortunately Shaynna said they made some "poor choices" style-wise.
On level three (which extends off the master bedroom) they created more of an adults' retreat with a drinks cabinet, mini fridge and coffee machine. While it had all the bells and whistles, Shaynna said the space was missing colour.
Neale didn't mince words, saying "everything in here jars … it just doesn't work … it's a very muddled verandah."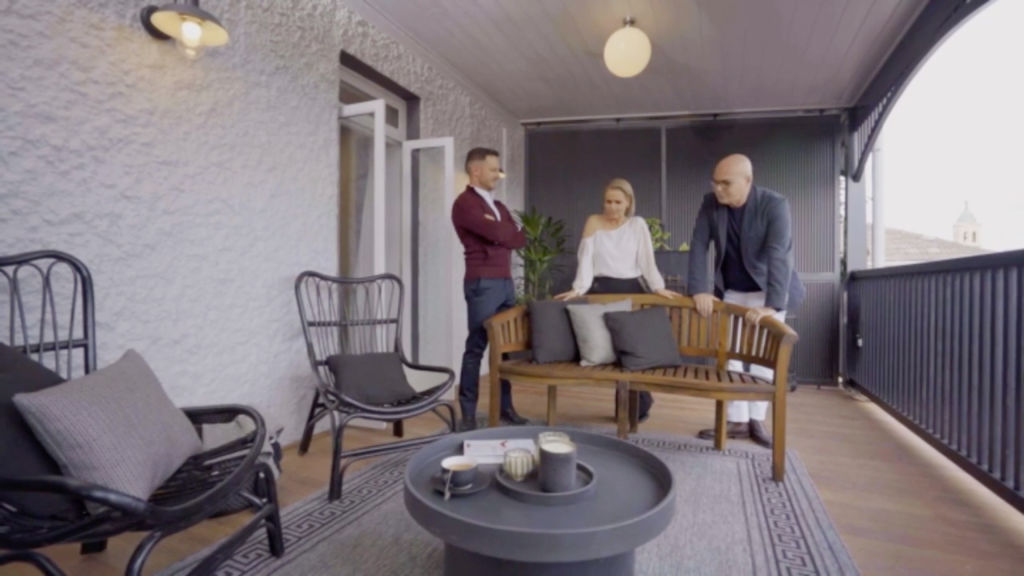 Jesse and Mel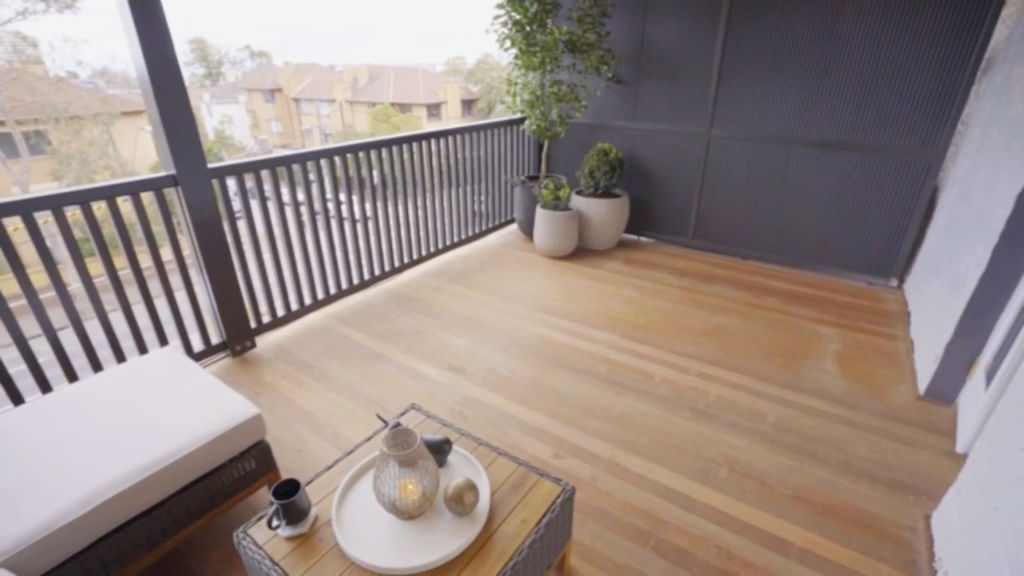 It was a gutsy move, but the Melbourne couple made the call to spend the least amount of money on the verandahs, as real estate agent Jesse doesn't believe they are a selling point and won't add to the sale price. 
As the verandahs are off bedrooms, Jesse said they didn't need to be lavish as "you're not going to be dragging people through your bedroom to have a shindig on your balcony".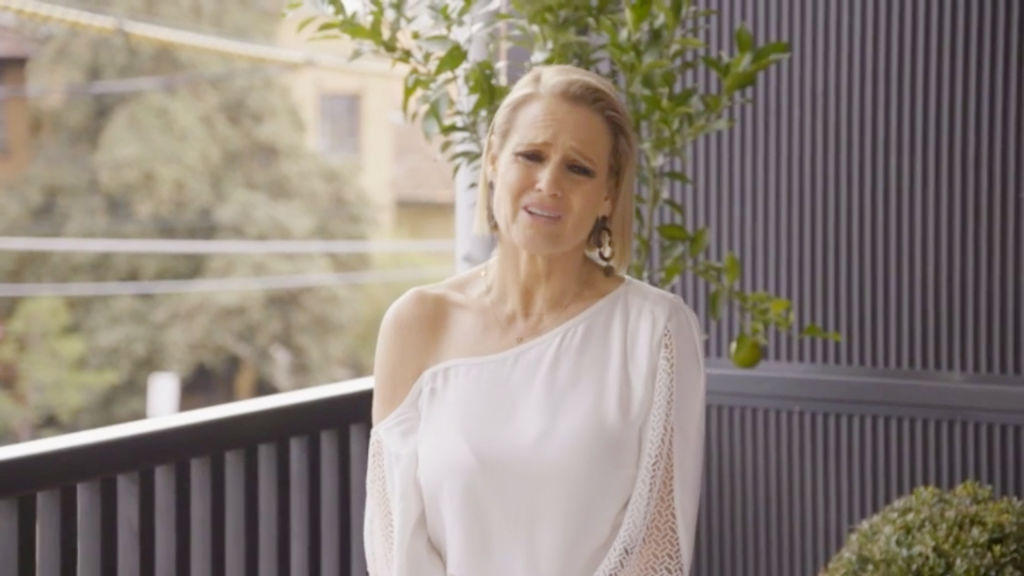 That's all very well and good but as soon as Shaynna walked in and spotted a fake plant, she hit the roof. She said it was "taking the piss".
"This is ridiculous … this is really disappointing."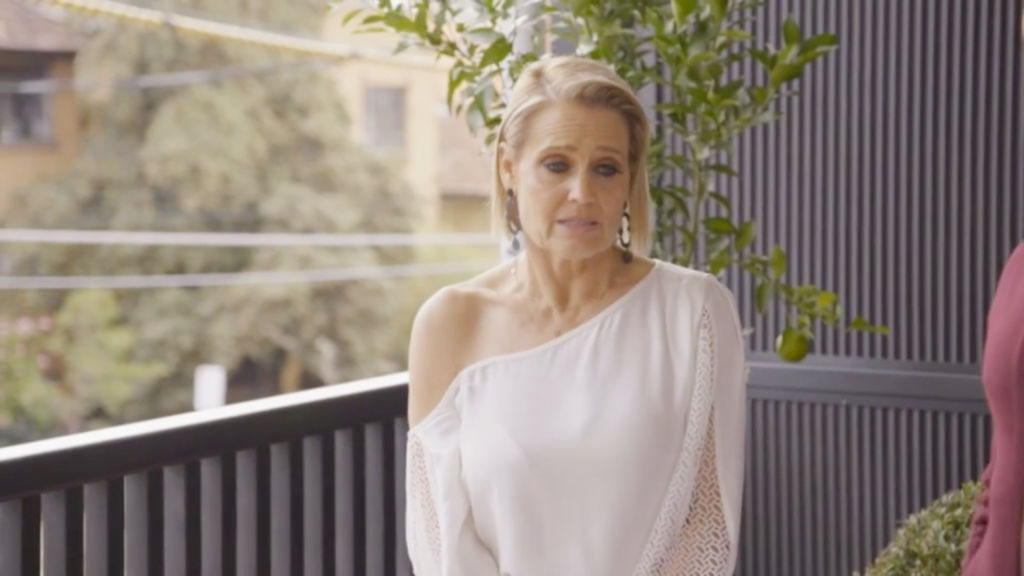 Neale agreed: "It feels really lazy … you can't throw in the towel just because you don't think people are going to use the verandah very much.
"Two weeks ago they wowed us with an incredible internal courtyard … there's nothing here that relates to that couple."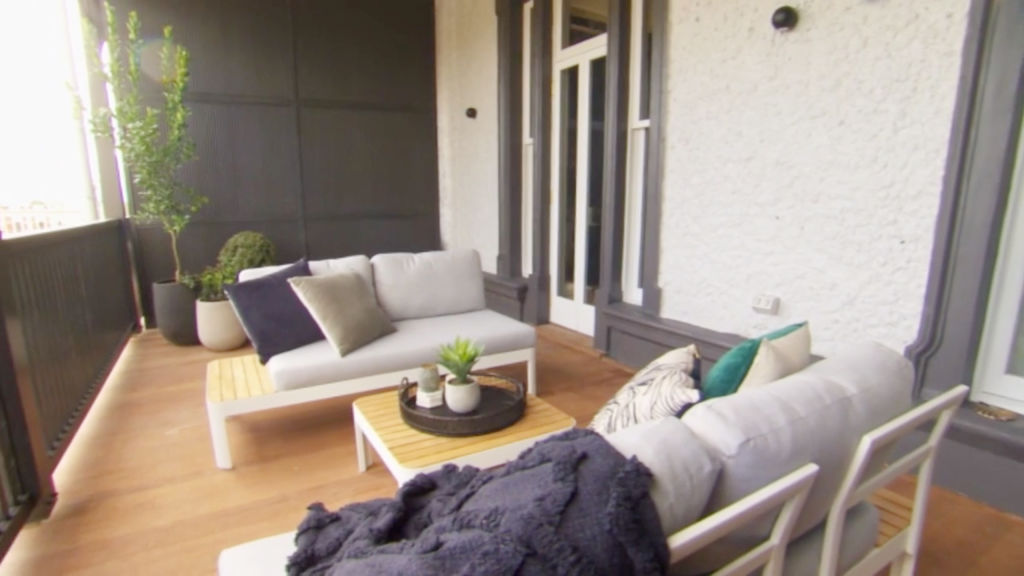 Their upper verandah didn't bring any more joy, with its couch, coffee table and plants. Shaynna described it as "boring as batshit".
Neale continued saying "talk about a missed opportunity … They've been handed such a beautiful shell and to make such a mess is a tragedy."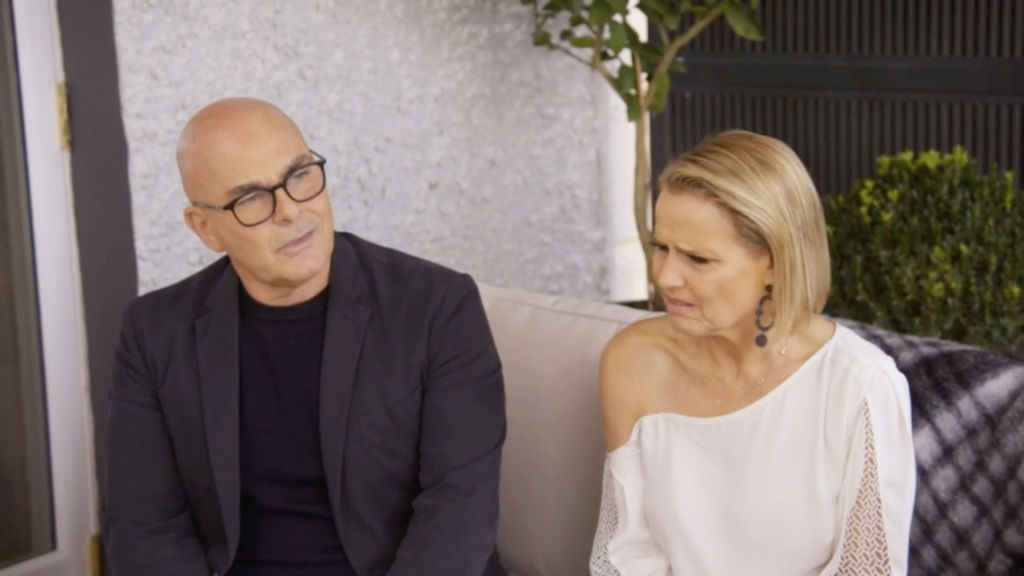 Spoiler alert: Jesse and Mel didn't win this week's room reveal. 
In the end Mitch and Mark won with a perfect score of 30 – they've won three rooms and all of them were on level three, which seems to well and truly validate the big floorplan changes they made.
The final scores looked like this
Mitch and Mark – 30
Tess and Luke – 23.5 
Andy and Deb – 20.5
El'ise and Matt – 20.5
Jesse and Mel – 16.5
Tune in next week for "hell week" where the couples have the mammoth task of presenting media rooms, studies and hallways. There will be tears. Oh yes, there will be tears.