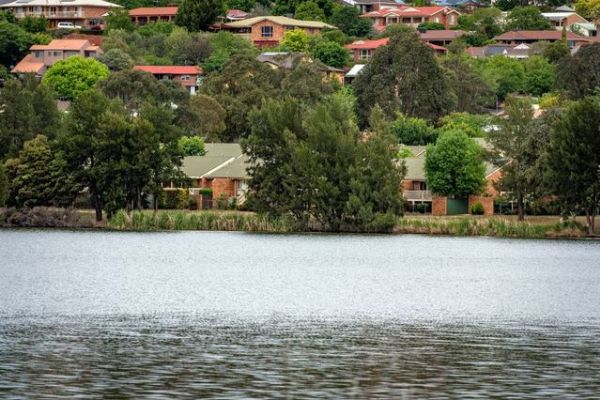 The Canberra suburbs where most houses are under $600,000
Lucy Bladen
twitter
Editorial producer
Despite house price growth stagnating in Canberra, buyers would be hard pressed to find a house in the nation's capital for less than half a million, but data shows there are still suburbs with a median house price under $600,000.
According to the latest Domain data, Canberra's median house price is $738,933.
Among suburbs with more than 50 sales in 2018, there are 17 in the ACT with a median house price under $600,000.
Of those, there nine are in Tuggeranong, seven in Belconnen and one in Gungahlin, but the top three most affordable suburbs are within different regions.
| | |
| --- | --- |
| Suburb | Median house price  |
| Banks | $500,000 |
| Macgregor | $515,000 |
| Ngunnawal | $520,000 |
| Theodore | $533,500 |
| Higgins | $550,000 |
| Holt | $550,000 |
| Kambah | $550,000 |
| Latham | $554,000 |
| Gordon | $564,500 |
| Isabella Plains | $575,000 |
| Conder | $580,000 |
| Dunlop | $580,000 |
| Scullin | $583,750 |
| Chisholm | $590,000 |
| Wanniassa | $590,000 |
| Calwell | $591,500 |
| Evatt | $595,000 |
The most affordable suburb is Banks where the median house price is $500,000.
"There's a lot of movement in the suburb, with 21 properties currently on the market and four selling over the past month," said Andrew Thorpe of One Agency Andrew Thorpe. 
Macgregor, in Belconnen, has the second-lowest median at $515,000.
"Macgregor is proving to be one of the most popular homes for families in Canberra wanting to get off the rental roundabout," said LJ Hooker Kippax agent Johnathan Davis.
"But in saying that, with the median house price continuing to rise year-on-year families can buy with the feeling the market continues to grow."
Rounding out the top three is Ngunnawal, in Gungahlin at $520,000.
"Ngunnawal always surprises me because it has such a diverse range of price points," said Domain senior research analyst Nicola Powell.
"You have to remember the data includes townhouses as well, which I know Ngunnawal has a lot of and that's probably what is pulling the median price down."
There is a high concentration of suburbs under $600,000 in south Tuggeranong, with Canberra's five southernmost suburbs – Banks, Gordon, Conder, Theodore and Calwell – making an appearance.
Mr Thorpe said these suburbs offered great value for money.
"You definitely get a few first-home buyers in the Lanyon area because your money goes further there and there are some good facilities with Lanyon Marketplace – it's a great place for people to start out and buy up," he said.
Northern suburbs in Belconnen also have a high concentration, with Macgregor, Holt, Higgins and Dunlop also featuring on the list.
Dr Powell said the prices of these suburbs are not surprising, as its part of a wider trend seen across all major capital cities.
"This is typical of what we see in cities, the further you venture out from the CBD you typically find median prices are lower," she said. 
"[But] the trend we see in Canberra is not as stark as if we were looking at the same trend in Sydney and Melbourne.
"Canberra is less stark in that price differential, and I think an element of that is the fact Canberra was designed as a satellite city."
With new first-home buyer incentives set to kick in from July, it is widely anticipated suburbs with a median house price under $600,000 will see a spike in demand.
"The initiatives that are coming into play will open up a variety of different suburbs, particularly those more established suburbs where buyers can buy a block of land," said Dr Powell.
"They can buy an older home and they can renovate … so I think we will certainly see the demand increase."