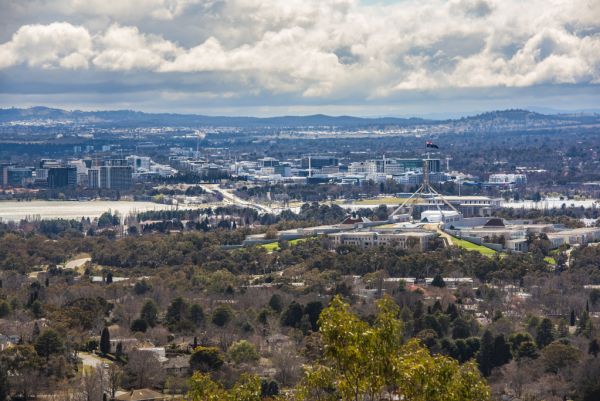 The cheapest properties within 10 kilometres of Canberra's centre
Lucy Bladen
twitter
Editorial producer
While Canberra was designed as a satellite city, there's a lot of development going on in and around the city's centre.
With infrastructure spending concentrated within Canberra's CBD, many might be searching for properties closer to the action. However, this could come with a hefty price tag with the median house price in inner-city suburbs such as Ainslie and O'Connor over $1 million. 
Unlike people in Sydney or Melbourne, Canberrans do not face the perils of long commutes but being closer to the centre of town may just help lower the cost of a Saturday night taxi, or perhaps it might motivate you to use the bicycle that's gathering dust.
An analysis of Domain data looking at sales in the 12 months to March 2018 – and the distance from the city – shows the suburbs where Canberrans can get the best value for their time and money.
The most affordable median, less than 10 kilometres to the city, can be found in Bruce. Just 5.2 kilometres from the centre, the median unit price of the suburb is $355,000.
This is followed by neighbouring suburb Belconnen where the median unit price is $367,000.
Lowest unit medians within 10km of Civic
| | | | |
| --- | --- | --- | --- |
| Suburb | Median | Distance | Driving Time |
| Bruce | $355,000 | 5.2km | 13 minutes |
| Belconnen | $367,000 | 7.5km | 17 minutes |
| Watson | $367,250 | 5.8km | 14 minutes |
| Franklin | $373,000 | 9.1km | 17 minutes |
| Phillip | $375,000 | 8.1km | 16 minutes |
To find the most affordable houses, one has to travel slightly further with the lowest prices found in suburbs more than nine kilometres from the city centre.
Evatt in Belconnen has the lowest median house price at $595,000, followed by Palmerston ($630,000) and Holder ($670,000). Luton Properties Belconnen director Tim McInnes said Evatt offered easy access to the city, as well as the Belconnen and Gungahlin town centres. 
"There's a broad market for people looking for different things … It's definitely a family-friendly suburb with three primary schools which is unique for a suburb. There's some really nice spatial segregation around houses," he said.
"People are realising the value on offer … it's in a good price point in the market."
Although Evatt is about 9.5 kilometres from the city centre, it is a 22-minute drive. Of the most affordable median house prices, Holder has the shortest drive at 15 minutes.
Lowest house medians within 10km of Civic
| | | | |
| --- | --- | --- | --- |
| Suburb | Median | Distance | Driving Time |
| Evatt | $595,000 | 9.4km | 22 minutes |
| Palmerston | $630,000 | 9.7km | 19 minutes |
| Holder | $670,000 | 9.5km | 15 minutes |
| Franklin | $687,000 | 9.1km | 17 minutes |
| Harrison | $731,000 | 9.4km | 19 minutes |
Neighbouring suburbs Franklin and Harrison round out the most affordable houses with medians of $687,000 and $731,000, respectively.
Both Gungahlin suburbs are located within walking distance of the light rail line, making the commute into the city even easier.
Claire Corby of Capital Buyers Agency says it really depends on whether the buyer wants to prioritise living as close to the city centre as possible.
"It's always about where [a buyer's] life is based and centred around. If people are working in the city that's a place they are drawn to, but if it's about lifestyle hubs Manuka and Kingston are appealing," she said.
"A lot of people are mindful of buying a quality asset [and] staying close to the CBD ensures value."
However, Ms Corby said there was a changing dynamic among buyers looking for "fixer-uppers".
"We are seeing more generalised buyers looking to set up life in the suburbs. For example, they might grab an ex-government and be inspired by The Block to do renovations," she said.
For buyers looking for a combination of affordability and convenience, Ms Corby said Weston Creek was firming as a good place to look.
"It may be unrealistic to say you can get something readymade in the city centre. I'm liking Weston Creek at the moment – with the expanse of Molonglo, it's more in the geographical centre of town," she added.
When you widen the distance to 20 kilometres, the lowest median for houses is in Ngunnawal at $518,125. This is followed by Macgregor at $530,000, Holt at $535,000, Isabella Plains at $558,000 and Kambah at $560,000.