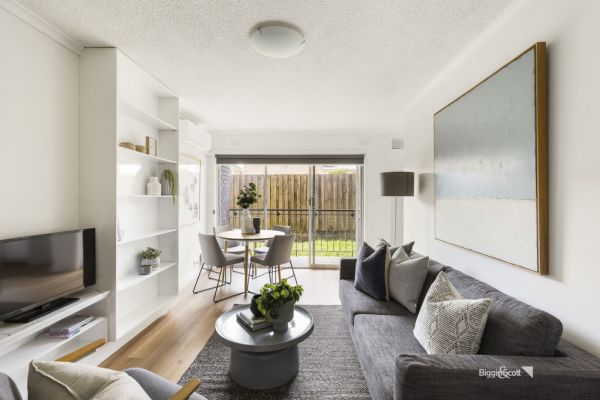 The units you can buy for less than $500,000 in the major cities
Units are growing in popularity among buyers on a budget, agents say, after house prices shot up by up to 30.4 per cent in the biggest capital cities over the past year.
However, with the median price for an apartment now sitting at $609,642 nationally, finding an affordable option is still a tall order.
Here is what you can buy for less than $500,000 in Sydney, Melbourne and Brisbane.
Sydney
With Sydney's median unit price now at $802,475, it will come as a surprise to no one that half a million dollars doesn't fetch much in the way of an apartment.
Their $500,000 will get buyers a studio or one-bedroom unit if they want to stay close to the city, but even then they will be looking at a fixer-upper.
The majority of interested parties are first-home buyers, according to Jacob Ellis of LJ Hooker Ashfield.
He is selling a one-bedroom unit at 23C/18 Lucy Street, Ashfield, with a price guide of $410,000, and it is ripe for renovation.
"In Ashfield, it's starting to become harder and harder [to find units for less than half a million]. The further west you go out you can buy them but they are quite rare," Mr Ellis said.
While the deceased estate needed a lot of work, the property still presented "good value for money" because units had not seen the same level of growth as houses, he said.
Ashfield's median unit price rose 6.6 per cent to $730,000 in the year ending September, Domain data shows.
In Croydon Park, a one-bedroom unit at 12/210 Burwood Road is on the market for between $450,000 and $475,000.
While the location is about two kilometres further from the city, it is still within a 10-kilometre radius and ready to move into after recent renovations.
The suburb's median unit price is $657,500.
Melbourne
The same $500,000 budget affords buyers more options when it comes to two-bedroom units in Melbourne, but they can also snap up one-bedroom units a lot cheaper than in Sydney.
Melbourne's median unit house price now sits at $576,879 after growing 6.1 per cent in the year to September.
In Flemington, a one-bedroom unit at 10/84 Dover Street has a price guide of between $290,000 and $310,000.
The property has mainly attracted priced-out first-home buyers, said listing agent Sam Abboud of Woodards Ascot Vale.
"Most of these entry-level apartments are predominantly purchased by first-home buyers trying to get their foot in the door," Mr Abboud said, adding that the unit had begun to attract tree-changers who wanted a Melbourne crash pad on weekends.
Flemington's median unit price is $444,500.
Meanwhile, in Brunswick, a two-bedroom unit at 22/174-176 Victoria Street is for sale at between $385,000 and $420,000.
Although it is slightly further away from the Melbourne CBD, the property has been recently renovated and is a short stroll away from a couple of high streets.
The suburb's median unit price fell slightly by 0.2 per cent to $540,000 in the past year to September.
Brisbane
In Brisbane, first-home buyers are also quickly turning to units as even traditionally entry-level postcodes have recorded rapid growth.
The city's median unit price fell 1.8 per cent to $396,609 in the year to September, Domain data shows. This is in stark contrast to the city's house price growth of 15.3 per cent in the same period, which took the median to a record $702,455.
A two-bedroom, two-bathroom unit at 8/14 Gordon Parade, Everton Park, is taking offers of over $399,000.
Listing agent Nathan Lansdell of Ray White Aspley said there had been more inquiries on units than houses over the past two weeks.
"Unfortunately even entry-level [house] buying is $750,000 to $800,000 for the absolute renovator. That sort of turned people to townhouses and units," Mr Lansdell said. "Unless you've got skills to do it yourself you're better off to buy into a ready-move unit."
At almost half the price, buyers are getting as many bedrooms and bathrooms, he said.
The suburb's median unit price fell 5.1 per cent to $446,000 in the past year to September, Domain data shows.
In inner-city hotspot Fortitude Valley, a two-bedroom unit at 746/1000 Ann Street is listed for $440,000.
At 62 square metres, the property is ready to move into, with several amenities within the high-rise building and close proximity to public transport and Brisbane's CBD.
The suburb's median unit price fell by 1.2 per cent to $420,000 in the same period.