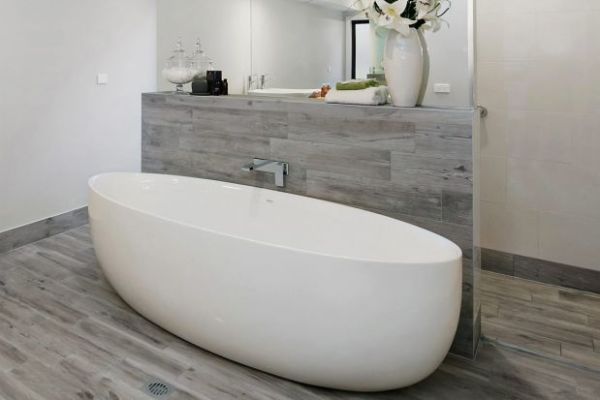 Top tips for a better bathroom
If the kitchen is the hub of the home, a vibrant place of activity, then the bathroom is its polar opposite; a peaceful place to unwind at the end of long day.
Despite their differences, they have followed a similar evolutionary path – a simple, functional space is no longer enough, and features that were once luxurious extras are now must-have inclusions.
Christine Kinder, senior interior design consultant at My Choice Design Studio for McDonald Jones Group says the bathroom was once the forgotten room in the home and overlooked in favour of the kitchen.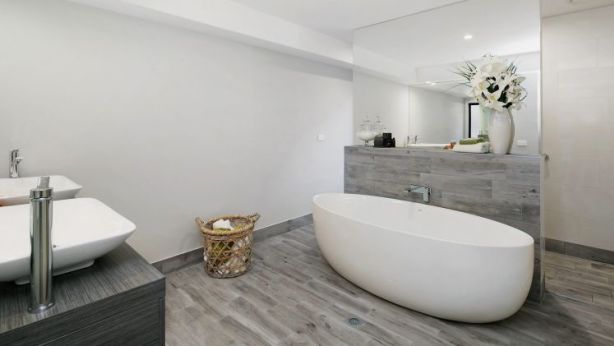 However, busy lives have changed the way we view our bathrooms.
"Because our time is really precious, the time we get to chill out, take a bath or a hot shower at the end of a long day, we want to do it in a beautiful space," Kinder says.
"It's gone from a room of function to a place where people want to spend time in and relax in."
According to Sold on Styling's Suzy Piani and Melinda Jamieson, bathrooms have moved beyond the purely practical to be luxurious places for quiet contemplation.
As a result, items that you wouldn't have found in a bathroom 20 years ago have become commonplace, pendant lighting is no longer restricted to the main living areas and the freestanding tub is now a non-negotiable feature.
"[The freestanding bath] is a must-have," Kinder says.
"We don't have baths very often, but when we make the time we want to pretend we're in a day spa."
There are a few things worth considering if your bathroom is crying out for an update, Kinder says.
"We don't renovate that often," Kinder says.
"So the foundation – the tiling and vanity – should be nice and neutral, I'd encourage clients to stick to simple."
Kinder says keeping the basics neutral will allow you to easily change the soft furnishings, lighting and artwork as desired.
She also advises keeping accessories to a minimum. "Bathrooms are a small space so pick a couple of cute key features and put those in."
Piani says storage is paramount to achieving an uncluttered look.
"A mirrored, wall-hung, slimline cabinet that can store most of your personal items is an easy option," Piani says. "In fact, mirrors will always make a bathroom look bigger. Therefore, an oversized mirror in a small bathroom will really help to enlarge the perception of space."
Jamieson says wall-hung vanities will also help a bathroom look more spacious, while semi-recessed basins allow for more vanity space without taking up too much of the bathroom.
"White always looks clean and fresh and makes the space appear roomier," Jamieson says.
"Add a splash of colour with accessories and towels. If you are more adventurous, wallpaper can make a big impact in a small space."
But is a renovation necessary if you're simply revamping your home before putting it on the market?
"Bathrooms are definitely worth renovating if you have the budget and the time," Piani says.
"However, keep in mind that, like kitchens, they are not a cheap room to renovate.
"If renovating is not possible consider having the tiles regrouted and paint the walls and ceilings to freshen up the room. Lighting is important in the bathroom for the application of make-up and shaving, so it's important to get this right with adequate lighting over the vanity."
Dated bathrooms, Jamieson says, can also be reinvigorated with a few simple additions, which is also good news for tenants who are stuck with a 1970s eyesore.
"There are plenty of towels now available in bright colours and patterns to jazz up any bathroom," Jamieson says.
"A colourful shower curtain will make the whole room pop."
Well-chosen artwork, either propped on a ledge or hung on a wall (with permission from the owners if renting) can also make a big statement, Piani says.
And add an indoor plant or two – they will love the humidity and give the bathroom an instant lift.
Top trends for a timeless bathroom
Oversized tiles: Sold on Styling's Melinda Jamieson says oversized tiles have been popular in Europe this year and give the bathroom a seamless look. "The big bonus is that they make cleaning a breeze because there are fewer grout lines," Jamieson says.
Patterns with personality: "Tiles laid in unusual patterns really add personality," Sold on Styling's Suzy Piani says. "For example, timeless tiles laid in a herringbone pattern."
Pendant lighting: Pendant lighting looks particularly elegant hung over a freestanding bath, My Choice Design Studio's Christine Kinder says. They're also easy to change over time. "If the foundation is really simple, changing a pendant light can completely change the look of a bathroom.
Walk-in showers: Piani also recommends this space saving addition in place of a standard shower – they look sleek, modern and are very easy to clean.
Quality tapware: No longer restricted to chrome, tapware comes in all textures and colours, Kinder says. White, matte black and copper all look great and can be used as a bathroom's focal point.
Hamptons style the hot trend
French provincial has been one of the huge interior design trends of the past decade, but according to My Choice Design Studio's Christine Kinder, the bathroom has discovered a new destination to channel.
New York holiday hotspot the Hamptons has now worked its way into many modern homes.
The seaside retreat's coast-meets-country appeal makes it the perfect inspiration for a relaxed bathroom.
"We had French provincial and shabby chic in the early noughties and what we're seeing now is an extension of that," Kinder says.
"There's still a bit of the shabby chic, but it's got a coastal vibe and it's more sophisticated."
Today's Hamptons style is classic country with a twist – think deep, freestanding tubs and a monochromatic palette accented with classic tapware and artisan tiles.
"There's a range of tapware from Reece, called Bastow that I would recommend," Kinder says.
"Carrara marble is quite hot within the Hamptons trend and monochromatic patterns are an easy way to add a bit of Hamptons to your bathroom."
My Choice Design's Hamptons-style bathroom, featuring a classic combination of Bastow tapware, Carrara marble and Spanish artisan tiles, has become a studio favourite.
Kinder says it's quite a small bathroom and they have worked with the space by creating a sophisticated wetroom.
The freestanding tub and shower both sit behind panels of frameless glass, which makes the bathroom feel open and spacious.
"Instead of segregated sections it's one big space," Kinder says.
Entertainer's delight, with views
5 Steep Street, Harrison
$900,000-plus
Country living infused with modern finishes was the vision for this stunning Harrison home.
It is set in a sought-after pocket of the suburb and has been crafted to bring the peaceful reserve views into the home.
Completely designed by its owners, every detail of this brand new home has been addressed.
A modern palette of materials including timber and glass provides a clean, contemporary finish to the practical floor plan.
A grand, floating timber staircase with glass balustrade flows from the entry foyer and leads the way to the open-plan living area and master bedroom.
From their position on the upper floor, these rooms capture uninterrupted rural views and are surrounded by a large, wrap-around verandah with built-in barbecue.
The kitchen is an entertainer's dream with 900mm appliances, an abundance of stone benchtops, an island bench and a walk-in pantry.
The master suite, complete with a walk-in wardrobe, en suite and direct access to the balcony, is segregated upstairs.
The secondary bedrooms are all on the lower level alongside the main bathroom.
The main bathroom and en suite exemplify the high level of inclusions that can be found throughout the home.
A freestanding tub forms the centrepiece of the main bathroom. This peaceful sanctuary features neutral timber tones, a dual vanity and the toilet and shower are concealed behind a feature wall.
The en suite, which is accessed via the walk-in wardrobe, features a striking blend of soft grey floor-to-ceiling tiles and feature pattern tiles surrounding the generous double vanity.
It also includes an oversized shower with rainwater head.
No. 5 Steep Street, Harrison will be auctioned on Saturday, July 23 at noon, onsite. Phone McGrath Dickson agent Theo Koutsikamanis on 0431 543 649. EER: 6. Inspect: Saturday, 11.45am-12.30pm, Sunday, 10.45-11.15am and Wednesday, 5.15-5.45pm.