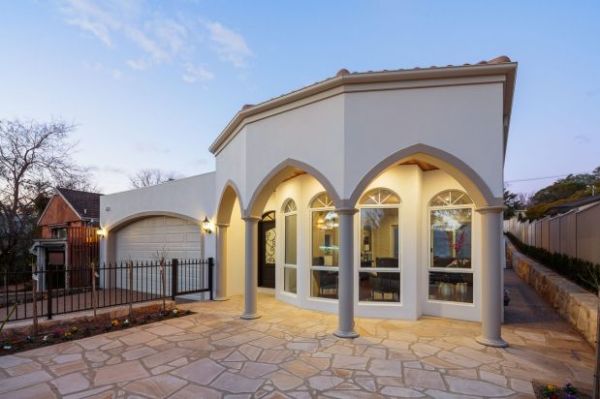 Why the kitchen is an essential ingredient to a hot sale
Trends come and go, but our changing lifestyles have brought about a revolution in the way we design our kitchens.
Busy lives, a movement towards casual entertaining and the way we cook have resulted in dramatically different kitchens than the ones many of us grew up with – and according to architect Ben Walker, it goes way beyond tile patterns and floor coverings.
"Kitchens in contemporary housing have tended to become an additional or ancillary living space, rather than a room solely used for food preparation as they were traditionally designed for," Walker says.
"Modern, busy lifestyles have almost dictated the need to be able to converse with family during the cooking process. This has resulted in more open-planned kitchens that are a 'plug-in' within the main living zone, rather than a room that is adjunct to it."
With the kitchen's migration towards the hub of the home, its design now plays a significant role in the home's overall ambience.
"The design will heavily influence the sense of the connection between the adjacent rooms, the sense of connection between interior and exterior spaces, and it has the opportunity to set the tone for the interior finishes and materials palette," Walker says.
"Probably more than any other room in the house, it has the potential to influence the interior character of a home."
Walker says durable finishes and joinery materials are recommended, while colours and textures will make the room your own.
"This can be a lot of fun, allow yourself to be bold in the choice of colours – but don't be sucked into the trap of thinking you need to select finishes that are trendy in the short term, choose what you like," Walker says.
Melinda Jamieson and Suzy Piani from Sold on Styling agree that renovators shouldn't be shy when injecting personality into their kitchen, even if selling is on the cards.
"The biggest thing we observe, is renovators reproducing what everyone else is doing because they think the property won't sell if they add individual flair and character," Piani says.
"Anecdotally, we see buyers who are attracted to kitchens with style and personality."
Peter Blackshaw Manuka agent Alec Brown says the kitchen has become one of the most important lifestyle factors buyers consider with each purchase.
"Its design and quality is crucial to the value buyers see, given how much it is now incorporated with our living and entertaining spaces," Brown says.
Brown says a good kitchen design doesn't have to be done on a grand scale, however, an efficient and practical layout will always be sought after.
"It's vital that the kitchen relates seamlessly with the adjoining living spaces," he says.
Jamieson says clever details can make all the difference in the functionality of the room, including the positioning of appliances, the location of power points, cupboard and shelving heights and even the direction in which the fridge door opens.
"Traffic flow in the kitchen is crucial as quite often there is more than one person using the space simultaneously," Jamieson says.
"Therefore, having a circular space with an island bench often works best for families rather than a galley-style kitchen with only one entrance point."
A major renovation, however, is not always the best investment if it's being done simply to sell the home.
"Each scenario is completely different," Brown says.
"In some cases it can be worth the investment but more often than not it may be better undertaking a few cosmetic upgrades and leaving a complete renovation up to the imagination of the next owner."
According to Piani and Jamieson, a kitchen is the most expensive room in the house to renovate, but a few simple touches can make a huge difference.
"Make sure the kitchen is scrupulously clean for sale and think about ways of adding character," Jamieson says.
"This could mean painting old kitchen cupboards, painting dated tiles to freshen splashbacks, adding quirky vintage decor for interest and some funky stools."
Trends to embrace and avoid
Sold on Styling's Melinda Jamieson and Suzy Piani give their verdict on the latest trends.
Embrace
Vintage accessories: Move away from the clinical kitchen and towards a homely space by blending vintage items with contemporary appliances. "Combine retro-style kitchen gadgets and vintage decor with the clean lines of stainless steel appliances and slimline stools," Jamieson says.
Practical lighting: "Don't be tempted by fad lighting," Jamieson says. "Lighting needs to be practical over work areas. Perhaps by adding a dimmer, the kitchen wattage can be dialled down during courses to provide a more intimate ambience."
Colour and texture: White kitchens may be timeless, but adding colour and textures can give the space its personality. "Mixing of materials adds more texture and interest, such as exposed brick and stainless steel or two-toned kitchen cupboards," Piani says.
Avoid
Staining surfaces: Some surfaces look spectacular but aren't entirely practical, so it's wise to assess your options. "The improvement in manmade materials means that homeowners can now obtain a designer look, which is also hard-wearing and easy to maintain, such as engineered stone that replicates the look of marble," Piani says.
Timber veneer: "Timber veneer chips easily so it's not a great material for a family kitchen, perhaps only for the high cupboards," Jamieson says.
European laundries: These can work in smaller homes or areas away from the main living spaces, but are not the best use of these large open-plan areas. "The noise of the washing machine going constantly in the central area of the house is not conducive to an inviting kitchen," Piani says.
Luxury and practicality
At the heart of the Saunders' award-winning Chifley home is a stunning kitchen that combines practical inclusions with warm finishes.
Designed by Ben Walker Architects and built by Ewer Constructions, the house picked up a Master Builders Award in the custom build category last month.
Greg, pictured, and Cathryn's home features clean, modern detailing throughout and the kitchen was designed to be flexible. A wide sliding door opens the room up to the surrounding living spaces and can easily be closed off when required.
Joinery by David Cavanagh, of Matrix Joinery, is cleverly integrated into the kitchen. The lower cupboards are replaced with drawers, allowing easy organisation and storage.
Adjacent northern windows allow sunlight to stream into the room, while extensive cupboards and a large island bench provides ample storage and plenty of preparation space.
Integrated appliances, which include a double oven and plate warmer, give the room a sleek, modern finish.
Cathryn says the home features industrial finishes such as polished concrete floors, so they have added spotted gum timber to create warmth. Practical work spaces ensure the kitchen is low maintenance.
"We deliberately selected finishes that were simple and easy to clean," Cathryn says.
Walker says the detailing in the kitchen continues the details found in other parts of the house, so it has a clear and comfortable connection with the rest of the home.
Cover property
26 Hopetoun Circuit, Deakin
$1.8 million (by negotiation)
Outstanding craftsmanship and bespoke finishes define this Deakin property, with the kitchen forming the heart and soul of the home.
From a butler's pantry to an extensive array of appliances, this is a kitchen that will appeal to even the fussiest chef.
A suite of Miele appliances includes two pyrolytic ovens, an integrated fridge and freezer, dual-zone wine fridge, semi-integrated dishwasher, built-in coffee machine and a convection microwave.
The butler's pantry provides extensive storage options, while Italian Nero Misto marble bench tops and stylish joinery give the kitchen a luxe finish.
Sophisticated details continue throughout the home with solid maple doors and hardwood floors. All living rooms open directly onto a covered alfresco space with cedar-lined ceilings and a water feature.
All bedrooms are generously proportioned and include custom-fitted wardrobes. The master bedroom features a huge walk-in wardrobe and opulent en suite with a solid cast iron bath.
Both the en suite and main bathroom feature floor-to-ceiling marble and large double showers.
The same level of quality can be found outside with a built-in barbecue, sandstone retaining walls, a computerised irrigation system and imported Spanish roof tiles.
It is situated within close proximity to the Deakin shops, Manuka and the Parliamentary Triangle.
No. 26 Hopetoun Circuit, Deakin, is for sale by negotiation through Peter Blackshaw Manuka agents Alec Brown and Andrew Chamberlain. Phone 0406 866 077 or 04 1241 1422. EER: 4.5. Inspect: Saturday, 1.45-2.30pm