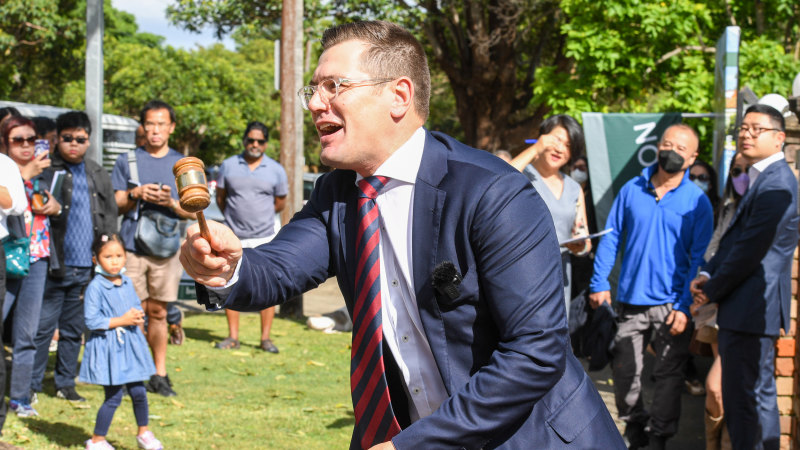 Young family drops $4,445,000 on Strathfield house at auction, plans a renovation
A five-bedroom house in Strathfield's Golden Mile sold for almost $4.45 million at auction on Saturday, to bidders who had spent months searching for homes in the prime pocket and plan to spend another half a million dollars on a renovation.
More than 70 people and six registered bidders turned out for the auction of 25 Carrington Avenue, on the market for the first time in almost 30 years.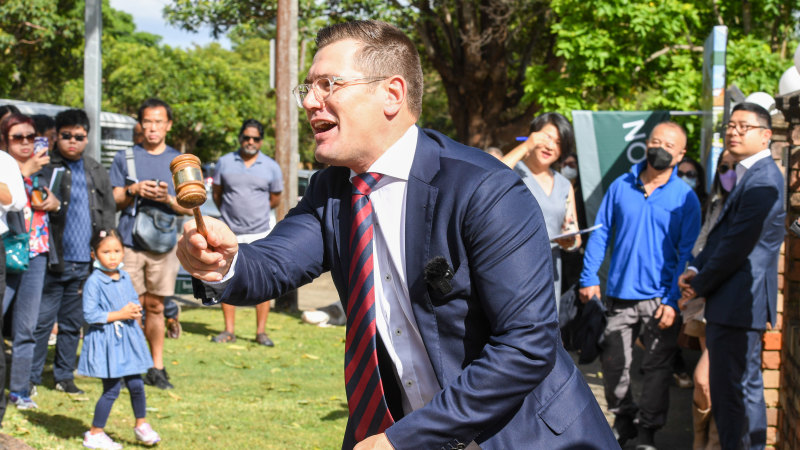 The Strathfield home was one of 847 auctions scheduled in Sydney on Saturday. By evening, Domain Group recorded a preliminary clearance rate of 66.4 per cent from 599 reported results, while 137 auctions were withdrawn. Withdrawn auctions are counted as unsold properties when calculating the clearance rate.
Bidding for the 645-square-metre Strathfield block began at $3.8 million and climbed in $100,000 jumps to $4.2 million, passing both the $4 million price guide and $4.1 million reserve. From there the four active bidders — including a woman who saw the property for the first time that day —traded more than 30 more bids, mostly pushing the price up in $5000 increments.
It was the final bidders to enter the competition, a young family from Hurstville, who made the winning bid of $4,445,000, paying $345,000 above the reserve. Both they and the underbidders had been looking for a home in the area for more than six months.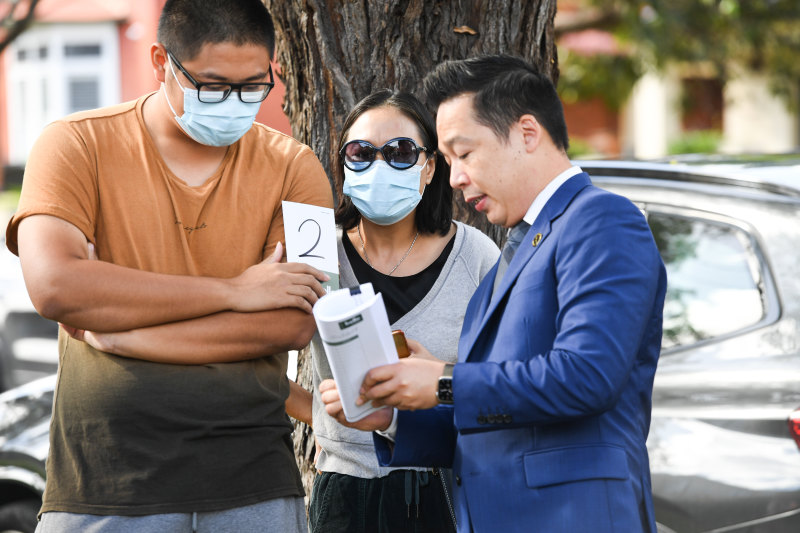 While the underbidders had been looking to rebuild on the block, the buyers planned to do an extensive renovation of the older style home, which selling agent Norman So of Belle Property Strathfield said would probably cost north of $500,000.
The result was more than five times the $830,000 that records show the house last traded for in August 1992.
Mr So said it was an exceptional result, but noted he had been on the fence on how the auction would pan out with interested buyers keeping their cards close to their chest.
"Of the six registrations here, only two of the buyers wanted to talk to me, the other four just completely ghosted me throughout the whole marketing campaign," he said.
"Last year wasn't like that, everyone was like an open book to me when the market was hot, [now] the market is back to normality, I've got to do the chasing."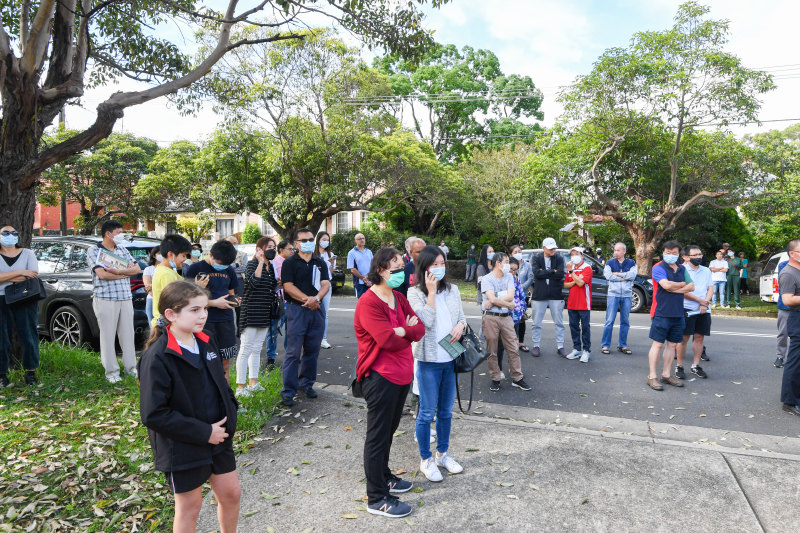 It was one of four auctions called by auctioneer Jesse Davidson of AuctionWorks on Saturday, after three of his other auctions sold prior and another was withdrawn. He said auctions were typically taking longer now than they did last year, with buyers keen to pull back the pace of bidding with smaller increases.
"But we're still getting there," he said, noting the $5000 raises at the auction lifted the sale price by more than $100,000.
In the eastern suburbs, a four-bedroom house in Clovelly with water views sold for $9.15 million after the vendors cut their reserve to secure a sale.
Bidding for 28 Shackel Avenue opened at $8 million, after an initial offer of $7 million from the eventual buyer — well below the $8.5 million price guide — was knocked back. It jumped to $8.8 million on the second bid, thanks to an offer from a Hong Kong buyer, who was competing against two local families.
The 462-square-metre block eventually sold to a young family from Bronte, after the vendor lowered their initial $9.3 million written reserve to meet the market. The $9.15 million result was still well up on the $5.75 million they paid for the property in 2016.
"It's a good result," said selling agent Mark McPherson of McGrath Coogee. "We are seeing a slight correction in the market, but good properties like this will obtain genuine interest."
In the south-east, a two-bedroom original condition home at 12 Oorana Avenue, Phillip Bay, sold for $2.42 million, after competition from three bidders.
After opening at $1.8 million, the steady bidding soon surpassed the $2.1 million guide and $2.3 million reserve, with a couple from Surry Hills walking away with the keys.
The 468-square-metre block sold through Simon Nolan of McGrath Maroubra. It had been held by the one family for more than 60 years, with the late owner using a £6000 lottery win to buy the land and build the home.
On the north shore, a large three-bedroom courtyard apartment with two car spaces sold for $2.79 million, with "fierce" bidding from two of the three registered parties pushing the price $390,000 above the reserve.
A young local family outbid a downsizer for 21/43 Lindfield Avenue, Lindfield, which spans 274 square metres. The auction was slow to start, but flew after an opening bid of $2 million was eventually made, surpassing the $2.2 million to $2.4 million price guide.
The apartment sold through Jessica Cao of Ray White Upper North Shore. It last traded off the plan for $1,408,000 in 2015.
Further north, in Hornsby Heights, a whopping 23 buyers registered to bid on 35A Montview Parade, which sold for $1,662,000. Bidding opened on the $1.3 million reserve, with six active bidders pushing the price well above that and the $1,275,000 to $1.4 million price guide.
The three-bedroom house on a 437-square-metre block sold to a young local family through Domenic Maxwell of Ray White Upper North Shore.
In the inner west, it was a battle of local first-home buyers for a two-bedroom courtyard apartment without parking that sold for $1,325,000. The 177-square-metre property was one of just two apartments in a converted terrace.
Three of the four registered bidders competed for 1/119 Brighton Street, Petersham. Bidding opened at $1 million, and rose in $50,000 increments to the $1.2 million guide, before slowing to smaller increases. Bidding stalled at $1.31 million, with the highest bidder eventually increasing their offer to $1,325,000 to secure the keys. The reserve was $1.28 million.
The unit sold through Namir Mikha of Adrian William. Records show it last traded for $742,000 in 2013.
Meanwhile, in Glebe, a rundown three-bedroom Victorian home on a 569-square-metre parkside block sold for $4.6 million prior to auction, through Chris Nunn of BresicWhitney Glebe.
The home at 1 Alexandra Lane had been guided at $3.9 million, and was purchased ahead of its Saturday auction by an inner west buyer who plans to create their dream home. The property last sold for $3.13 million in late 2020.