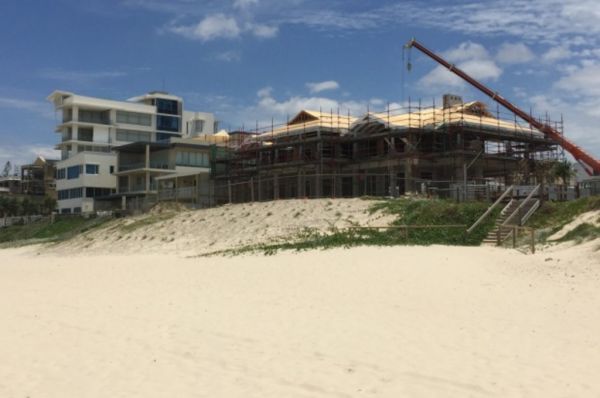 Custom houses boom in Gold Coast suburb
A building boom has taken off in the Gold Coast suburb Mermaid Beach with cashed-up locals spending big to knock down old properties to rebuild custom homes.
The area slumped after the 2007-08 global financial crisis, but has showed signs of recovery with widespread development by home owners.
Construction has started on a beachfront mansion on millionaire's row and across the road a site has been cleared to build.
Local builder Brendan Sheather said he has been inundated with work in the area.
"People are looking for custom-type homes," he said.
"They are knocking them down and rebuilding to individually suit their families."
Mermaid Beach Professionals agent Luke Henderson said more than 20 properties in the area were undergoing construction – most being knocked down and rebuilt.
"There is a concentrated area where people are knocking down their properties and rebuilding much bigger homes," Henderson said.
"The amount of building activity in the suburb is incredible and we haven't seen anything like this since before the global financial crisis rocked the area in 2008."
Most of the construction is occurring on the suburb's side streets.
"Along Petrel Avenue, home as at number 51 and 10 are undergoing major refurbishments while at number 24 there is a new project under way," Henderson said.
"In Seagull Avenue there are two new homes being built while in Arthur Street alone there are eight new developments under way.
"In both William Street and Venice Street there are two new homes under construction and on Tamborine Street there are also two new homes under construction plus on older home being extensively renovated."
Raine and Horne real estate agent Kae Beadman has worked in the Mermaid Beach area since 1985 and said the area was experiencing a rebirth.
"There is a lot of activity at the moment and it shows people have a lot of faith in the current market," Beadman said.
"It is certainly a rebirth for the area after a slump in 2008."
She said Burleigh Heads seems to be following the trend with building increasing further south.
"I noticed seven buildings under construction in Burleigh just this morning," she said.