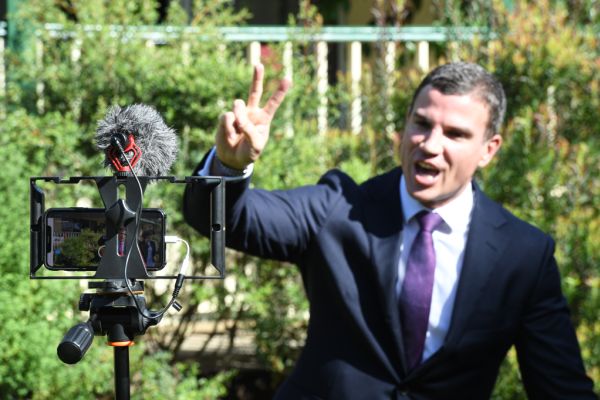 'Never get emotional': How to win an online property auction
Acting promptly to secure a first-mover advantage, and making sure you have a clear picture of the market and what value represents, are essential to win online residential property auctions, according to experts.
Online auctions are now the norm after face-to-face real estate auctions were banned on March 25 due to social distancing rules to combat COVID-19.
Even experienced bidders now need to develop new skills to win in the digital environment.
The first step, says Cate Bakos, president of the Real Estate Buyers Agents Association, is to ensure you're fully informed of any quotes agents have provided on a property. These include printed ranges or figures given verbally. You also need to do your own research.
"Have a really firm idea of the market," Bakos says. "Aim to start bidding at a price 15 per cent to 20 per cent under where you think value is.
"If in doubt, ask the agent about what they think a reasonable opening bid might be. Most will be happy to have a starting bidder."
Before the auction, make sure you do a virtual and a private inspection.
"Find out the general interest in the property, why the vendor is selling and their expectations," says Aus Property Professionals founder Lloyd Edge.
Shaun Stoker, principal of Ray White Erskinville, Glebe, Alexandria and Surry Hills, has already sold four properties via online auctions. His advice is to scope out demand for the property.
"Ask the real estate agent if any offers have been made and how many bidders will be participating in the auction."
Aside from having a grip on value and the circumstances of the sale, also know what you're prepared to pay.
"Bidding online is tougher than in person because the art of bidding disappears," Bakos adds. "Having a final figure in mind, an opening bid and confidence with finance approval gives most buyers a better-than-fair chance of bidding success."
During the auction, be quick to place your bid and resist the temptation to consult your brains trust. This is because it can show weakness if you're chatting or asking to pause the process and other bidders can see this on a video call.
Winning strategies
Early results from online auctions indicate buyers are adopting two main strategies.
"They either make a very low first offer or wait until they feel the bidding has slowed down and come in at the end. But the best strategy is to make a very strong first bid close to your maximum price. This will unsettle the other bidders," Stoker says.
Edge also recommends making a bold bid early on. "People may be hesitant with their initial bids given people's relative lack of experience with online auctions," he says. "Making a strong bid can silence many bidders before they even start."
Although online auctions run at a much slower pace than a normal auction, he says it's important to control the scene. "Make your bid as soon as you're notified another bid has been placed. Never get emotional."
Being able to place bids from anywhere – your couch or your kitchen – is an advantage of online auctions. You'll receive a notification via email or text whenever a bid is made. Then you'll need to decide if you want to make another bid.
Buyers do have more time to think about their next bid compared to a traditional auction, which has much more of a sense of urgency. So don't rush into bidding, even while attempting to gain control. "Always keep track of where you are up to and pay attention to other bids that come in," Edge advises.
A tip to unsettle other bidders is to change the size of your bids. "Use odd numbers in your increments," Edge says. "Instead of going from $760,000 to $770,000, make your next bid $769,000.
"Odd numbers are a good idea in general. Many people have a round number for their top end budget, such as $900,000. I suggest buyers have a limit of $905,000 or $909,000, for example. It might be that other bidders have a maximum of $900,000 and you can out bid them."