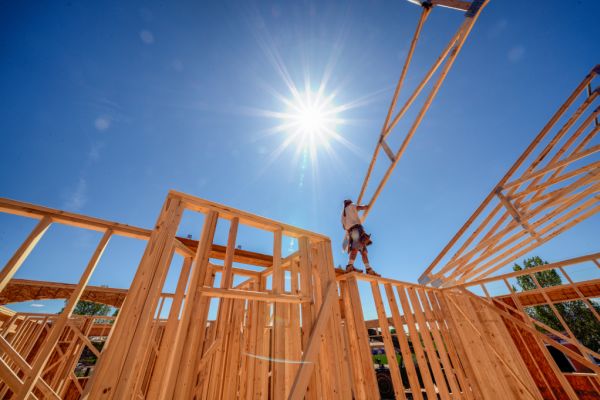 Should you use a builder or an architect when renovating your home?
The planning stage is one of the most important times when building a home, because thorough planning can avoid costly mistakes, wasted time and stress.
But depending on the size and complexity of the build, it's tricky to know whether to enlist an architect, a builder, or manage the project yourself.
Should you renovate without a builder or an architect?
In a renovation that requires more than one trade, such as a bathroom or kitchen, project managing it yourself can result in unforeseen issues.
"People think they're going to save money by doing it themselves, but they often end up spending more money," says builder Michael Kirwan from Professional Residential in Melbourne.
"People who are project managing it might not realise you have to do a certain level of waterproofing, or a certain drain, and the process of how it all goes together. When you're doing it yourself, you're guaranteed to make those mistakes."
When to use a builder for your renovation
A builder is in charge of the actual construction. They make sure the codes and regulations surrounding safe construction, such as the placement of supporting beams, are followed.
"I know when to put the mixer in the shower on one side instead of the other. I know what height you should go to with the shower screen before you need to change the thickness of the glass," says Kirwan. "All those things an owner-builder isn't going to know."
Less complex renovations usually won't require the services of an architect.
"If [the renovation] is really straight-forward and easy and access isn't a problem, a builder can often just do it," says architect Jennifer Crawford from Our New Home Coach in Sydney.
When to use an architect for your renovation
Renovations that are complex with constraints or may prove difficult to obtain council approval should involve an architect. Architects make sure the blueprints pass safety codes and regulations, such as material being fire-resistant.
Architects can come up with solutions to current living space problems. "Things like natural light and ventilation, space efficiency and solutions to storage," says Crawford.
They can also choose materials that solve a problem, such as poor insulation or glare.
"Sometimes it's the aesthetic and the overall vibe that can determine the materials used. Other times it's cost that drives some material selection. Most architects have a good understanding of how materials can work together, feed off each other and create a successful project," says Crawford.
When to use both a builder and an architect for your renovation
An architect can work with a builder from the planning to the final stage, achieving the best result.
"With an architect and a builder, you're going to get a better design," says Kirwan.
Having an architect on your team allows for changes on the fly. "There are always changes on site," says Crawford. "Everyone goes in with the best intentions, then someone opens up a wall and there's something that no one knew about.
"Being able to adapt to change is really important. It's where an architect's skill can really come into play."
Often the decision to use an architect, builder or project manage the build yourself can come down to cost.
"A lot of people think an architect is expensive," says Crawford. "If they have a house they want to renovate, through clever design an architect can add an extra bedroom or space."
This can make the property more marketable on resale.
A well-designed house can also save money in the long term through energy efficiency.
"That total big-picture thinking can help get the right result for people," says Crawford.