How to finance your renovation
Daniel Butkovich explains how you might be able to utilise refinancing to help pay for your home renovation.
What you need to know before knocking down your house and building a duplex
A duplex, or dual occupancy, allows a home owner to capitalise on their property by building two dwellings on one block of land.
Typically constructed as two semi-detached homes sharing one wall, duplexes can also be built on deep lots with one home in front of the other or corner blocks allowing each home to have its own street frontage.
Flexibility is one of the key benefits of a duplex development, especially for downsizers, says Glenvill Homes sales manager Doug Stevens.
"It allows the owner to stay in the location where they are, so they can do the development, sell one off and keep one to live in, or live in one and rent out the other."
Developing a duplex is also a popular strategy for investors seeking to take advantage of growth by appealing to professionals and young families seeking an affordable turn-key home in suburbs closer to city centres.
"The inner ring is quite expensive, but the ability to get into that marketplace by buying a duplex that someone has developed is becoming more and more popular," Stevens says.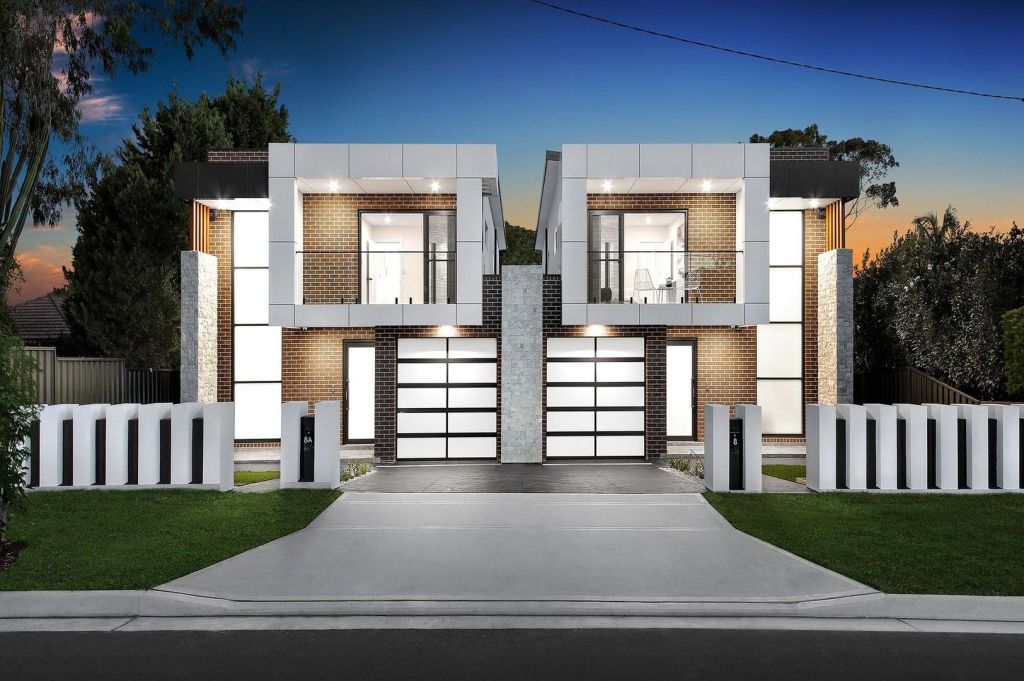 Where to start when building a duplex
Building a duplex is a complex process that can take from 18 months to two years, with the design and approval process taking up to half of that time.
The first step property owners need to take is to familiarise themselves with their local council's development guidelines, Stevens says. 
"Each council has a planning department who are willing to provide advice on what's typically allowed in their guidelines," he says.
Key considerations include overshadowing, the bulk and scale of the building, it's appearance from the street and objections from neighbours.
"They need to be individually designed to suit the area, the council and the individual block of land," Stephens says.
Not every block is suitable for a duplex development but those that share certain features in common. Regulations vary considerably between councils, but blocks typically need to be at least 500 square metres in area and at least 15 metres wide.
"The ultimate duplex site has a backyard that faces north," says Au Architecture founder Swarup Dutta. "That is where you tick all the boxes."
"North-facing living areas contribute to energy efficiency, and if the back is facing north, then the shadowing impacts on either side are within the planning controls."
Even if a property seems suitable on paper, it still needs a site assessment to ensure the development is feasible, says Metricon sales manager Jarrod Sturdy. 
"You need to make sure it's clear of any obstructions. It could be a street tree, speed bump or traffic controls. It could be neighbouring trees close to the fence that we need to protect."
"There's infrastructure like underground power to the site or retention systems for stormwater."
Sturdy recommends beginning discussions with a builder early in the process, as development specialists who understand the intricacies of council regulations can provide valuable advice.
"They can do a high-level assessment to see if it's feasible or what restrictions there are," he says. "If you're actively looking, they'll give you tips and tricks of what to look for."
"It's all about trying to make it as low-risk as possible. Not every site is a winner, but our job is to stack the odds in your favour."
Tips for getting a duplex project right
Establishing the purpose of the development from the outset is essential to avoid overspending on the build. 
If the intention is to live in the home, owners can fit it out to their tastes, but if it's built to sell, the development needs to be designed with the target buyer in mind, says Sturdy.
"Keep your return on investment in consideration," he says. "Don't overcapitalise because, at the end of the day, you want to make money."
Property owners need to thoroughly research the local property market before beginning to ensure the plan stacks up financially.
"It's very important to do the homework on the resale value of the properties," Stevens says. "Get assistance from a local real estate agent on the end value before you undertake the process."