Trading a small Bondi apartment for Sunshine Coast acreage
Emma Bidstrup and Adam Jones have been getting used to a whole new way of life since they moved out of their small Bondi apartment three months ago.
Now on an acre and a half (0.6 hectares) in the Noosa hinterland, they've adopted a border-collie-cross puppy named Banjo, welcomed some backyard chickens, and discovered something of a green thumb while revitalising the property's veggie garden. "The lettuce just went ballistic," Bidstrup says. "We were eating lettuce every day."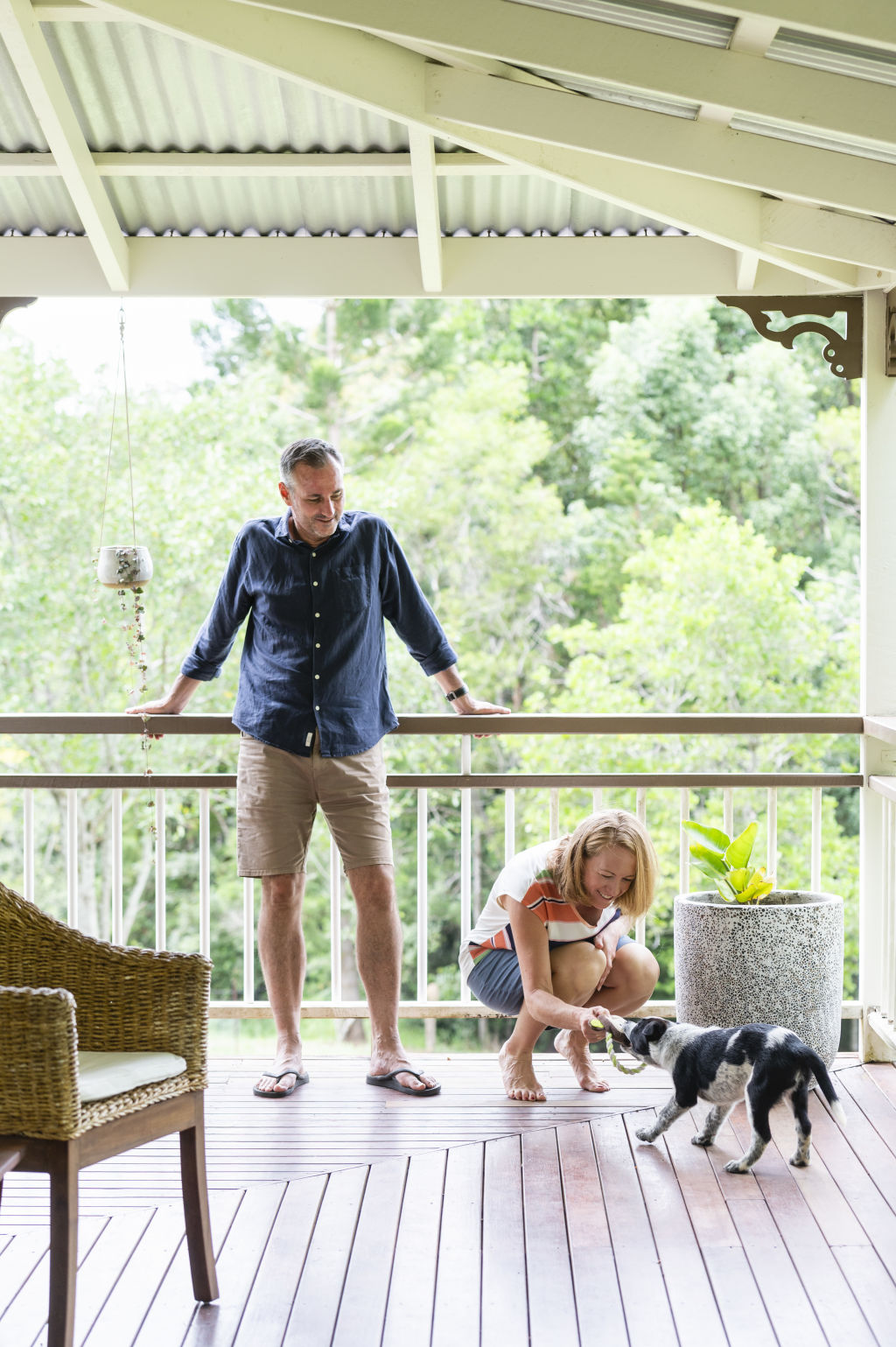 Bidstrup and Jones are thriving too. After spending much of 2020 cooped up together in a 66-square-metre apartment while Sydney grappled with COVID restrictions, they're now embracing their comparatively palatial new home in Eumundi. The three-bedroom, two-bathroom house has a double garage and, by next spring, will have a newly built in-ground swimming pool.
"It's gorgeous," Bidstrup says.
It was early in the pandemic that Bidstrup knew her life would be changed by COVID restrictions –  her career in sports event management became untenable soon after social distancing was introduced, and she was stood down.
So while Jones began working from home "holed up" in the spare bedroom, "he had me, unemployed, wandering around the house doing all sorts of stuff", she says.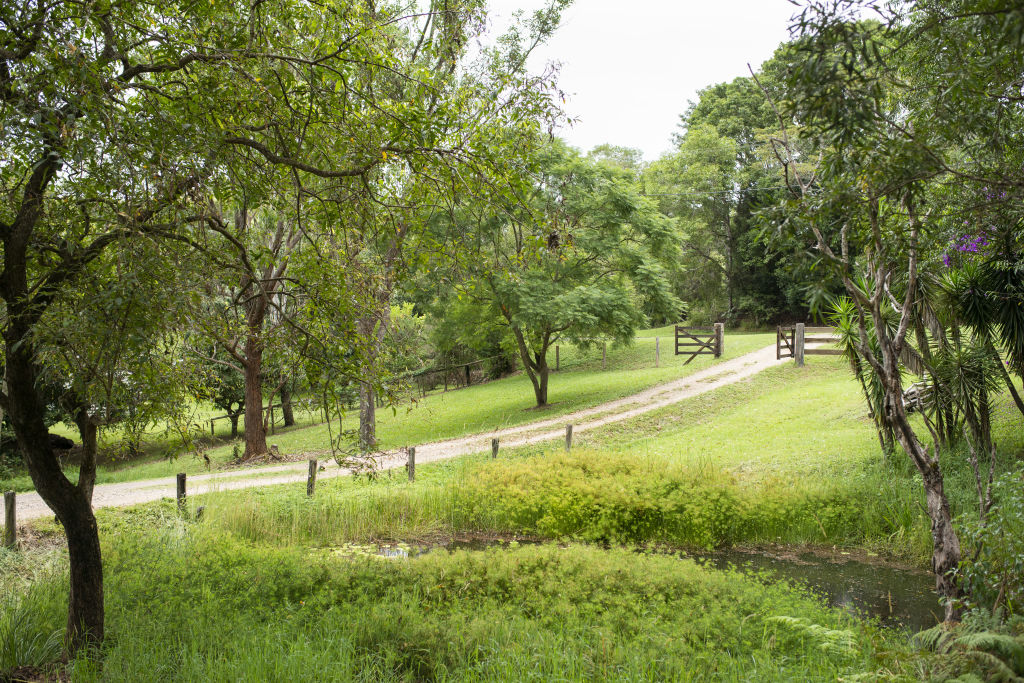 As a keen runner and frequent traveller, Bidstrup says life in the small space without her usual outside events was "just doing my head in".
So when Jones brought his laptop in one day to show her a three-bedroom stunner of a house on an acreage in the Sunshine Coast hinterland – priced at around the same value as the Bondi apartment – she was captivated, and they put in an offer to buy it.
Though unsuccessful that time, the bid did set the wheels in motion to sell up and leave Sydney behind.
"I just wanted space," Bidstrup says. "That was the biggest thing for me, I just wanted to move into something bigger. I didn't want to live in that tiny space for the rest of my life."
Together, the couple headed up to Queensland to see what other properties were available within the Noosa hinterland towns known as the "golden triangle".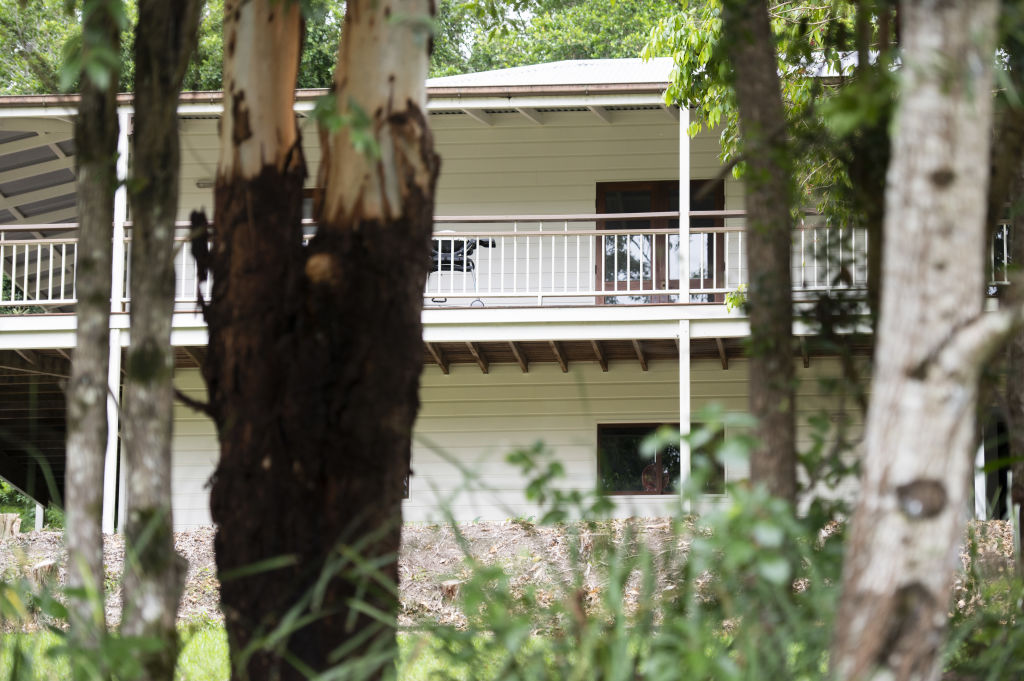 "We were meant to have been going away for Adam's 50th because he loves surfing, and he wanted to go to Bali," Bidstrup says. "Obviously we couldn't do that! So his birthday trip turned into a house-hunting trip."
After looking at around 20 homes, they put an offer on the only one they both agreed on. "It was the first house we'd seen that weekend where Adam actually went, 'Hmmm, I could live here,'" she says. "And I was like, 'Yep, I could live here.'"
This time, their offer was successful.
Though the move itself "was a bit challenging" due to unpredictable border closures, they have settled in well, and look forward to putting their own stamp on the house when they renovate the kitchen, which hasn't been touched for 20 years. "We hope this will be our forever home."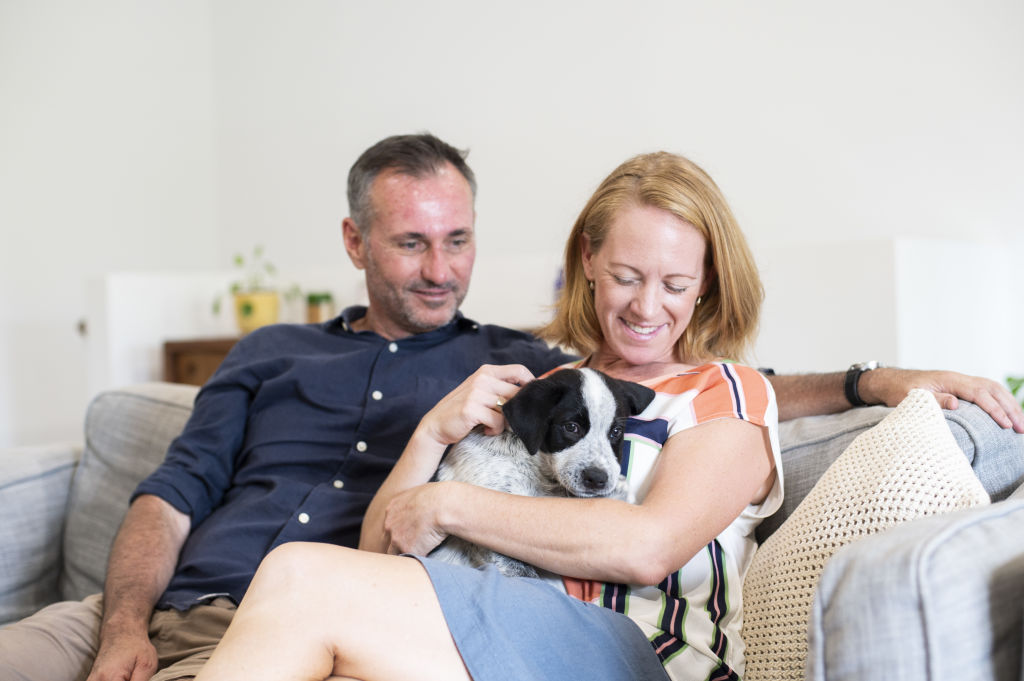 The property is not connected to mains water, relying instead on water tanks and a septic system – something the couple didn't know anything about. "We weren't left any information about the septic tank," Bidstrup says. "It's like, do we actually have to do anything with that?"
It's been a bit of a steep learning curve for the former city dwellers.
"Not having done any of this stuff before, there's a lot of Googling and working out what things are, or how you look after things. But it's fun."
That includes researching wildlife they hadn't encountered before. Their backyard is home to an "absolutely ginormous" brush turkey nest, a two-metre by three-metre mass of leaves and twigs that, if dismantled, would just be rebuilt again.
"Once you've got a brush turkey, you can never get rid of it," Bidstrup says.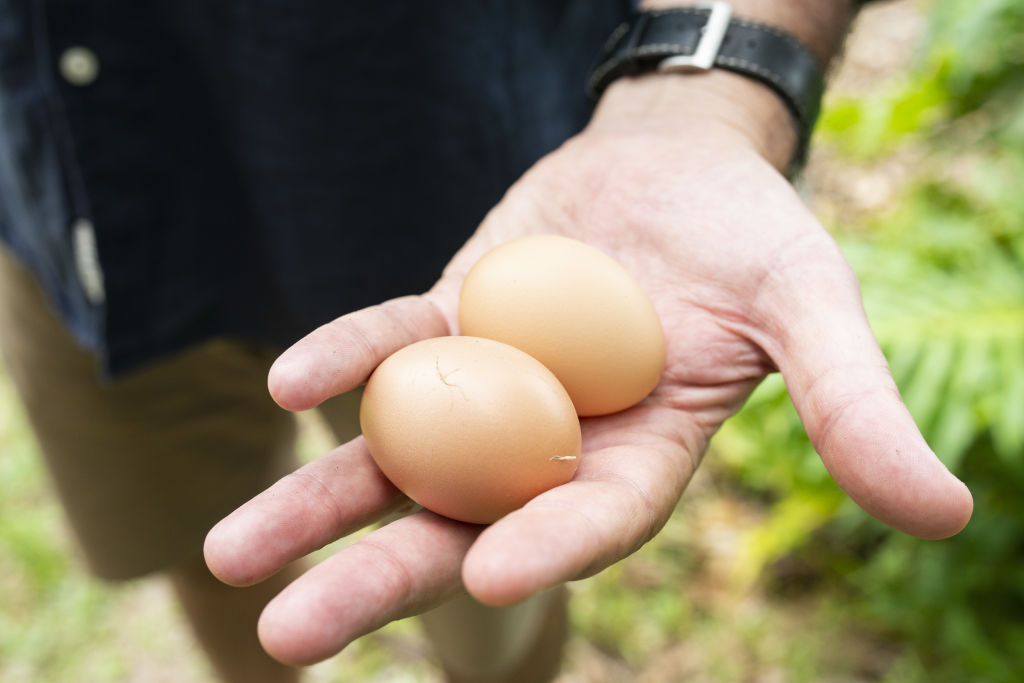 Then there are the "gross" cane toads often spotted near the front door. "Sometimes, you see 10 of them at night time in the lights when you're driving up the driveway."
And while she hopes to avoid the large carpet pythons seen in the area, she loves being near the "surround-sound" kookaburras. "They're all just in their little spots laughing at the same time. It's awesome."
With so much to do, Bidstrup jokes that there hasn't really been time to think about Bondi, nor even to pine for her close-knit group of friends.
"I don't miss Sydney at all," she laughs. "I feel bad almost, that I don't really miss my friends that much because I've been too busy."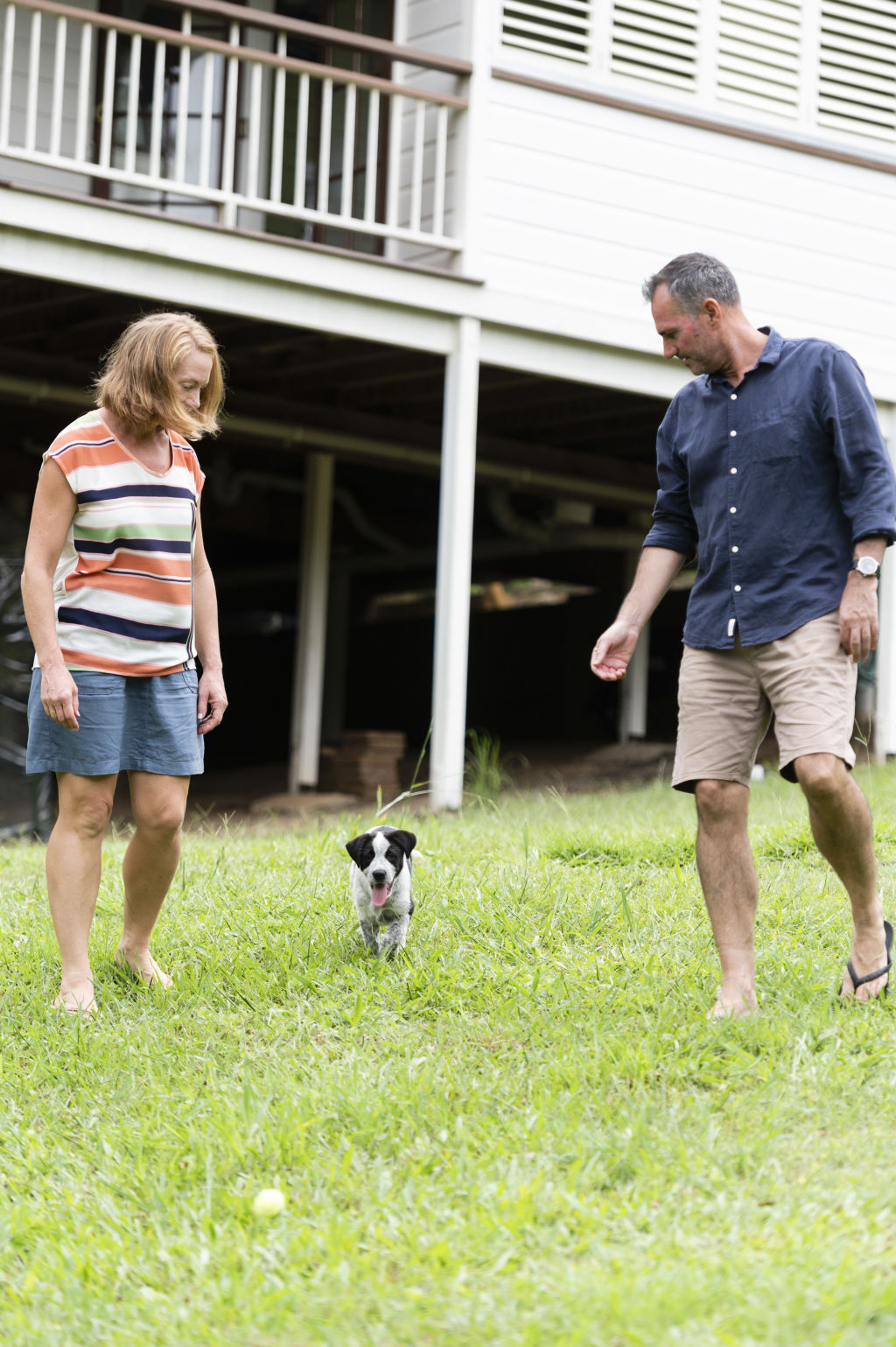 This story is a part of our series on Australians who saw the possibilities along their property journeys. For more property advice, read Domain's guide to the Australian property market during COVID-19.