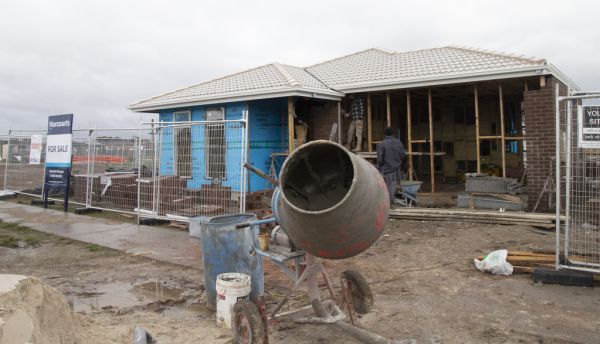 Can you pause your mortgage if you're building a new home?
Lenders are allowing home owners and property investors in financial distress as a result of COVID-19 to defer their mortgage repayments for up to six months.
But home owners who have lost their job and are currently constructing or renovating properties are worried they will not be given the same leniency as other mortgage holders feeling the heat, industry insiders say.
"People are really concerned about what will happen should they lose their job during construction," says Jake Mundy from Fairhaven Homes.
"Common sense says banks would continue to provide funding. But banks are really scrutinising loan applications; people have to jump through hoops to get finance.
"There are massive consequences from this. People would rather settle a vacant block and not build due to the uncertainty," he adds.
Pure Finance managing director Brendan Dixon says the banks' messaging around the COVID-19 support they are prepared to give is more than just window dressing.
"We haven't seen anyone denied the repayment pause. But the process will take up to three weeks, depending on the bank."
Dixon says the last thing banks want is for a customer to go into arrears or default on their loan. "This is bad for the customer and bad for the bank."
But he says the process differs from bank to bank. "Some banks give a six-month repayment pause up front, where as others give three months' initially with a review in the middle, and then a further three-month pause if needed."
Dixon says it's not so much that some lenders are more lenient than others, but that some have smoother and faster processes for accessing the repayment pause. "Some require more paperwork and are slower to respond to customer requests," he said.
It's important to note that taking a repayment pause doesn't mean the bank will stop interest charges. Borrowers may not make repayments during the pause, but the bank will still capitalise interest onto the loan.
So if you take a repayment pause and have a $500,000 home loan accruing interest at 3 per cent, your balance would be about $508,000 after six months.
"Your minimum repayment after the six-month pause will also be a little higher because it needs to take into account the extra interest charges," says Dixon.
"Also, you can still make repayments while you're on a repayment pause. Equally, you still qualify for the pause even if you have savings, as long as your income has been negatively affected."
Debt consultant Greg Bloomfield says some lenders are more helpful than others.
"ANZ, Bendigo & Adelaide, CBA, NAB, Rural Bank and Westpac have all been very helpful when customers' circumstances have been fully explained. But some fringe lenders are most unhelpful."
Bloomfield says borrowers who want concessions from banks who find the institution is not being responsive should make a note of the bank's response.
"We have found being able to point to the requirements of the banking code and the law has a sobering effect that encourages banks to negotiate to help a customer."
Bendigo and Adelaide Bank is one bank prepared to back customers in hardship who are in the process of building or renovating. The bank says help is available for those in the process of building or renovating who are financially affected by the COVID-19 pandemic.
Home loan customers can apply for deferral on loan repayments for up to six months. They can also seek a waiver of fees for the restructuring or consolidation of their loans. Relief is available for residential investment loans, lines of credit, personal loans, personal credit cards, equipment finance loans and personal overdraft.
At the end of the deferral period, customers will have the option to increase their repayments under the same loan term or extend their loan term so their repayments do not increase as a result of the deferral period.
If customers are still experiencing difficulty at the end of the deferral period, the bank says it will work with them to understand their circumstances in order to help them manage through the COVID-19 pandemic and its effects.
It's a similar story at CBA, with a bank spokesperson confirming, "Any home loan customer who has been financially impacted due to coronavirus is able to defer their home loan repayments for six months."
The bank says if the customer is still in financial hardship once the six-month period during which people can defer their repayments is over, its financial assistance teams will work with them to find a solution suitable to their needs.
ANZ says customers in these circumstance can suspend their loan repayments for up to six months, or seek hardship help.
"The best thing for them to do is contact ANZ so we can work through their specific circumstances," a spokesperson said.