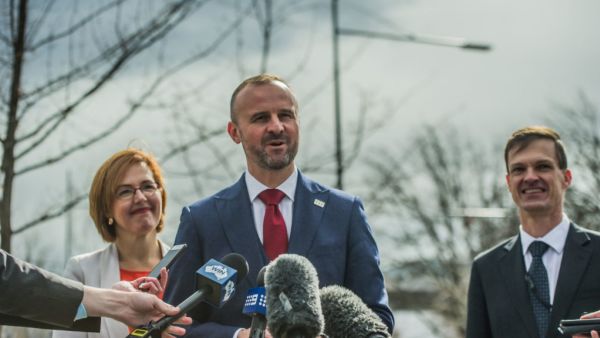 ACT budget: Stamp duty abolition helps first home buyers enter established property market
The ACT budget, revealed on Tuesday, has been labelled as a huge win for first home buyers.
In an unsurprising move, the ACT government has announced it will abolish stamp duty from July 1, 2019 for first home buyers with an annual household income less than $160,000. This comes after chief minister Andrew Barr called for the tax to be abolished for all first home buyers nationwide in February.
Currently, stamp duty concessions are applicable only to new builds in the ACT. First home buyers who purchase a new build also receive a grant of $7000. This grant will be scrapped.
Vincent Tang is now saving to buy his first home, and he said the abolition of stamp duty was beneficial for him particularly as he was looking in the established market of Weston Creek.
"I think buying a house off-the-plan or building a new house is more risky," he said.
Mr Tang intends to have a deposit saved up in the next six months.
"I plan to start looking for a home towards the end of the year, but given that stamp duty will be abolished in July 2019, it's more attractive for me to wait another six months," he said.
"An extra half-year of saving might give me more options."
While the move has been widely welcomed, there is frustration from those who recently bought their first home in the established market.
Athanasia Kanellopoulos and her fiance bought a four-bedroom, two-bathroom home on a 740-square metre block in Banks in December, 2017.
"It was quite run down when we bought it. We had to renovate it to make it liveable. Both showers were leaking and the carpet needed replacing," she said.
The couple's stamp duty was about $15,000, but they applied to defer the payment in January 2018. They have yet to hear if the deferment has been approved.
Ms Kanellopoulos supports the abolishment of stamp duty but expressed frustration she missed out on the exemption.
"This is such a massive help to a lot of first home buyers. It is extremely hard to save for a deposit," she said.
"Abolishing stamp duty is a huge load off the shoulders of young people. The market is so competitive and hard to get into.
"We were beaten at auctions and people always put in higher offers. We couldn't compete because we had to factor stamp duty into our deposit."
However, she said she was happy the ACT government had abolished the first home buyer grant.
"Most first home buyers aren't looking to buy off-the-plan. We are looking for established houses to get our foot in the market and help us build a future," she said.
Like Ms Kanellopoulos, Emily Fromholtz wanted an established property when she bought her first home.
"We considered buying off-the-plan, but the reason we didn't is because we wanted to live in the south side and the only new builds on the south side are apartments," she said.
"I wanted something more established on a bigger block."
Ms Fromholtz and her partner bought a three-bedroom, one-bathroom home in Gordon in April, 2017. They also chose to defer their stamp duty payment of approximately $9000.
"I hope the ACT government will look at those who have bought houses in the last couple of years and abolish stamp duty for them, particularly if they have deferred the payment," she said.
Domain chief data scientist Dr Nicola Powell said the move to abolish stamp duty for first home buyers would create greater parity between the new and established markets.
"Abolishing stamp duty for established homes certainly evens the choice in the market for first home buyers, what it does is opens up a number of suburbs that previously weren't eligible for the concessions currently in place," she said.
"It will take away that focussed demand on the new development space and it will allow first home buyers to buy an established home, and perhaps add value to that home."
Housing Industry Association ACT and Southern NSW executive director Greg Weller said: "Completely exempting first home buyers below a defined income threshold from stamp duty is a positive move that will support housing affordability.
"This decision substantially widens the range of homes that first home buyers can access without having to pay stamp duty, and better reflects the reality of the ACT housing market."