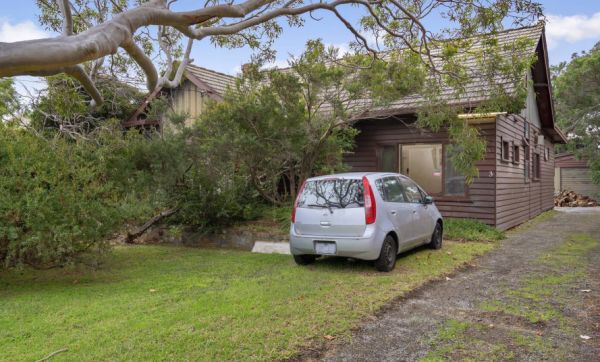 Black Rock home sells for $641,000 above reserve as interrupted Melbourne auctions are held
A bayside home with a street frontage of just 12 metres sold under the hammer on Saturday for $641,000 above its reserve.
The property at 3 Potter Street, Black Rock, which included a fixer-upper four-bedroom home and 1141 square metres of land, sold under the hammer for $3,741,000.
Buxton Real Estate Sandringham director Mark Earle said five bidders registered, with three of them actively competing for the property, mostly for its land value. The bidders included two families and a developer.
Mr Earle said the home had received an offer of $3.05 million before the auction, leading to a $3.1 million reserve being set on the day.
"It was an unusual property because it had such a narrow frontage, but it was in a good spot," Mr Earle said.
A family who is now planning to build their dream home were the winning bidders.
The home was one of many that had advertising campaigns interrupted by a snap COVID-19-related lockdown for two weeks, but still sold well.
The lockdown meant real estate services, including auctions and inspections of homes for sale, were moved entirely online, and caused some auctions to be pushed back a week or two.
Melbourne's preliminary auction clearance rate bounced to 72.7 per cent after a massive 1566 auctions were scheduled and 523 results were reported. 
There were 71 properties withdrawn from auction, which were counted as not being sold as part of the clearance rate.
The Black Rock property was not the only bayside home to sell for more than $3 million under the hammer.
Another four-bedroom home, at 163 Were Street, Brighton, sold for $3.38 million, some $180,000 above the reserve.
Hodges Brighton selling agent Greg Downes said four bidders, a mix of developers and owner-occupier renovators, were looking to buy.
"The vendors had owned it since 1986 and brought up three children in the home, so it was a much-loved family home," Mr Downes said. "Everybody was saying the house just had a good feel to it."
A young couple were the winning bidders and plan to renovate the home.
Mr Downes said agents and vendors were fortunate to have had two weekends of open-for-inspections before Melbourne's lockdown. 
When restrictions were eased, pent-up demand saw buyers return in numbers.
It was a similar story in Carlton North, where a three-bedroom terrace was listed just a week before the lockdown hit.
"We missed two weeks of open-for-inspections, but we decided to run with it [at the weekend] because we had the momentum and the interest," Nelson Alexander agent Peter Stephens said.
The home at 109 Lee Street sold under the hammer to a young professional couple for $2,106,000, above the $1.76 million reserve.
The property was sold as part of a deceased estate — the owner bought the property for $84,000 in 1982. 
Mr Stephens, a Nelson Alexander Carlton partner, said the sale was an emotional one, with close family attending the auction.
"They weren't particularly worried about the money, they just wanted to do the right thing for their [loved ones] wishes," Mr Stephens said.
In Melbourne's south-east, a four-bedroom home at 56 Warner Avenue, Ashburton, was so popular that not everyone got the chance to tour the property before the auction was held.
Though coronavirus-related restrictions have been eased, there are still rules in place meaning a cap on the number of people who can inspect a home at any one time.
The property sold under the hammer for $2,385,000, against a $2.2 million reserve.
Shelter Real Estate auctioneer Michael Millington said the auction was fast, with three bidders competing.
The vendors built the house seven years ago and were thrilled with the result, he said.
Also in the city's south-east, a three-bedroom home at 35 McKinnon Road, McKinnon, sold under the hammer for $2,305,000, which was above the $2.05 million to $2.2 million asking price range.
The home was sold to a family from just around the corner, who were looking for a larger property in the sought-after McKinnon Secondary College school zone, Jellis Craig Bentleigh partner Trent Collie said.
Likewise, the vendors had bought another home, also just around the corner.
"McKinnon is sort of like that, once they get in, they stay," Mr Collie explained. "It really is its own little market."
Mr Collie also sold a two-bedroom home at 96 Jasper Road, Bentleigh, for $1,805,000, which was $250,000 above the reserve.
A builder bought property, which includes 823 square metres of land, and plans to tear down and rebuild, Mr Collie said.
"The home was in the same family for more than 30 years, but the current owner is scaling down to an apartment," he said.
In Essendon, two homes with campaigns that had been interrupted by the COVID-19 lockdowns sold above their reserves.
Nelson Alexander Essendon selling agent Matthew Febey said a four-bedroom home at 14 Mackay Street sold for $2,379,000 after being called on the market at $2.17 million. A family bought the home.
Another four-bedroom home, at 2 Cliff Street, Essendon, also sold for $1,837,000 (with a $1.82 million reserve) to an investor.
"I don't think the delays because of COVID-19 turns buyers off, it just delays their ability to buy," Mr Febey said.