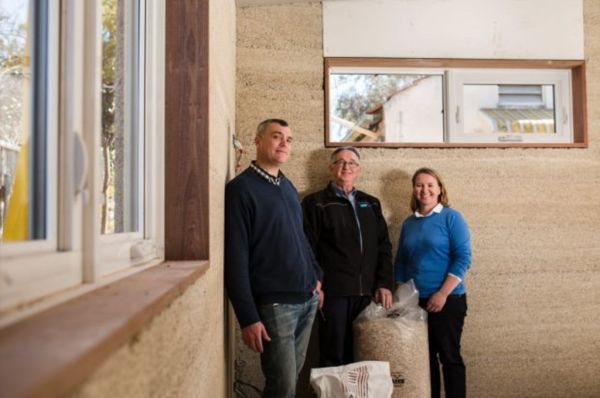 Canberra's first hemp house under construction in O'Connor
It's fire resistant, termite proof, completely natural and carbon positive – welcome to Canberra's first hemp house.
The home, which is under construction in O'Connor, is one of just 24 hemp houses in Australia, but when you hear the benefits it's surprising that there aren't more.
Plan It Green designer Angela Knock, Prostyle Building Group and owners Rowan and Vicki Woodburn have become pioneers of the technique in the nation's capital. 
Ms Knock said "hempcrete", which comprises shredded hemp mixed with a lime binder, is ideal for the Canberra climate.
"It just ticked all the boxes in terms of thermal efficiency and it is a really good environmental way of sequestering carbon," Ms Knock said.
This four-bedroom home will have the capacity to absorb and store up to 18 tonnes of carbon dioxide. 
The hempcrete is formed around a standard timber frame and finished with a lime render. It's one of the few building materials with both thermal mass and insulation.
"The material itself is cheaper than a brick veneer house, the labour is a little bit more at this stage, but that would get cheaper as we become more familiar with it," Ms Knock said.
"Where the real savings will be is the life cycle over the next 50 or 60 years because there will be such minimal heating and cooling costs."
For the owners, it were the long-term savings that made hemp an attractive option.
"It's similar to solar panels," Mr Woodburn said.
"You've got a big capital outlay at the beginning, which is then going to reduce the costs going on."
The environmentally friendly house will also feature a solar passive design, an insulated concrete slab, solar panels, thermally broken windows and an underground water tank.
Once built it will look just like a rendered house, but one internal wall will be left unrendered as a feature.
Hempcrete does not contain THC, the active chemical in cannabis, but Ms Knock said it has sparked curiosity.
"Everyone asks if they can smoke it," she said.
"They wonder how it works, but when they come in and feel how hard it gets and how it smells like a nice healthy house, they think that it's just awesome. Hopefully it's the first of many."