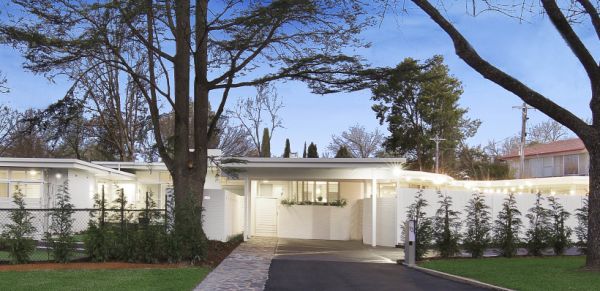 Modern luxury with a historical hint: '50s residence on the market in Deakin
Never has there been a heritage home that looks quite so modernist as 13 Canterbury Crescent in Deakin. Well, maybe there has been but after gazing upon this renovated mid-century residence, you forget about all others.
Designed in 1959 by acclaimed Melbourne architects Chancellor and Patrick, the striking white facade reveals design elements of a time gone by while the interiors reflect the refined luxury and opulence of 21st-century living.
"There is a lightness and effortlessness of living here," Berkely Residential director Bill Lyristakis says.
"It's flooded with light most of the day and the modernist style is very appealing with strong, flowing lines that are clean and crisp."
Where else do you get to see a curved wall that's completely covered in glass windows or low-slung, flat roofing than in a supremely crafted and well-taken care of '50s and '60s era build?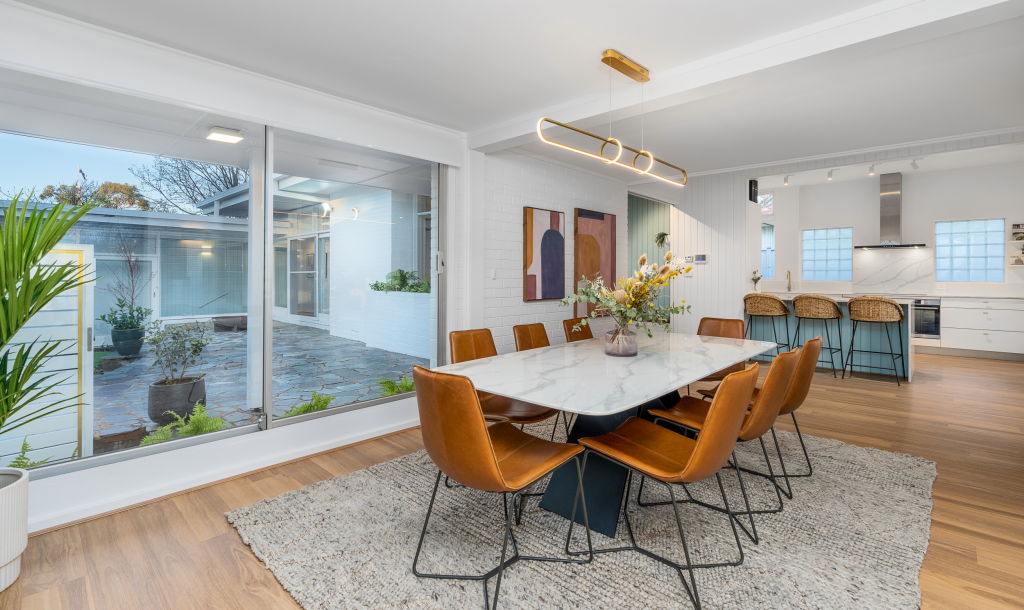 The iconic Palm Springs design places keen importance on effortless living with its full-height windows looking out to the gardens and courtyards, and a sweeping floor plan that transitions from one room to the next with ease, embedding an added sense of space inside.
The home's impressive stature and elegant configuration points to its contemporary relevancy, not just now but also when it was originally built. With Usonian principles employed at every turn, this corner-block home would have been on the cutting edge of architectural creativity.
"The new owners would definitely be acquiring a slice of Canberra's architectural history," Lyristakis says.
"Given the size of Canberra, there are relatively few exciting modernist residences in the inner areas, and this is one of the finer examples."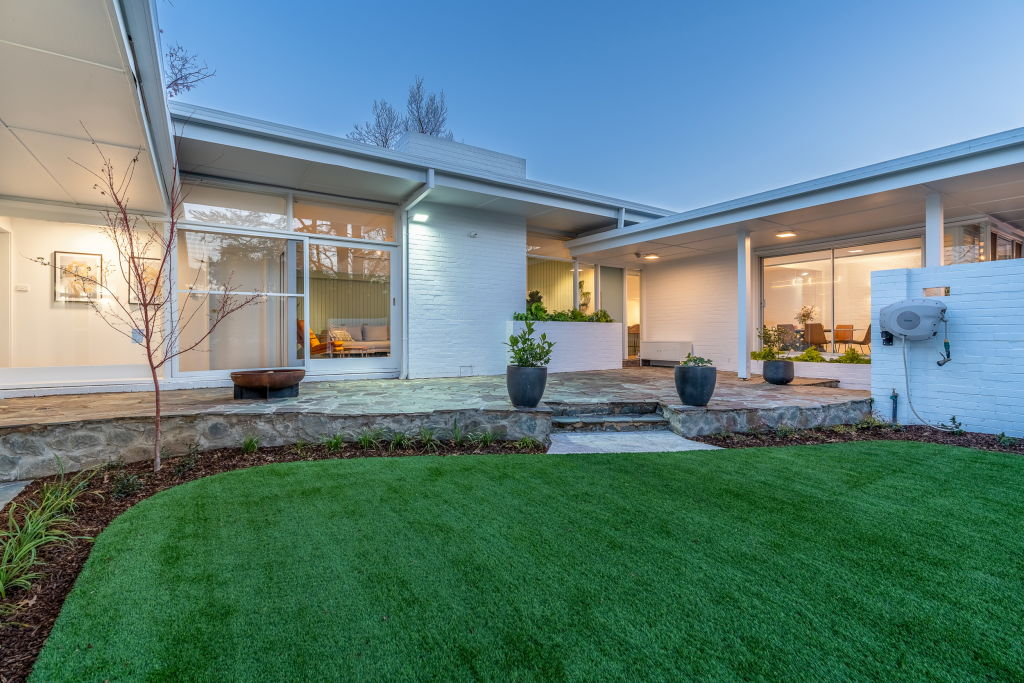 Extensively renovated across 10 months, there's a rich mixture of textures and materials inside from the vertical timber panelling that reaches up to the 2.7 to 3-metre-high ceilings and painted brickwork on the walls, to the marble-look Caesarstone benchtops and gold sink in the kitchen.
Perched parallel to the revived kitchen is the distinctive booth seating, popularised by American diners in the '50s and making its way into residential spaces shortly thereafter. Retaining this element of the home's origins shows just how meticulous and considerate the owners have been in sculpting the interiors to suit modern lifestyles while celebrating earmarks of the past.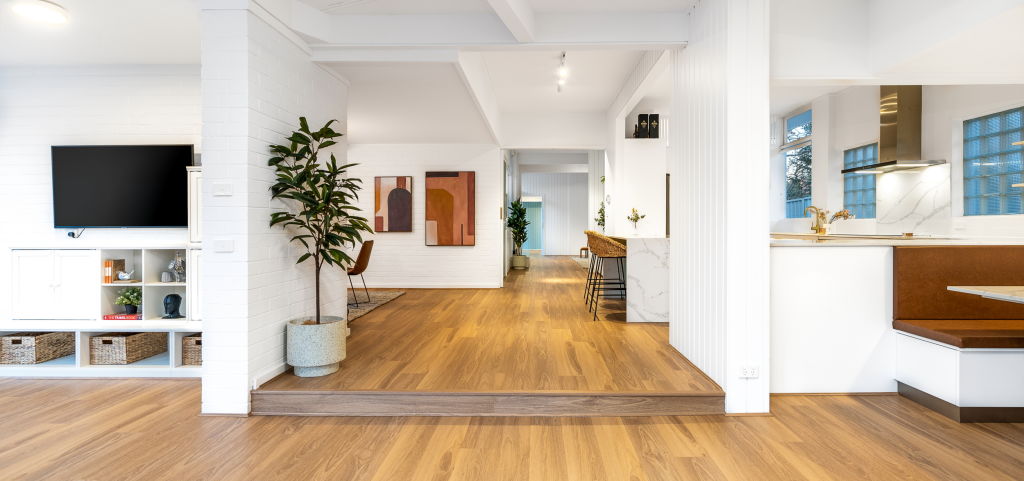 New carpet has been fitted to all of the generously sized bedrooms, while four out the five are positioned to enjoy the minimalist manicured gardens awaiting outside.
"The light and breezy sun-washed courtyards are superb lifestyle features," Lyristakis says.
"The wonderfully lush segregated gardens offer fabulous play opportunities for children and we feel it's a very flexible home that could easily cater to the younger family as well as couples."
There's over 1400 square metres of landscaped grounds and a cheeky in-ground swimming pool hidden beneath a covered deck that could easily be removed to restore the entertaining area to its former glory.
And just over the way lies extensive parklands that encircle the Prime Minister's Lodge, in case you need further room for backyard cricket this summer. The additional security in the neighbourhood doesn't hurt either.
Unmatched in style, design, and sophistication, it's no wonder this quintessential Palm Springs abode featured in Tim Reeves and Alan Robert's book, 100 Canberra Houses: A Century of Capital Architecture, detailing a history of significant public and private dwellings. And now there's an incredible opportunity to own a piece of Canberran history at No.13.
Price guide: $3 million +
Private sale
Agent: Berkely Residential, Bill Lyristakis 0418 626 593