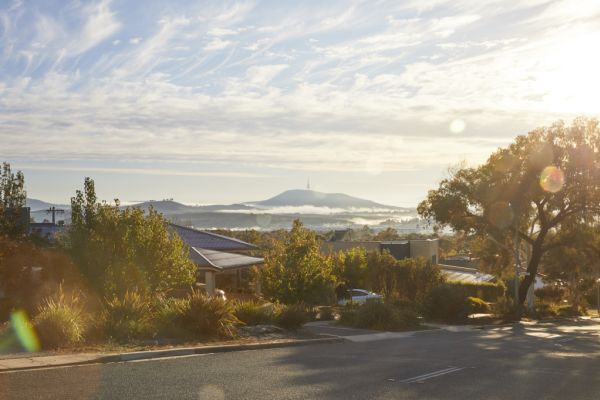 Priced out of your dream suburb in Canberra? Try a 'bridesmaid' suburb instead 
Canberra buyers priced out of their dream suburbs can save hundreds of thousands of dollars by purchasing in a nearby neighbourhood or even the suburb next door.
Canberra's most expensive suburbs are concentrated within the Inner South and Inner North, the latest Domain House Price Report  for the September quarter shows.
So, if you want to live in some of Canberra's oldest and established suburbs, it pays to look at the neighbouring suburbs — also known as, 'bridesmaid' suburbs — which, in most cases, offer just as much at a lesser price tag.
The alternative suburb: Narrabundah 
Yarralumla and Griffith, both in the Inner South, are characterised by leafy streetscapes, art deco bungalows and high-end properties that come at a hefty price. 
The median house price in Yarralumla is $1,492,500, while in Griffith the median is $1,467,500, on Domain data.
But in Narrabundah, also located in the Inner South and bordered by Griffith and Red Hill, the median house price is $1.03 million. That is a difference of $462,500 compared to Yarralumla and $437,500 to Griffith.
"I would describe Yarralumla and Griffith as premium suburbs and I think a lot of people aspire to live in those locations," said Bree Currall of Belle Property Kingston.
"But once buyers start looking for a house in that area, they realise how expensive it is and look elsewhere and that's where Narrabundah steps in."
Narrabundah has the same school catchment zones as Griffith and parts of Yarralumla and is close to the same popular precincts including Manuka and Kingston Foreshore, Ms Currall said.
"It has the same leafy aspect and all the charm that you usually find in the Inner South," she said.
The expensive suburb:

Campbell
The alternative suburb:

Downer
The tree-lined streets of Campbell are home to some of Canberra's most iconic landmarks, including the Australian War Memorial and the Royal Military College.
Buyers can expect to purchase a house here around the median price of $1.24 million.
But if you trek further north to the suburb of Downer, you can expect a median house price of $850,000. That's a saving of $390,000.
Aaron Lewis of Independent Inner North & City said the main difference between the two suburbs was the location as they had similar amenities.
"Campbell is on the outskirts of the Inner North and is in close proximity to the Inner South. All people have to do is cross the bridge and they're in Kingston or Griffith," he said.
"Other than that, buyers often find themselves looking towards Downer because it offers the same amenities at an affordable price."
The alternative suburb:

Watson
Ainslie and O'Connor are both located at the foot of Mount Ainslie, in Canberra's Inner North, and if you've driven up the hill or taken the 45-minute hike, you'd know that some of Canberra's best views can be found here.
The median house price in Ainslie is $1,095,000, while for a house in O'Connor the median is $1.1 million.
But only a few suburbs over, is Watson, also in the Inner North, with a median house price of $790,000.
Not only is its price tag attractive for some buyers, but so is its location to Mount Majura.
"Mount Majura is equally as good as Mount Ainslie and, if buyers are priced out of O'Connor and Ainslie, this is the alternative," Mr Lewis said.
"What's special about parts of the Inner North is the different styles of homes available. You have older homes, some heritage-listed, and then you have modern-style, newly-built properties.
"It offers buyers different options in terms of housing and that can be found in Ainslie, O'Connor and even in Watson."
The expensive suburb:

Deakin
The alternative suburb:

Curtin
Deakin, in Canberra's Inner South, is characterised by its eclectic range of local shops and is also known for being home to the Prime Minister's official Canberra residence, The Lodge.
If Deakin is your desired suburb, the median house price is $1,297,500, but if you travel one suburb over to Curtin, the median house price is $970,000. That's a saving of $327,500.
"I'm surprised there is such a big difference between the two suburbs, considering they are right next to each other," Ms Currall said.
"And in my opinion, they both have similar offerings including similar school catchment zones, great local shops and only a few minutes apart from each other … it's the best of both worlds."
Ms Currall noted that while Deakin has many top-end properties that sell above $2 million, Curtin "doesn't quite have that type of stock".
"But I expect that to change," she said.
"It's a hot market right now. People are buying older stock, knocking it down and doing it up and reselling, and I think that will see prices lift in the suburb of Curtin."