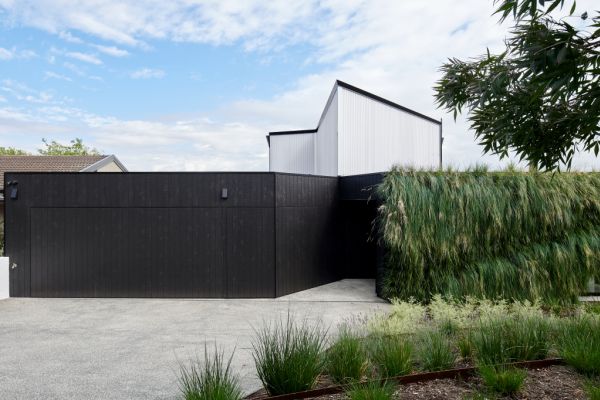 Take a look inside Canberra's iconic Angle House
Who: MyMyMy Architecture with Megaflora Group Builders
What: Angle House, a family home drawing inspiration from Japanese aesthetics
Where: Deakin
In the crowded urban spaces of Japan, angles and interesting geometric shapes are often used to overcome the challenges of limited space.
Sitting in Deakin, this block didn't so much have space constraints, but other parameters meant creative decisions needed to be made to achieve this architectural build in September 2019. 
The angles weren't necessarily part of the original plan, but instead formed through necessity, with MyMyMy Architecture and Megaflora Group Builders choosing not to hide them, but leave them exposed and let them shine.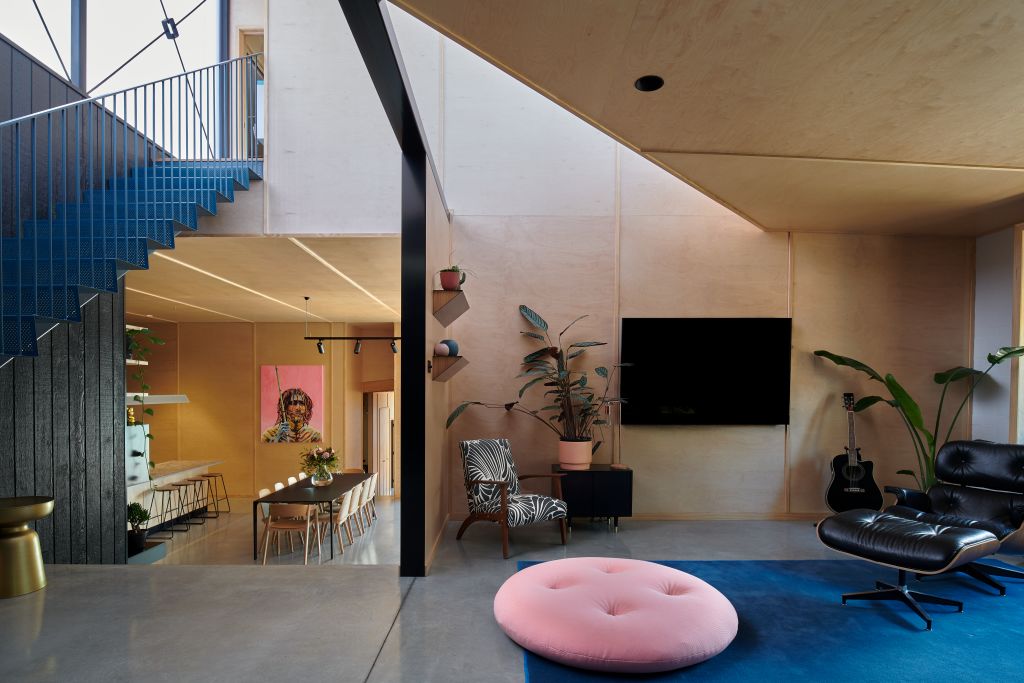 "The orientation of the side boundary and the site setbacks and trying to get the house orientated correctly for some solar passive gain meant that we were getting some pretty interesting angles happening anyway," says architectural builder Dan Fitzpatrick. "So we just kind of developed that out from there with that."
From the home's front, a brutalist exterior dominated by black cladding makes you work hard to find the entrance.
Entering feels like stepping into a completely different world, where a continuation of the dark exterior and concrete flooring is softened by ample natural materials like birch plywood, and vibrant pops of colour from a blue carpet, pinks in the artwork and a blue exposed staircase leading to the upper level.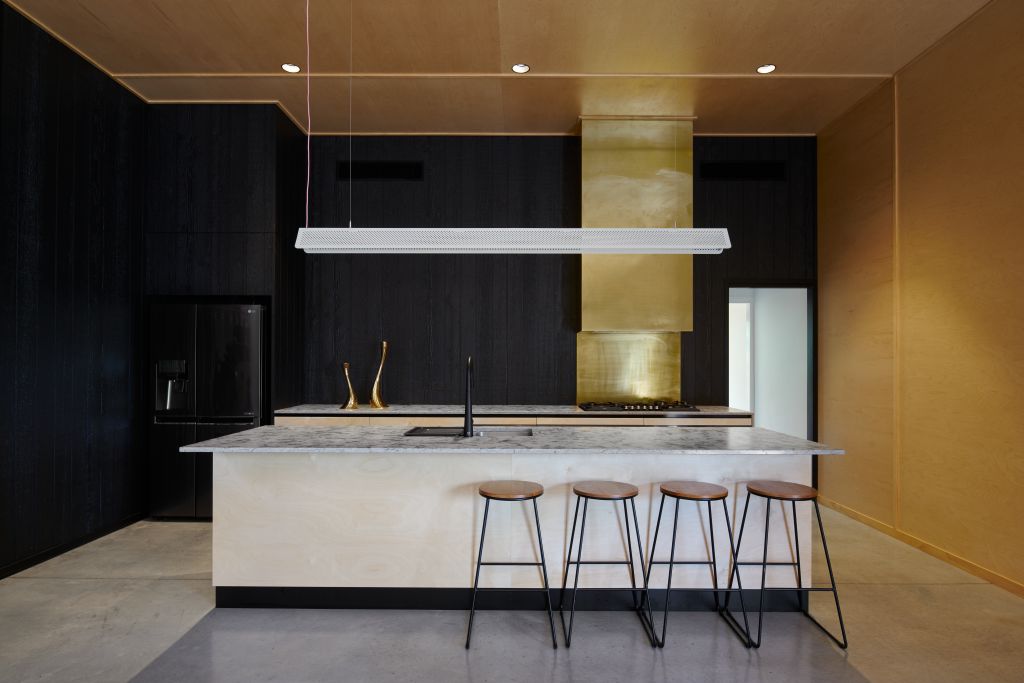 Flooding the area with light from above is a double-height space with raked ceilings, where the translucent material Danpalon was used to let through ample diffused light, creating almost the feel of a lightbox. 
The remaining floor plan cascades down the block to suit the natural topography. Directly off the entrance to the right is the large formal dining and lounge. Descend a few more stairs to the dining, living and kitchen area with a walk-in pantry. Step outside from there to the raised pool, which sits flush with the living area.
In Japan, multigenerational living is popular, and this home's layout is also flexible, comfortably accommodating the family of four, but also allowing options for multigenerational use.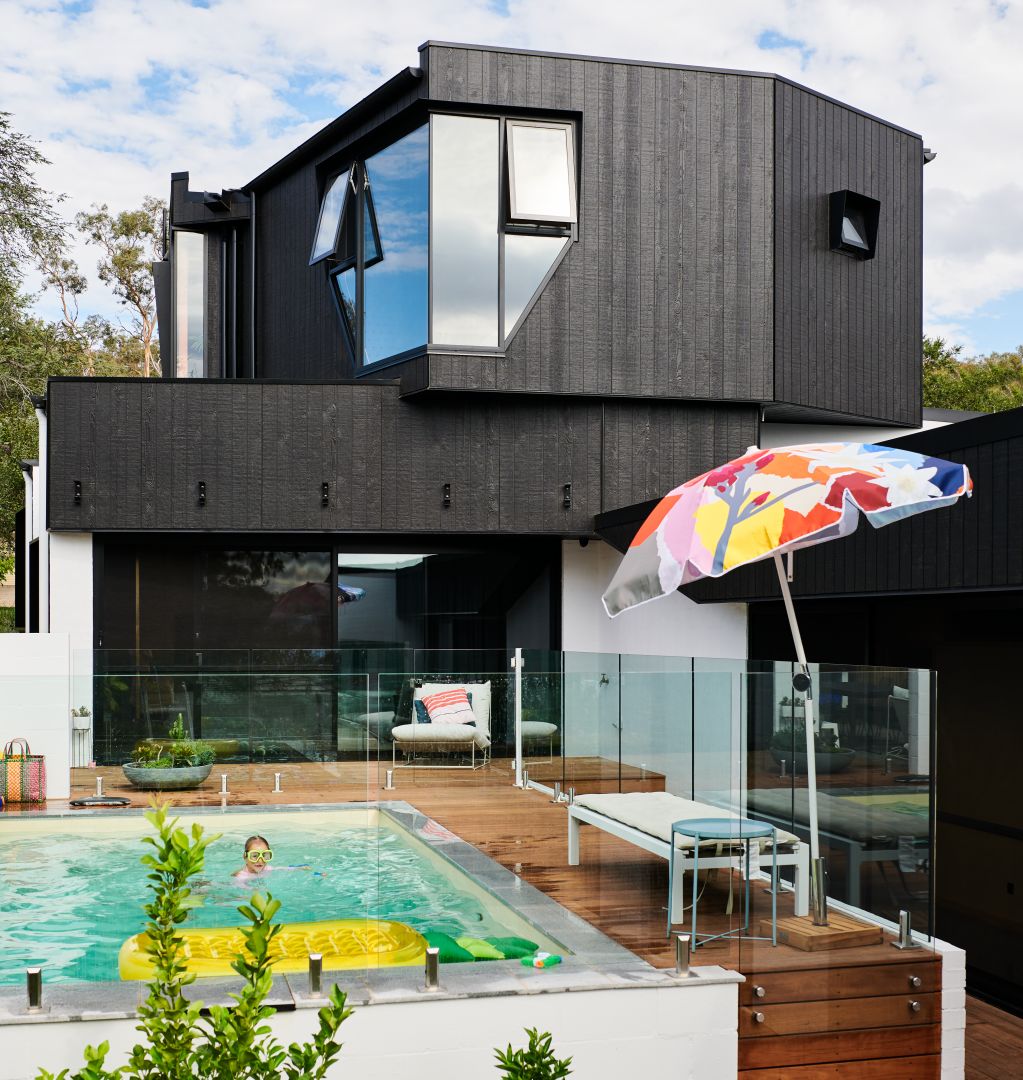 Up the blue staircase, the private main bedroom has a walk-in wardrobe and an en suite. The remainder of the sleeping quarters sit at the rear of the home, with three further bedrooms and the main bathroom.
One of the downstairs bedrooms has its own en suite, making it suitable as a second main or a guest suite for when family and friends are visiting. It has also worked as accommodation for an au pair.
And the home doesn't just look great, it performs beautifully as well. The blend of materials and design decisions strongly contributed to the home's energy rating of 6.9.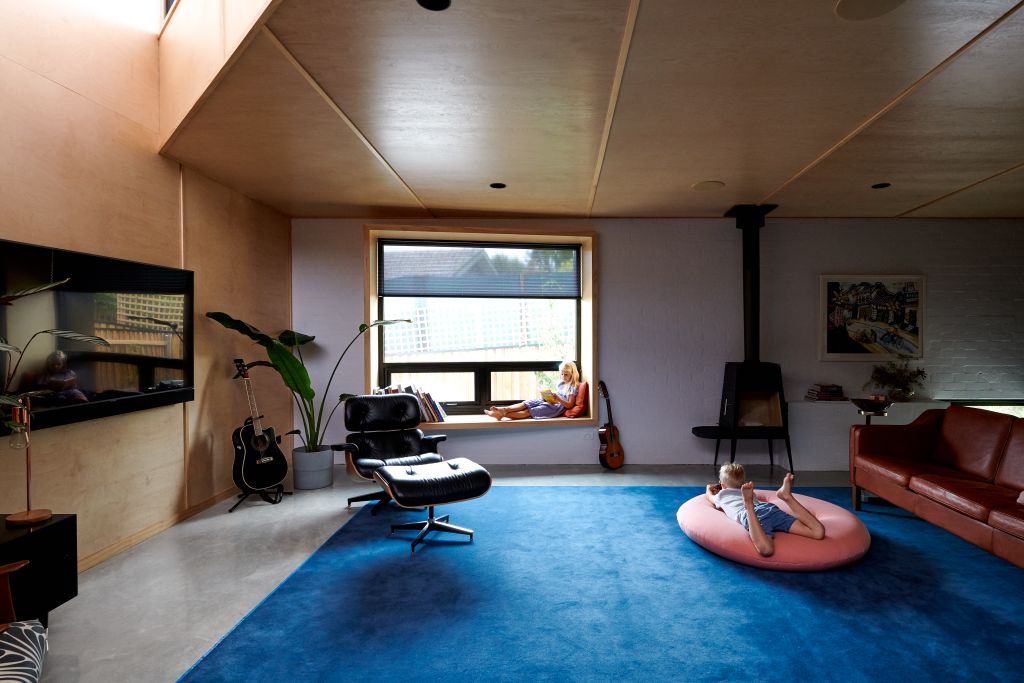 "There was a lot of playing with levels, which meant we could push the house to one side, which opened up the backyard and gave us great access to the northern boundary," Fitzpatrick says.
"So playing with trying to get a little bit of solar orientation was a key design driver as well. It just helps the house perform so much better."